Find out about the loveable Christmas Elves who post letters out to children all over the world, from International Elf Service – the official Post Office in the North Pole.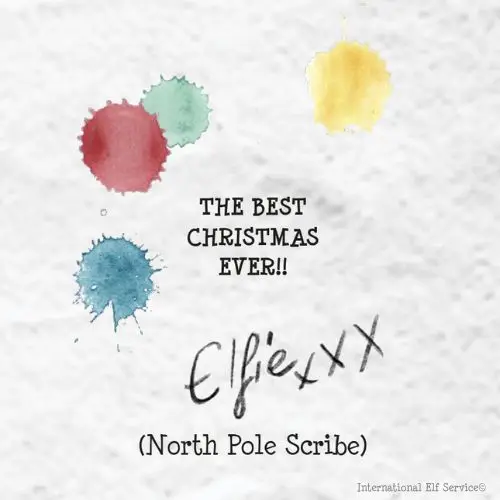 Elfie: chief letter writer
… the main letter writer and chattiest Elf in the North Pole. A loveable, gender-neutral Elf who's fairly young in Elf years, Elfie just loves telling stories about what's been happening in and around the Elves' Workshop! Some children swear she's a girl, while others insist he's a boy but, either way, Elfie's always bursting with Christmas excitement!
Elfie's Christmas Letters – the ultimate Advent Calendar. Daily Elf Letters from the North Pole … for your most magical December yet!
Marty: joke lover, inventor
… is a Christmas Elf who is always up to something – inventions (that never work), pranks (which he finds hilarious but are incredibly annoying to all the other Elves), and grabbing as many sweets as he can (especially if they're not his!). And he'll do ANYTHING to avoid hard work (often risking Christmas itself!). If anything ever goes missing, it's usually found stuffed under his hat, and he is the best at catching the Reindeer.
Lily: prizes manager, expert knitter
… is the most organised Elf in the North Pole. She makes sure the Elves get everything done in time for Christmas Eve. She's hugely respected by everyone – without her excellent Elf-management skills and regular Emergency Pyjama Meetings to discuss critical matters, they'd never be ready for The Big Delivery on Christmas Eve. Even Father Christmas puts Lily in charge of the most responsible tasks, so whatever Lily says, goes.
Dani: carpenter, engineer
… is the North Pole Handyman. He's kind, always keen to help out, and is brilliant at fixing things. Some of his great achievements include mending vital equipment on The Sleigh, carving a new antler for Rudolph just in time for Christmas Eve, and fixing the Magical Wind Machine (which delivers all your children's letters to Father Christmas).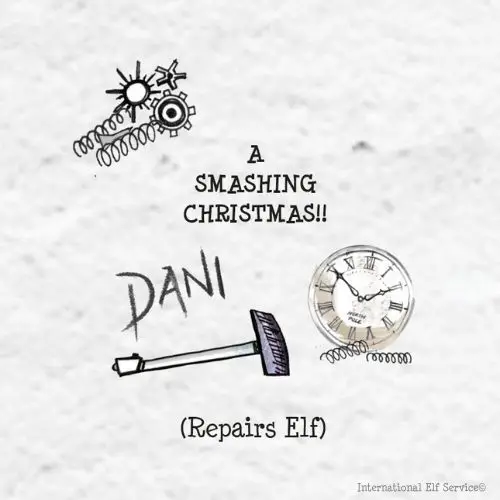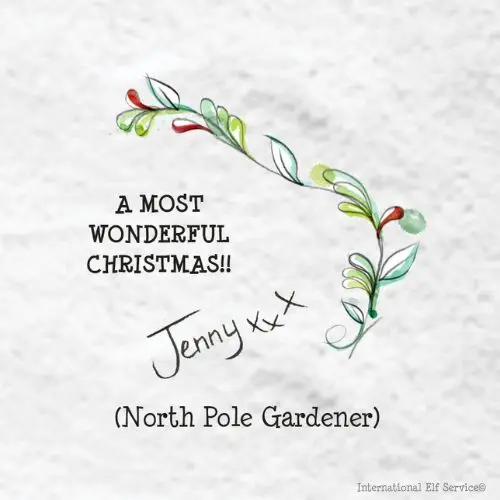 Jenny: north pole gardener
… is a very sweet, but clumsy, shy and anxious Elf, who's always having accidents and is often in the wrong place at the wrong time. She looks after everything growing in the North Pole Garden, recruiting help from the other Elves when needed. Jenny sleeps on a bottom bunk in Cranberry Cabin, with Elfie in the middle and Marty on the top!
Stan: chief miner
… is the Chief Miner in the Cinnamon Mine below Christmas Cabin. He's rather old, has a permanent twinkle in his eye and is particularly good at drawing. He knows more about the workings of the Cinnamon Mine than anyone, even Father Christmas, but every year a new discovery is made.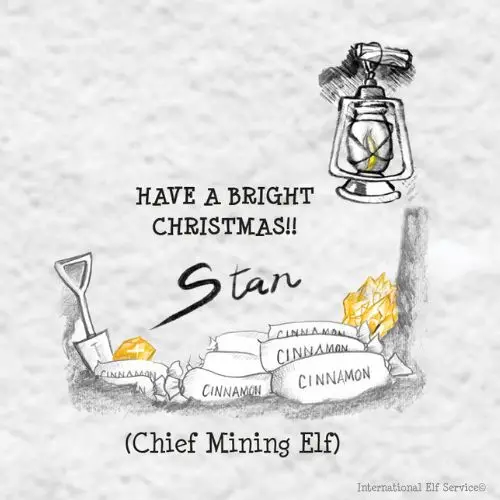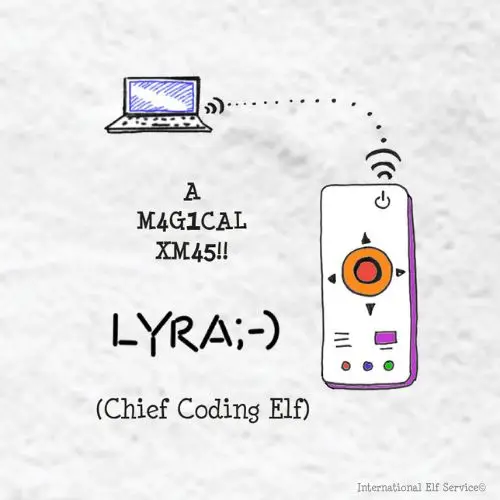 Lyra: computer geek
… is a super cool Elf and the North Pole's computer whizz. She's often found programming new systems on her Laplandic Laptop to make everything run more smoothly for the Elves and their pressie making. When she's not wearing her purple specs, she's usually seen in a pair of Glittery Glitch-Finding Goggles with an Extra-Zippy Technobag on her back. Marty insists she isn't as clever as him.
Dave the Stitch: underwear designer
… spends his days in Pine Needle Lodge, designing Father Christmas' brand new Christmas Eve uniform! Each year, he adds unusual but essential tools and devices to The Sleigh, from a Loop-the-Loop Skills Button (so he can avoid birds and other flying objects), to a Keyhole Enlarging Spray (for chimney-less homes), a Christmas Cheese Storage Pouch (with Anti-Stink Protection Layer), and a Reindeer Paarp Detector (with in-built face mask and fan).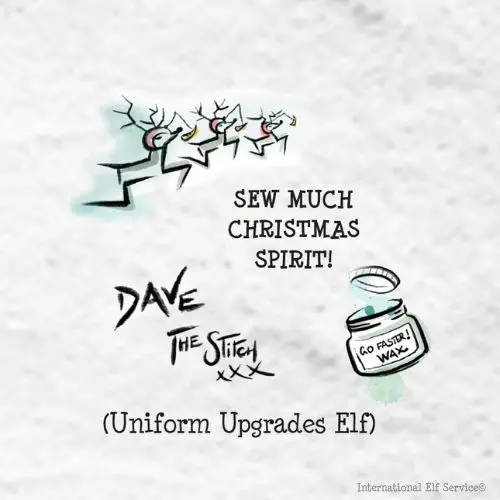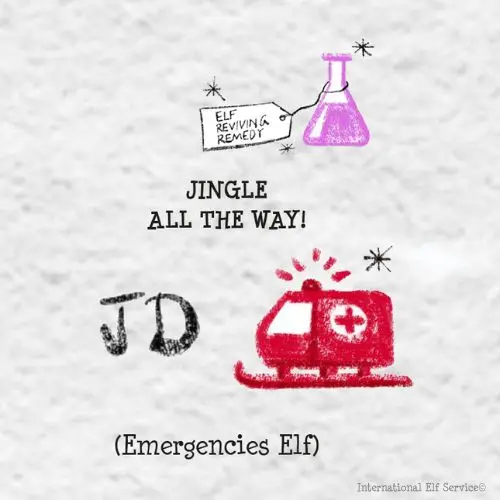 J.D: emergencies elf
… is the North Pole's Emergency Elf. She says her name stands for Job Done (NOT 'Josephina Delicate'). She comes to the rescue when her Pocket Alarm-Tracker goes off (which is often!) and is often found saving the over-enthusiastic Elves from one disaster after another. Luckily, she's always equipped with her First "2nd and 3rd" Aid Kit, a couple of bottles of Raspberry Ripple Elf-Reviving Remedy and a large box of Extra-Strong Christmas-tree-shaped Plasters.
Brian: north pole trainee chef
… is the North Pole trainee Chef who gets into terrible pickles with his words. His name is actually Brian, but he calls himself 'Brain'. The other Elves love him! His cooking is a little unusual, as he can't quite remember what he's making, let alone what the ingredients should be, but his interesting recipes often end up being surprisingly good!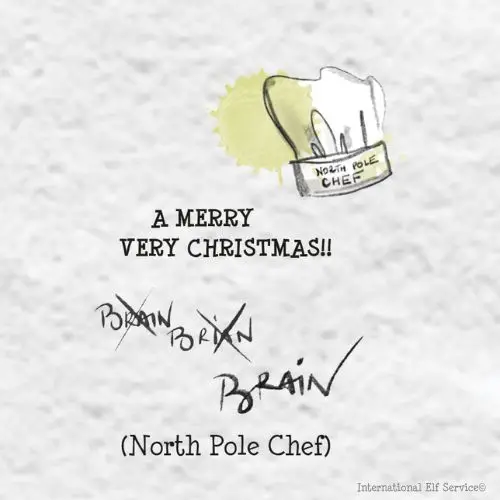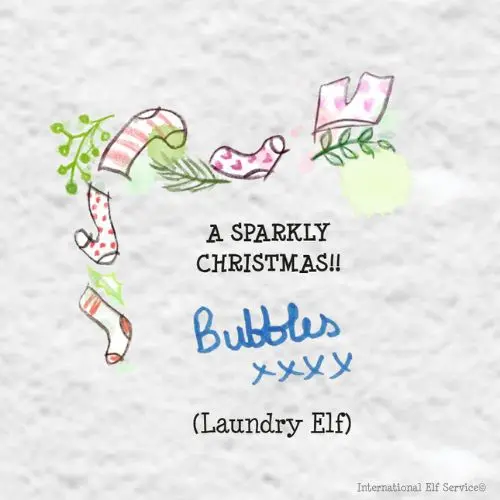 Bubbles: laundry elf
… works in Soap-Sud Cabin. She is totally over dramatic and theatrical. Some children say she's an old Granny Elf, while others say Bubbles is definitely a man. Bubbles calls absolutely everyone 'Darling'.
Other named Elves:
Derek
… is the Cinnamon Harvest Deputy in charge of Mining Elf trainees
Dottie
… is very new to the North Pole and a Trainee Cinnamon Miner. Dottie by name, dotty by nature!

Gerald
… is the Manager of Mistletoe Stores. He's so good at his job that some Elves think he might be a mind reader – he always seems to know exactly what they need to make the best pressies! He can be a bit of a worrier but is excellent at obstacle courses!

Hector
… an Assistant Reindeer Keeper
Marge
… the Sticky Situations Officer
Olive and Jeffery
… Sparkle Captains
5,498,236 Extra-Tiny Elves
… too many to name here but they sew the twinkle into tinsel and polish the Christmas glitter

For more magical Christmas Traditions to do with your children, see our Blog.