This original Christmas Elf tradition from International Elf Service, is where children discover mysterious Christmas Elf letters from the North Pole mysteriously around their home …
Our Elf letters from the North Pole bring all the latest updates from the Elves … magical, handcrafted and personalised Christmas Elf letters, bringing a huge dollop of Christmas Magic!
The elf ideas from International Elf Service are the perfect alternative (or accompaniment!) to elf on the shelf antics. Enjoy shrieks of excitement when they discover an Elf letter written by a Christmas Elf, with their names on … by their toothbrush, hidden in their shoe, or tucked into the cereal box … !
This Christmas Elf Tradition is the perfect way to make magical Christmas Memories together. Share in all the fun, adventure and excitement of the Christmas Elves as they prepare for The Big Delivery in the North Pole.
If you want to learn more about our original Christmas Elf Tradition please see our FAQ page…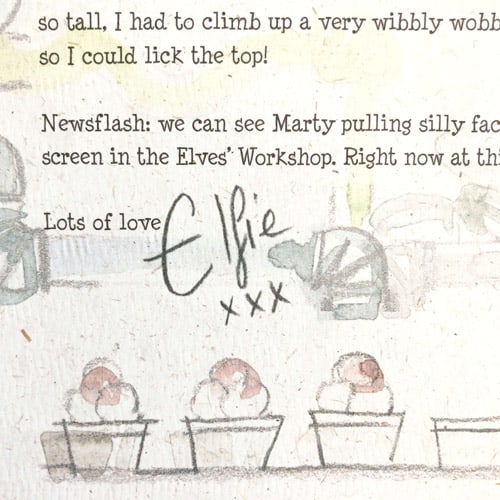 Elfie: chief letter writer
Elfie's a sweet loveable letter writing and amateur painting Elf, who's extremely chatty and loves writing to children! Fairly young in Elf years, Elfie gets totally overexcited by every little thing and is often at the brunt of Marty's tricks and inventions. Some children swear Elfie's a girl. Others are adamant Elfie's a boy. Will we never know for sure?
Elfie's Christmas Letters is the ultimate bundle of daily Elf Letters from the North Pole … for a very magical December!
Marty: joke lover, inventor
Marty loves pranks, inventions, experime… a Christmas Elf who loves pranks, inventions, experiments and sweets, and is always up to something. And this year's no exception! He'll do anything to avoid hard work. Or any work … ideally while eating vast quantities of candy. The question is … will his latest invention, a Veggie-Vanisher Machine, work out as he hopes?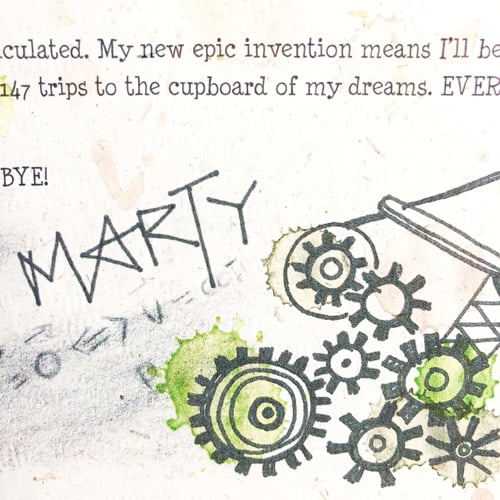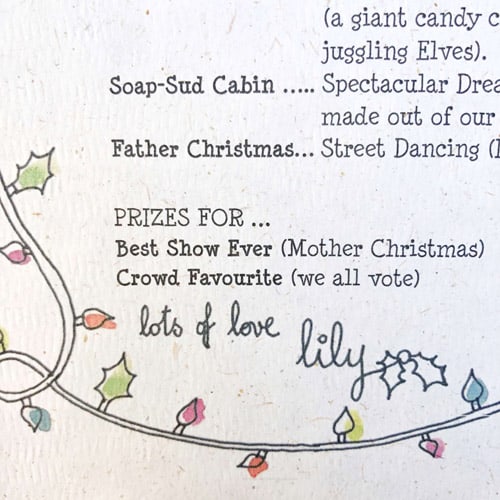 Lily: prizes manager, expert knitter
Being the most organised Elf, Lily's started ..being the most organised Christmas Elf she's started one of her infamous "Important Lists" to help make sure the Elves get everything done in time for Christmas Eve. Apparently there have been issues with Library Books that won't stop singing (or are far too stinky), gobstoppers being put into the Magical Wind Machine when they shouldn't be (far too dangerous), and now the doorbell to the Elves' Workshop is playing a very unwelcoming tune … and that's not all! I can only hope all the Elves read the noticeboard.
Dani: carpenter, engineer
Dani's never happier than when he has a project: whether it's carving an emergency replacement antler for Rudolph, fixing the In-Flight Compass so The Sleigh can stay on course, or unblocking one of the pipes in the Magical Wind … his list of things to sort out, seems to be growing! Instead of porridge, the Elves' bowls are full of shrunken pyjamas, rotting veggies, old envelopes … and very disgustingly, dried reindeer poo. Luckily he realises the pipes to the recycling cabin and the porridge machine have got mixed up, and manages to swap them back over just in time!
This Christmas Elf Tradition is perfect for making magical Christmas memories together.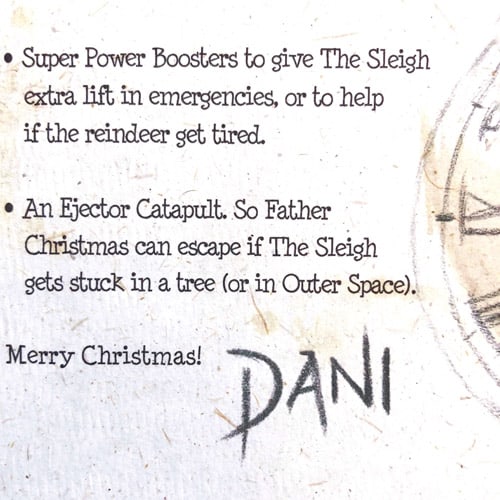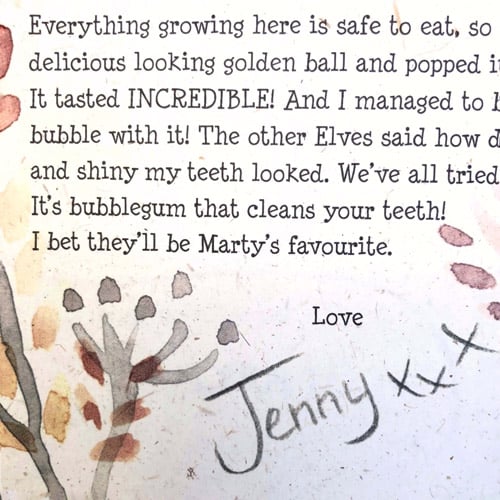 Jenny: north pole gardener
… has the very responsible job of ensuring the Glowing Teetle-fums grow as quickly as possible, and glow! They are the Elves' final hope to get The Sleigh's Runway lit up enough for The Sleigh to take off on Christmas Eve. Will they or won't they?!
Stan: chief miner
… the Chief Miner in the Cinnamon Mine, (and is particularly good at drawing). The Mining Elves making an extraordinary discovery in the back of the Mine … a Secret Library, filled with BAZILLIONS of books. But these aren't just any old books!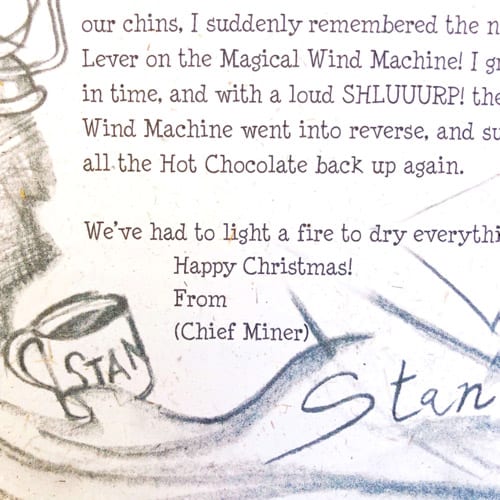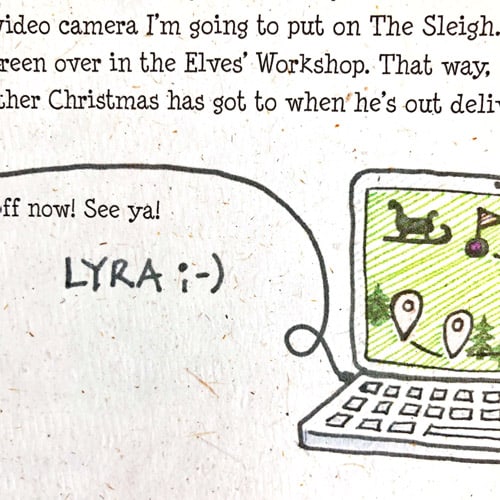 Lyra: computer geek
Lyra's the new Elf on the block. She's been hired by Father Christmas from the North Pole Route Planning Department,… Lyra's a total whizz at computers, and is super cool. After a series of rather serious laundry mishaps, she's just installed a totally mega-whizzy computerised laundry system over in Soap-Sud Cabin. To everyone's relief, she's also added a special Wind-Speed Safety Detector to the washing line … to prevent the Sleigh from crash landing like it did last Christmas Eve!
Dave the Stitch: underwear designer
… works in Pine Needle Lodge, and has the very important job of making Father Christmas' Christmas Eve uniform each year! Keen for The Big Delivery to go as smoothly as possible, this year's important additions include, amongst other things … an Automatic Pyjama Dressing Machine (with launcher), a Snore Counter – to measure the sleepiness of children AND their pets and some high tech goggles … with laser beams to make sure of precise chimney location.
A Christmas Elf Tradition full of inventions and laughter.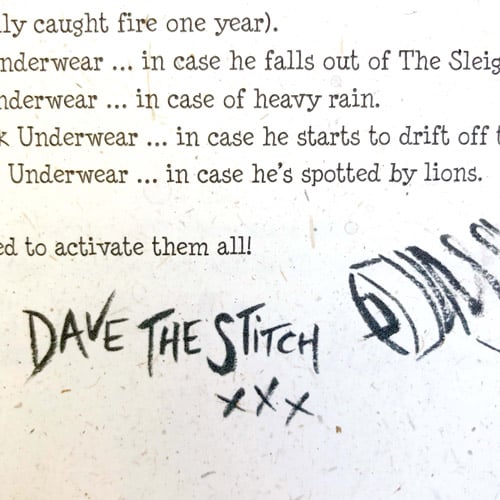 For more magical Christmas Traditions to do with your children, see our Blog.