Christmas Elf Letters – North Pole News Series 2023
7 handcrafted, personalised Christmas Elf Letters from the North Pole, filled with news and sparkling with magic (5-99yrs).
£18.50 – £22.00
Free UK P&P
What You Receive
We really care about our beautiful environment, so we use the most exquisite 100% Recycled Paper for all our magical papery things.
Depending on your choice, we also add ...
8 x Personalised 100% Recycled Envelopes
OR
8 lengths of 100% Soft Cotton Candy Cane Twine
Please note that due to our printing methods and the nature of recycled paper, the product and the print may vary.
Magical Details
Brand new for 2023 - dispatching from September – a bundle of magical letters from the North Pole. Suitable for 5-99 yrs.
7 personalised letters, each written by a different Christmas Elf, with newsy stories bringing the North Pole to life.
PLUS an official Certificate & Map of the North Pole for children to find mysteriously around their home during Advent!!
With new stories, inventions and excitement each year ... hear all about how Marty's new invention makes all the other Elves' pyjama bottoms fall down and how Brainy Brian nearly ruins the Christmas cake mix. Follow J.D. (Emergencies Elf) as she saves Mother Christmas and Nosy the rabbit from a floating disaster and find out how Stan uses Cinnamon to reverse a magical crisis. Discover why Lyra's new computerised system is so delicious, how Lily is keeping everyone super organised and why Father Christmas is pedalling The Sleigh with a mask on his face!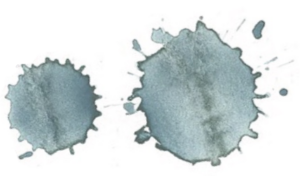 Choose between a bundle of magical personalised envelopes, or lengths of soft cotton candy cane twine to roll your letters into mysterious scrolls.
Then, once your order arrives, hide it safely and choose, on behalf of the Elves, when and where each letter is delivered mysteriously around the home for your children to discover the next day – either daily for the week before Christmas or throughout Advent to sprinkle the Magic further!
Pop one by their toothbrush or in their shoes, on the door mat or in their school bags, or, if you're still not sure, click here for Delivery Ideas. A truly magical Christmas tradition and children's keepsake. See our Reviews.
IMPORTANT NOTE: all the letters in this bundle are also included in our Elfie's Christmas Advent Calendar Letter Bundle. 

Christmas Elves borrow Father Christmas' computer to write letters directly to your children full of secrets and snippets from the North Pole from wacky inventions and mischievous pranks, to awful muddles and hilarious mix-ups! The Elves bring to life a magical world during the countdown to The Big Delivery where the excitement gets the better of everyone. Read the delicious (and some not so delicious!) recipes that get cooked up in the kitchen, and hear about an Extra Top-Secret Magical Gateway that only certain Elves can use.
This bundle goes perfectly with the personalised Christmas Night Letter Bundle, Letter from Father Christmas ... and our Personalised Memory Box Traditions?
For a story-based letter bundle, please see our Ultimate Advent Calendar Elf Letter Bundle – Elfie's Christmas Letters Ultimate Story Bundle – which includes all of the above letters. It works like an Advent Calendar and is the perfect alternative, or accompaniment, to Elf on the Shelf!

A sneaky peek at some of the letters for Christmas 2023:
Marty
... is a Christmas Elf who is always up to something – inventions, pranks, and grabbing as many sweets as he can. And he'll do ANYTHING to avoid hard work. As usual, his latest invention – a GENIUS Gadget to make everything taste like candy – causes total chaos for everyone in the North Pole.
Lyra
... is a super cool Elf and the North Pole's computer whizz. After installing a brand new remote-control network of Night-Lights in Cranberry Cabin (as well as a "One-At-A-Time" Switch for safety), she's designed a Special Sweet and Savoury Separating System to organise the North Pole Foodstores. She calls it the "Track All Snacks for
a Terrific Yuletide", or TASTY for short! 
Lily
... is the most organised Elf in the North Pole. She makes sure the Elves get everything done in time for Christmas Eve. This year, her "Important List" includes instructions for the annual group photo for the Festive Christmas Card; many congratulations to the Elves who've been promoted to Assistant Reindeer Keeper, Sticky Situations Officer and Sparkle Captain; the recipe for an extra-powerful Magic Dust; and the rules for the next Snoring Competition.
J.D.
...  is the North Pole's Emergency Elf. She comes to the rescue whenever her Pocket Alarm-Tracker goes off (which is often!). This Christmas, she's had to untangle Percy the mouse from Father Christmas' beard (for the 896th time!), treat a headache by holding a warm Brussel sprout on an Elf's ear for 15¾ minutes, and solve the problem of an extremely serious Magic Dust leakage … all quickly solved with an Extra-Strong Christmas-tree-shaped Plaster and some Raspberry Ripple Elf-Recovery Remedy!
Stan
... is the Chief Miner in the Cinnamon Mine below Christmas Cabin. This year, he and his team of Mining Elves find themselves activating Operation Cinnamon Rescue – a rather scatterbrained Trainee Cinnamon Miner has gone missing along Passage #3 (for Scout Elves Only) and has been zapped into the Magical Gateway that leads to the human world! Thankfully Stan knows exactly what to do to save her.
Brain
... has been asked to help with this year's Christmas Cake. But, as usual, he gets in a terrible muddle and even thinks about adding dried Reindeer poop into the mix! Mother Christmas steps in to suggest he just helps with the decorating but the final result is covered in crowns, Tarzan characters, a tatty old stocking and mini fire extinguishers! Luckily, everyone loves him so much, they always end up enjoying his interesting creations.
Dave The Stitch
... spends his days in Pine Needle Lodge, designing Father Christmas' brand new Christmas Eve uniform! Each year he also adds important extras to The Sleigh to make sure The Big Delivery goes as smoothly as possible. This Christmas, among other gadgets, he's installed an Automatic Jingle-Bell polisher, a Reindeer Paarp Detector (with in-built face mask and fan), a sElfie Cam (to beam live pictures back to the North Pole) and an Invisible Parking Badge (for busy areas where he mustn't be seen). He's even included a small pond (with frogs and a mini waterfall) so Father Christmas can enjoy an inbuilt garden on his travels.
For a story based letter bundle, please see our multi-award winning, the original Elfie's Christmas Letters - Magical Advent Calendar
Christmas story-telling and Christmas Traditions 
The lead up to Christmas is packed with the most wonderful opportunities for family time and family traditions. It gives us all the perfect reason to get together, share happy stories and fun experiences, and relive old memories while creating important new memories which will last for years to come. The enchantment of Christmas is that combined feeling of togetherness and family Christmas tradition.
Why are Christmas traditions and family traditions so important to children?
Christmas time and the Christmas traditions and rituals we repeat each year are all about family and being together. This feeling of closeness is particularly important for children. It gives them stability, making them feel safe, protected and loved. In turn, they are healthier, in both body and mind, and the family as a whole is stronger and happier. There's nothing better than everyone sharing the excitement of a Christmas tradition that only comes around once a year, whether it's a game of Christmas charades, telling stories around the fire with a mug of steaming hot chocolate, or snuggling up on the sofa to watch the traditional Christmas Eve movie. Making special memories such as these and spending lots of quality time together doing special Christmas traditions improves Family Relationships and creates memorable experiences full of Christmas magic that can be treasured for years to come.
If you're interested to know what other families think of their personalised Christmas Elf letters, have a peek at our Testimonials.
[youtube-video][/youtube-video]
Why not share your photos with us on Facebook, Twitter or Instagram?
How it Works
We deliver Christmas Magic directly from Christmas Elves in the North Pole to your door, in a well-disguised parcel ... for a most magical December!
---
Any day before the 1st December:

Deliver the Certificate and the Map of the village in the North Pole somewhere around your home for the children to discover ... this lets the children know they've been selected to receive these magical letters!
Depending on what you ordered, you can either roll the Certificate and Map into a scroll, tied with Candy Cane twine, keep them flat, or pop them into one of your personalised envelopes!
You can purchase Extra Maps if you'd like more.
---
From the 1st December onwards ...

Deliver one of your 7 Magical Advent letters, either every day throughout the week before Christmas, or spread the magic through December! These North Pole letters are undated and can be read in any order!
If your children write to the Elves hoping for a specific reply to their questions, you can deliver the Emergency letter from Mother Christmas with the next magical delivery. This will hopefully encourage them to keep writing, without expecting any replies!
---
Why not add one of our other personalised Christmas Elf Letters?
Letter from Christmas Eve (new each year!)
Christmas Day in the North Pole (new each year!)
Letter from Father Christmas or Santa Claus (new each year!)
Feedback Form from Father Christmas from the Sleigh's 'In-Flight Notebook', for you to complete, for your child(ren) to discover on Christmas morning! What did Father Christmas think about the drink and snack you all left out for him? Burpingly delicious? Snoozy making? What fun!
OR upgrade to our Advent Calendar Bundle: Elfie's Christmas Letters
Good To Know
Original International Elf Service™ Christmas 2020 Edition
Brand NEW letters each year. Dispatching from September - Testimonials
A magical Family Christmas Tradition that encourages your children to read and helps to preserve Christmas Magic.
These letters are undated and can be delivered whenever you like!
One Christmas Elf Letter a day from the North Pole for the week before Christmas. 7 personalised letters, full of news from the North Pole and addressed to all the children in your family.
NOTE: The letters in this bundle are also included in our Advent Calendar: Elfie's Christmas Letters. Only one bundle per family needed.
Deliver these Christmas Elf letters wherever is most magical for your child ... pop one by their toothbrush, in their shoes, on the door mat, or in their school bags ... How This Works 
Designed to encourage children to read and promote creative thinking.
Either to read together, or for older readers to read to themselves.
A4 size. The Elves put all their letters through a Magical Enlarging Machine to make them big enough for us to read.
Handcrafted illustrations and paint splodges for that all important authentic look.
A wonderful family Christmas tradition.
Official International Elf Service™ product
100% Recycled Paper
Reviews
Leave a Review!