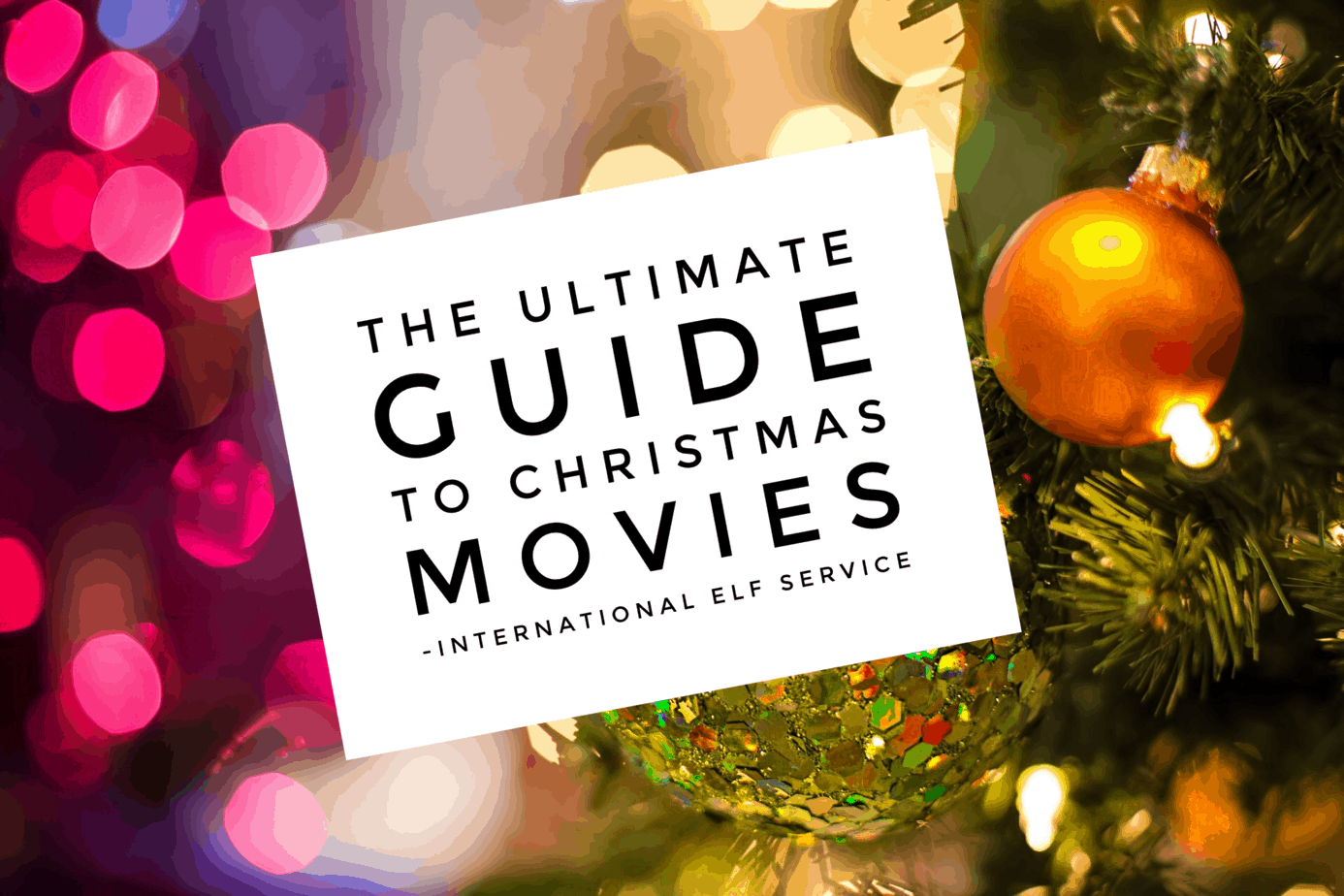 Watching Christmas Movies together as a family, really is one of the best Christmas traditions.  Get those new Pjs on, that hot chocolate made, the mulled wine flowing, turn the Christmas Tree lights ON, and start munching on that popcorn!
In no particular order, here are the most loved Christmas movies ever.  If one's missing, please let me know and I'll add it ASAP!
For loads more Christmassy Films, you can also pop on to my Pinterest Board: Christmas Movies
Bugs Bunny and his merrymaking cohorts Porky Pig, Foghorn Leghorn and Tweety teach Ebenezer Scrooge (Yosemite Sam) a thing or two about the spirit of Christmas in this perennial animated treat.
---
How CAN Santa deliver billions of presents to the whole world in just one night? With an army of one million combat-style Field Elves and a vast, state-of-the-art control center under the ice of the North Pole! So how could this incredible operation have MISSED one child?! To Santa's young son, Arthur, it threatens to end the magic of Christmas. With retired Grandsanta, a rebellious young elf, an old sleigh and some untrained reindeer, Arthur sets out in a crazy mission to deliver the last present! Deck the halls with excitement, fun and wonder in this new Christmas classic!
---
Both Home Alone & Home Alone 2 are big hits. Macaulay Culkin, Joe Pesci and Daniel Stern star in this double bill of comedies directed by Chris Columbus. In 'Home Alone' (1990), Kevin (Culkin) finds that his family have gone on holiday without him and he is left alone in the house over Christmas. To make matters worse, two local crooks (Pesci and Stern) have their beady eyes on the seemingly empty property. Kevin must find a way of stopping his home from being robbed and comes up with some rather inventive ways to deter the thieves.
In the sequel, 'Home Alone 2: Lost in New York' (1992), Kevin and his family are preparing to go away to Miami for the Christmas break, but when they get to the airport they find that Kevin has mistakingly got on a plane to New York. As he tries to find his way round the big city he comes across two familiar faces…
---
Experience the true magic of the holidays with Disney's original hit comedy, The Santa Clause, now available on Blu-ray in a new digital restoration with enhanced picture and sound. Tim Allen sparkles in a hilarious family movie for all ages. On Christmas Eve, divorced father Scott Calvin (Allen) and his son Charlie discover the current Mr. Claus has fallen off their roof. When Scott dons Santa's suit, he unwittingly triggers "The Santa Clause," and they are immediately whisked away to the North Pole to take on the role of jolly old St. Nick. Relive all the joy of this holiday classic in a whole new way in Disney High Definition!
---
Take a fantastic journey with your beloved Buddy friends to the magical world of the North Pole! Upon his 1600th birthday, Santa Claus is given a very special gift: a white, fluffy, stuffed toy puppy which is brought to life by the Great Christmas Icicle (turning him into Santa Paws). When Santa loses his memory and becomes lost in New York, Paws and his new friends must find him and his magic crystal in order to restore Christmas. Along the way, they try to brighten the lives of Quinn and Will, a couple orphans whose only wish is to have a family.
---
*Same as 'Mickey's Christmas Carol'
Animated seasonal special starring many of the best-loved Disney characters. Christmas gets off to a bad start for Mickey and the gang when a massive snowstorm leaves them snowed in and stranded at the House of Mouse. But before long Minnie pulls out the old home movies; Pooh, Piglet, and Goofy start passing round the cookies and hot chocolate; while Belle, Daisy, Mickey and Goofy begin reminiscing about yuletide's past; and pretty soon the friends are all having a fine festive time. Even grumpy Donald soon begins to enjoy himself.
---
Five Christmas adventures for Mickey Mouse in his computer-generated animation debut. In 'Belles on Ice', figure skaters Minnie and Daisy are best pals, but each one thinks she is the star of the big ice show. In 'Christmas: Impossible', Huey, Dewey, and Louie realise they may be left off Santa's good list this year – but with no time left to mend their ways, their only possible course of action is to break into Santa's workshop and write their names on the list themselves. 'Christmas Maximus' finds Max mortified with embarrassment by the over-the-top antics of his dad, Goofy, when he brings his college girlfriend Mona home for the holidays. In 'Donald's Gift', Donald Duck just wants to stay at home and avoid the hassle of Christmas, but Daisy and the Nephews drag him out to the mall. In 'Mickey's Dog-Gone Christmas', Pluto runs away in shame after accidentally destroying Mickey's prized Christmas decorations – and inadvertently ends up on a train to the North Pole.
---
Christmas family comedy directed by independent filmmaker Jon Favreau. Will Ferrell stars as Buddy, a human being who has spent his whole life believing himself to be an elf. Brought up by Santa (Edward Asner) and his elves at the North Pole, Buddy has spent the last 30 years happily working in Santa's toy workshop. But when his ungainly size starts to become a liability in the elf-sized working environment, Santa suggests that Buddy head to New York City to find his biological father (James Caan). Needless to say, the unlikely spectacle of a 6'5′ man dressed from head to foot in bright green stands out a mile on the streets of the Big Apple, and the good-natured Buddy finds himself in all sorts of scrapes as he gets used to his new family and surroundings – and they get used to him.
---
This semi-remake of Holiday Inn (the first movie in which Irving Berlin's perennial, Oscar-winning holiday anthem was featured) doesn't have much of a story, but what it does have is choice: Bing Crosby, Danny Kaye, Rosemary Clooney, an all-Irving Berlin song score, classy direction by Hollywood vet Michael Curtiz (Casablanca, The Adventures of Robin Hood), VistaVision (the very first feature ever shot in that widescreen format), and ultrafestive Technicolor! Crosby and Kaye are song-and-dance men who hook up, romantically and professionally, with a "sister" act (Clooney and Vera-Ellen) to put on a Big Show to benefit the struggling ski-resort lodge run by the beloved old retired general (Dean Jagger) of their WWII Army outfit. Crosby is cool, Clooney is warm, Kaye is goofy, and Vera-Ellen is leggy. Songs include: "Sisters" (Crosby and Kaye do their own drag version, too), "Snow", "We'll Follow the Old Man", "Mandy", "Count Your Blessings Instead of Sheep" and more. Christmas would be unthinkable without White Christmas. –Jim Emerson –This text refers to an alternate DVD edition.
---
Discover the secret of the greatest story ever told! A long long time ago in the frozen North Pole the greatest legend of them all was born. Little Nicholas is an orphan who is looked after by a different family every Christmas. To repay their kindness Nicholas spends his days carving wooden toys which he secretly leaves on their doorstep every Christmas Eve. Over the years, after so much kindness, almost every home in the village gets a gift and so the legend of Father Christmas is born. But one day Nicholas is forced to live with an evil carpenter who bans him from making toys. Suddenly, the whole tradition of Christmas is threatened and it will take a miracle to save it. Magical images and a heart-warming story make this the perfect Christmas DVD for movie-goers of all ages.
A remake of the 1947 'feel good' classic, telling the heart-warming story of a young girl's desire for a fully-functional family, complete with a father and a baby brother. The girl, Susan, confides in Kris Kringle (Sir Richard Attenborough), the kindly old man who is acting as the grotto Santa in the department store managed by her mother. Kris Kringle, however, believes he is the genuine Santa Claus and this devotion to the cause makes him very popular indeed, leading to record profits for the store. This annoys rival retailers so much that they try to discredit the so-called Santa, leading eventually to a court case in which Kringle and his lawyer try to prove that he is the real thing.
---
The Christmas Bunny tells the story of a lonely foster child who finds a lost, injured rabbit in the woods on Christmas Eve. The rabbit is nursed back to health by the Bunny Lady, who runs a rabbit rescue in an old barn behind her farmhouse. The girl begins to help the Bunny Lady around the farm, and through her love for the rabbits, slowly begins to grasp the feeling of being loved.
---
The academy Award-winning team of Tom Hanks and director Robert Zemeckis reunite for 'The Polar Express', an inspiring adventure based on the beloved children's book by Chris Van Allsburg. Late on Christmas Eve night, a boy (Daryl Sabara) lies in bed hoping to hear the sound of reindeer bells from Santa's sleigh. When to his surprise, a steam engine's roar and whistle can be heard outside his window. The conductor (Hanks) invites him on board to take an extraordinary journey to the North Pole with many other pyjama-clad children. There, he receives an extraordinary gift only those who still believe in Santa can experience.
---
From the makers of Notting Hill and Bridget Jones' Diary comes the ultimate romantic comedy. This blockbuster film includes a fantastic all-star cast and an outstanding soundtrack. The hilarious Love Actually explores the ups and downs of relationships in the weeks building up to Christmas. Boyfriends and girlfriends, husbands and wives, fathers and sons and rock stars and managers all combine to make Love Actually not just one story but ten very different ones.
Because if you look hard enough you will find that love actually is all around.
---
"A fun-filled and magical story about the legendary guardians–Jack Frost, the Easter Bunny, Santa Claus, the Tooth Fairy and Sandman–together for the first time. When the evil Pitch threatens to take over the world, it's up to our beloved heroes to protect the hopes and dreams of children everywhere. Filled with non-stop action and laughs, it's a dazzling family film that's being hailed as "full of wonder, originality and good-heartedness".
---
"I have to say that I love Shrek – and that's hard for me to admit being a 24 year old male. Never the less, when I heard there was a new Shrek DVD being released I didn' think, I just clicked and bought it.
I'm not so gulliable that I was expecting an amazing, three hour epic for my money but I was hugely disappointed when the credits started rolling after twenty minutes. Hardly enough to even keep the kids occupied ofr long, is it?"
However, on the plus side there are a few gags that will have you chuckling and it's a fairly heart warming tale. All in all I would say this is a product for those looking to complete their Shrek collection and not for anyone who is hoping to keep the ankle biters happy when Christmas excitement starts to take hold.
Review by A. Willmer
---
'Tis the season for love, laughter, and one of the most cherished stories of all time! Join Kermit the Frog, Miss Piggy, and all the hilarious Muppets in this merry, magical version of Charles Dickens' classic tale. Academy Award(R) winner Michael Caine (Best Supporting Actor, 2000, THE CIDER HOUSE RULES; 1987, HANNAH AND HER SISTERS) gives a performance that's anything but "bah, humbug!" as greedy, penny-pinching Ebenezer Scrooge. One fateful Christmas Eve, Scrooge is visited by the Ghosts of Christmas Past, Present, and Future. Together with kind, humble Bob Cratchit (Kermit the Frog) and his family, the Spirits open Scrooge's eyes — and his heart — to the true meaning of Christmas.
---
The legend of Santa Claus comes to life in this enchanting, heart-warming tale that the whole family will enjoy all year round.
This is the delightful story of a master toymaker (David Huddlestone) who discovers a magical kingdom of elves at the north pole. There he is entrusted with wondrous, special powers to become Santa Claus! And there he meets Patch (Dudley Moore), an eager-to-please elf who becomes mixed up with a dastardly toy tycoon's (John Lithgow) plans to take over Christmas.
---
Once upon a time, Santa operated with just a small workshop and a few elves. But, as Christmas has grown ever bigger, Santa has been forced to innovate! Now his cleverest elves develop amazing technology, including a hologram to hide the North Pole and a time machine to allow Santa to deliver presents to every home in the world, in just the one night. Bernard is an elf who dreams of creating such inventions, but his job is to clean the reindeer stables! Yet when he creates an amazing Christmas memory machine, his luck might be changing. But Bernard s invention is broken by a curious elf, causing the North Pole s power to fail and the hologram hiding it to disappear. Now exposed to the outside world, it is spotted by Santa s enemy, Nevill Baddington, who is determined to steal Santa s secrets for himself. The only person who can stop them is Bernard…
---
The Grinch (Jim Carrey) is a grouchy green monster who lives high up on a mountain overlooking the town of Whoville. The Grinch hates happiness, hates merriment, and most of all, hates Christmas. So one year, as the festive season approaches, he decides that enough is enough and draws up plans to steal all the decorations and all the presents from the poor, unsuspecting citizens below. Does this mean the Whos won't be celebrating this year? Not if little Cindy Lou has anything to do with it.
---
---
***
***