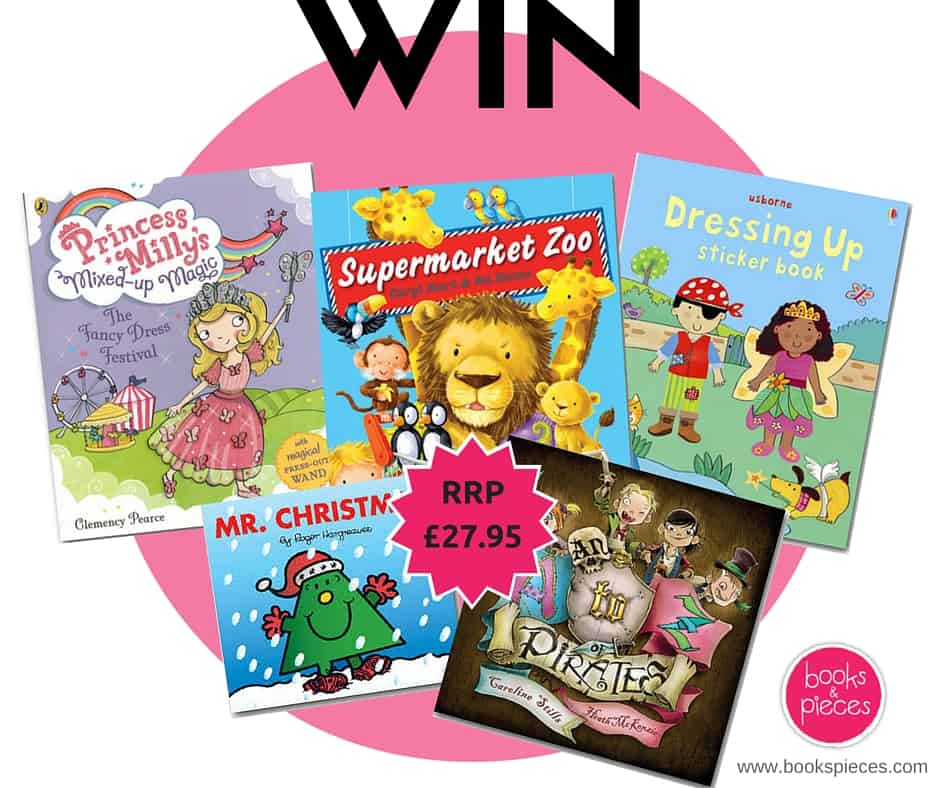 Thank you so much to Amanda from Books & Pieces for this gorgeous book bundle prize, just perfect for little people!
A note from Amanda…
Sharing a book is one of the best activities you can do with your child, but good books can be expensive. After my first son was born, I set up Books & Pieces to offer a brilliant choice of books at really low prices.
I search for my stock far and wide to ensure I get the best books at the best prices. Most of my titles are half price or less and cheaper than major online retailers and the supermarkets too. There are over 80 titles in my popular 4 for £10 deal, including well known books like Going on a Bear Hunt plus books from Julia Donaldson and Usborne.
I select every book based on the stories I've enjoyed with my own children (I now have three aged 2-5 years) and also on the recommendations of friends and customers.
I live in Leicestershire with my three little men (and one fully grown one!), and I deliver UK-wide.
Come and say hi on social media, or take a look at my full range of books at www.bookspieces.com
Facebook:  www.facebook.com/bookspieces
Twitter:       @bookspieces
Instagram: @books_pieces
..and more about the brilliant books from Books & Pieces!
Supermarket Zoo
We love Caryl Hart and Ed Eaves' Albie books, and this one's a particular hit with my 2 & 3 year olds right now. We join Albie and his mum on a shopping trip with a difference – this supermarket sells a colourful line-up of exotic animals instead of the oh so boring food. It's a totally ridiculous tale, which makes it even better in our camp!
Usborne Dressing Up Sticker Book
I'm a big fan of Usborne, and so I'm always excited when I get my hands on titles I can sell at brilliantly low prices. This one is an excellent sticker book for younger people and really reminds me of the dressing up books I used to enjoy as a kid – though because the clothes are attached with stickers and not tabs they actually stay on! Under-6s will have lots of fun deciding which colourful costumes the boys and girls should wear.
An A to Z of Pirates
My middle man starts school this year so I'm trying to be a good parent and encourage letter recognition. Books like this one make it easy – it literally is an A to Z of piratey things, with lots of other letter-grouped items to spot. What's better is it's rhyming too, which makes it so much more fun to read. And who can resist a pirate story?!
The Fancy Dress Festival
We don't get much chance for sparkles in our house, so I'm indulging myself by adding this Princess Milly story. Princess Milly's magic always gets a bit mixed up – but can she and her friends work together to fix it? I love Lauren Beard's bright, bold illustrations, and a big bonus of this book is it comes with its own press-out wand (not that I'm jealous!).
Mr Christmas
Finally, I couldn't run a competition with International Elf Service without including a Christmas book. My Mr Men books are always so popular, and even more so at Christmas time when they make perfect stocking fillers or advent gifts. At just £1 they're a total bargain too.
All you need to do to enter, is fill out Rafflecopter below and leave a comment why you want to win! All emails will be entered into our database and shared with Books & Pieces. We will not pass them on to any other third party.
Good Luck!
UK Only!
Competition starts at midnight on the 8th July 2016. Winner selected 27th July 2016.

Sign up at the bottom of this page if you would like to receive our rare North Pole Newsflashes 🙂
***
If your child believes in Father Christmas and you want to keep the magic for as long as possible, Elfie's Christmas Letters (advent letters), the North Pole Christmas Letters or our Candy Cane Christmas Letters are absolutely perfect!  You can preorder these for Christmas 2016 now, so please pop into the shop or join the mailing list.  Elfie's Birthday Letters are available in the Shop too!
Come and join us on Facebook for non Christmassy posts until much later in the year, or find us over on Christmas Traditions & Magic For Children for all year round festive chat.
To receive our blog posts, please sign up at the right hand side of this page or for Product or Christmas News and promotions from the International Elf Service, please sign up at the bottom of the page.
Love
Elfie x