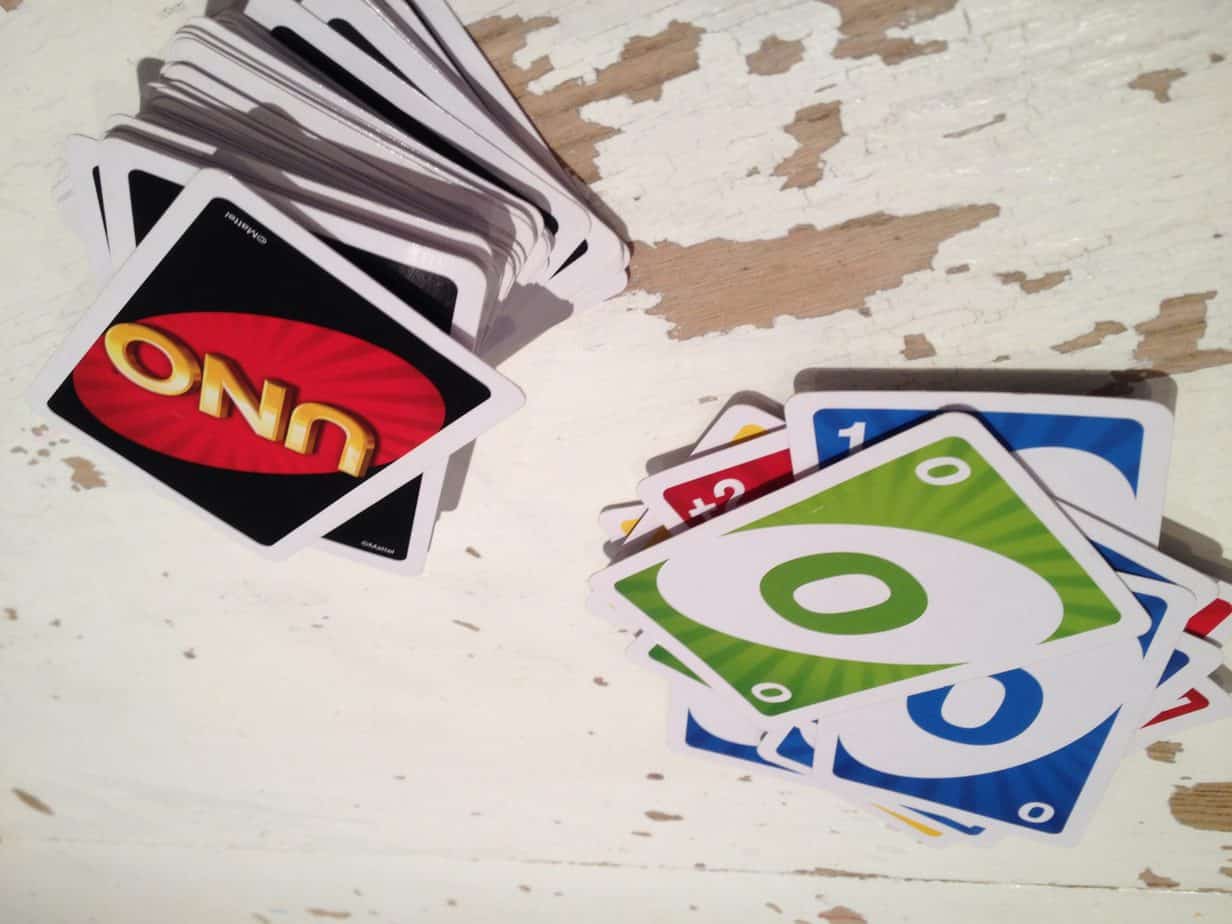 If you want a card game to introduce to the kids for the holidays, then Uno is it! It says ages 7+ on the box and 2-10 players, but even our youngest, who's four and has Down Syndrome enjoys playing Uno.
We heard about it from one of our neighbours and as we were going on a self-catering holiday, I was feeling a bit desperate as we never have much luck with the weather! You can read about our last holiday Carry On Self-Catering. Thankfully Uno was a huge hit – we either play it together, or the kids just play by themselves…what could be better when you have 6 weeks stretching ahead of you, probably with chunks of rainy bits in it?!
To cut a very long story short, the idea is to get rid of all your cards. The simplest way to play Uno is to take it in turns to match the previous person's card by either colour, number or type of card, use a wild card if you don't have a match and try and try to get your opponents to collect more cards from the main stack.
Depending on what card the previous person puts down, you may have to miss a go, change colour, pick up cards from the main stack or, if you don't shout Uno! when you're down to your last card and someone notices….forfeit time!!!!
There are more complicated games you can play and a typical game lasts about 15 minutes, which is just brilliant when you have kids. You know how your heart sinks when they suggest monopoly and all you have is 11 minutes to play before you have to do other stuff? Squeeze in a game of Uno instead, have a laugh with the kids and they'll inevitably carry on playing by themselves for a while. It's more addictive because the games are so quick!
It definitely spans the generations because even Grandpa can play it….
You may also like to see other Family including:
Indoor & Outdoor Party Games
Handwriting Practice On The Sly
How Reading With Your Child Develops Memory, Creativity & Security
Do have a browse through our blog (crafts, parenting, recipes etc) and come and join us on Facebook for lots more! We also have a lovely new Facebook Group called Christmas Traditions & Magic For Children so please come and join us there too!
To receive our blog posts, please sign up at the right hand side of this page or for Product or Christmas News and promotions from the International Elf Service, please sign up at the bottom of the page. This year's series of Elfie's Christmas Letters, a shorter set of letters from different elves from the North Pole and other fun products will be in the shop a little later. Don't forget Elfie's Birthday Letters are now available in the shop too!