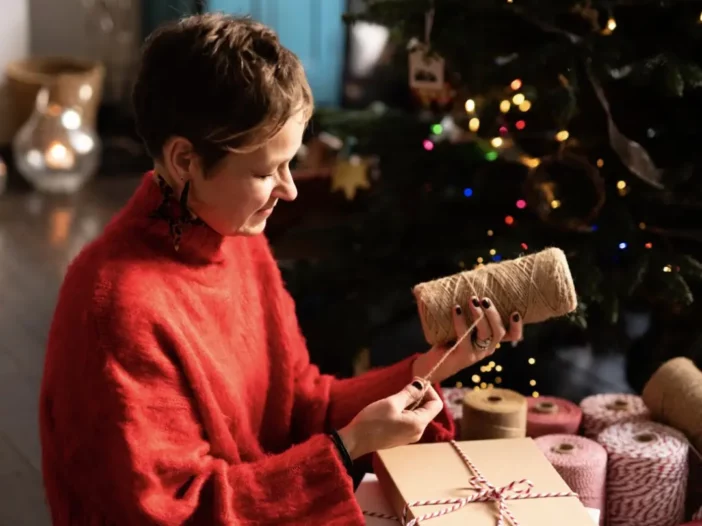 by Emily Beckloff
I always say it started back in 2009 when my children were very young. But actually, it was even earlier – when I was a child, completely obsessed with Christmas and what the North Pole Elves were up to as they got everything ready for the Big Delivery on Christmas Eve.
So it's no surprise really that, when I became a mum, I wanted to recreate that same wonder for my own family, something that wasn't related in any way to behaviour or the big brother concept that 'Father Christmas and the Elves are watching you'. For me Christmas magic is always for everyone, no matter what.
I started looking for a really magical and experience-rich Christmas Tradition – something that meant we could all enjoy the excitement and sparkle of Christmas Eve for even longer. But I couldn't find anything that felt or looked truly believable or authentic. To me it was all too commercial and not at all North Poley!
Then, one evening, I was curled up in front of our fire reading 'Letters from Father Christmas' by J.R.R. Tolkien – a gorgeous collection of notes that he wrote to his children from the North Pole. And suddenly it all seemed to fall into place … I decided to write messages from the North Pole and leave them hidden for my children to discover each day – a totally magical and chocolate-free Advent Calendar idea!
At first they were teeny tiny notes: things like, 'Father Christmas lost one of the buttons off his jacket! He ate nine helpings of Cherry Pie, and it pinged off and flew somewhere behind the Giant Lollipops in the Elves' Workshop!'. Then, as the children grew, the letters got more substantial … eventually turning into one long Christmas story with a new 'bit' being published each day, just like the pages of a book.
I absolutely adored seeing the look on their faces as they found each letter during the December Countdown. It was as if my dream had come true – to be able to spread the spirit of Christmas as if by magic.
But it didn't stop there. I wanted to share this incredible feeling with other parents too. And soon, the mums at school were asking for copies and I found myself delivering bundles of letters "Top Secretly" in the playground at drop-off time …
In 2014, I finally launched International Elf Service on-line with the world's first and original Christmas Elf Letter Advent Calendar – a bundle of personalised letters from the wonderful and rather crazy world of the North Pole Elves with their topsy-turvy inventions and Emergency Pyjama Meetings. And, thanks to an amazing designer I'd happened to meet outside the school gates, brought them all to life with beautiful hand-drawn illustrations on exquisite eco-friendly paper.
One of the best things for me now is seeing so many families enjoy our Christmas Elf Letters year on year. In fact, it's not just children but everyone from 0-99 years! Seeing both new and familiar names on their orders during the lead up to Christmas brings a smile to my face every time. Above all it's a real honour and a privilege to be a part of a child's growing-up and a family's Christmas memories. Thank you for making it all possible.
Photo by the very talented Petra Gatto
Why not share your photos with us on Facebook, Twitter or Instagram?