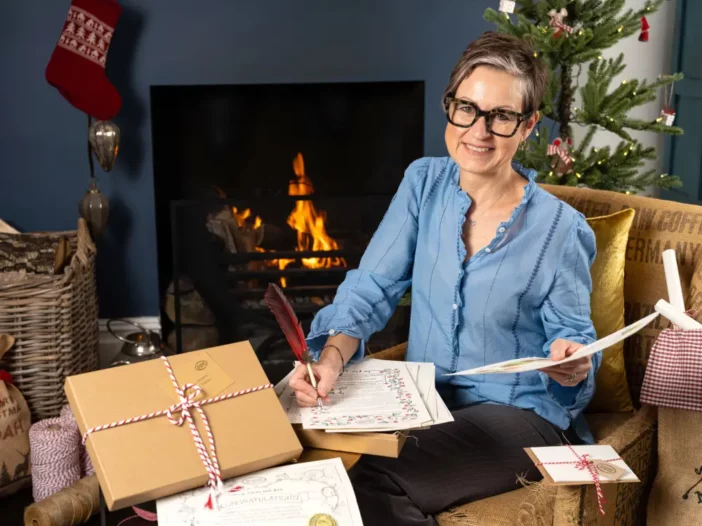 Our favourite post Christmas Tradition
Having enjoyed a totally magical family Christmas in December, full of precious memory-making moments (and rather too many Christmas treats!), the moment our children go back to school is time for all of us here at International Elf Service to get stuck into our most important Christmas tradition of all – writing Father Christmas Letters and Elfie's Christmas Advent Calendar Letters … The ORIGINAL Christmas Elf Advent Calendar!
Yes – even though Christmas Eve and the Christmas holidays are definitely our favourite times of year, we really look forward to when the January term starts and we can begin to create fun and enchanting North Pole Elf Letters with stories that we hope will make children's eyes truly sparkle with all the joy of Christmas Magic.
Christmas planning
Our first job in planning Elfie's Christmas Advent Calendar Letters is to find all our Christmas Lists. Not the ones including everyone's Christmas present wishes, nor the list of our favourite Christmas movies or best Christmas books. Not even the new Christmas decorations for the Christmas tree, nor the delicious ingredients we need to make a Christmas feast. No – these are the Christmas Lists we make throughout the year … funny things that have happened to us or our children, wacky jokes we've heard, or moments we've seen or read that give us inspiration for the Elf characters we know and love as well as new ones to come.
It's these lists that give us the starting point for our stories, when we can finally get together to discuss and develop what's happening at the North Pole with Father Christmas, Mother Christmas, the Reindeer and, of course, all the Christmas Elves. Every year, this megabrainstorm beats the last record for being the longest Elves' meeting in the history of Elf letter writing, but it's full of excitement, laughter and oodles of Christmas Spirit!
Keep the Christmas Spirit flowing
So even when (for most people) the Christmas tree is down, the Elf on the Shelf has gone back to the North Pole, the Christmas decorations are safely packed away, and some are even gearing up for the next celebration of Valentine's Day or Easter, all of us here in International Elf Service are still feeling in a festive mood and full of Christmas Spirit. And, if like this year, we get the bonus of some snow, it makes our job even easier than usual! So we put on our cosiest slippers, grab a hot choc (with a few extra marshmallows), open our computers and get chatting …
Then, once we have a story thought that makes us giggle out loud or, better still, leap out of our chairs and shout 'YES! THAT ONE!', and the Christmas Elf adventures are running riot in our imaginations, it's time to sit down and write – filling out the fantastical stories with muddles, inventions and pranks, puzzles and codes, Emergency Pyjama Meetings and, of course, plenty of pressie making … all for children to find out about in personalised Elf letters from the North Pole hidden mysteriously around their home every day of Advent!
Sprinkle on the Christmas magic
Finally, after several read-throughs and some careful tweaks to make everything Extra Special, the story is written and ready for its most magical ingredient of all – the fabulous hand-drawn illustrations that inspire the readers' imaginations and bring it all to life.
Obviously the North Pole Elves think making Christmas presents for children is the best thing ever, but we all believe that creating, writing and designing Elfie's Christmas Advent Calendar Letters, our Santa Letters and Letters from and TO Father Christmas comes in a close second as the best Christmas Tradition of all time! Thank you to all the families for giving us the most wonderful job in the world. We couldn't have so much fun without you!