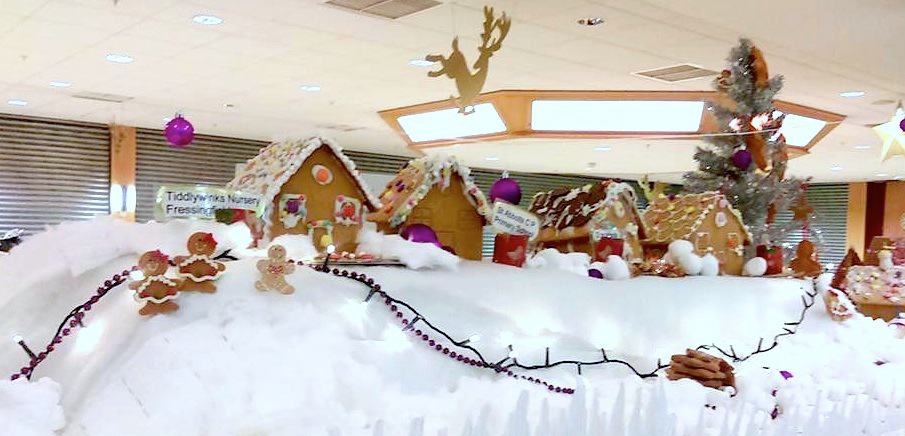 Ruth Harris-Orford is the Community Champion in her local Morrisons supermarket, fundraising for their charity partner and working within the community to help bring it together.  Two years ago, Ruth started something rather amazing, using a very simply Gingerbread House idea, and has kindly agreed to write this incredibly inspiring post to tell us about it…
***
My favourite time of year is Christmas – this is not the norm for people who work in retail, most people hate the fact that come September, Christmas starts to creep into the stores. I'm the crazy member of staff that goes wild down the Christmas aisle.  In fact they ban me now from going down it too many times, as they can't cope with my excitement.
As I always have to think of new ways to fundraise within store, I set about organising a competition between staff – a gingerbread house competition. Staff would make and decorate their own gingerbread houses and put them on display for one day, the next day I thought we could put for sale signs up like you see on real houses and auction them off for charity.  The General Manager at the time thought it was a fantastic idea, and was keen to be the auctioneer. So, posters went up and staff were interested. I really thought I was on to something.
However, two weeks before the planned day, staff had lost interest.  They didn't want to make gingerbread houses to just sit there, and I began to panic. When you plan a fundraising event you worry anyway. I wanted this to be something special.  In my panic I noticed we sold gingerbread kits (on goes the lightbulb) and I thought 'what if I can get schools, groups etc. involved by donating them the gingerbread houses to build?' By doing this, I was also getting our products out into the community, so it was a win-win situation! So with the help of Facebook, I put a plea out to anyone who had time to build a house for me. I was amazed at the response; I was actually going to have enough houses to make it work!
So, the week before the event I drove around the locality, dropping gingerbread house kits off to local schools. Now, anyone working in schools in the run up to December knows how busy it can be, so I was extremely grateful to them all as they had less than a week to complete them. I also needed to make my own gingerbread house and make sure I had all the scenery prepared to make it look really special for the day in the hope that people would want to donate to buy these special houses (for decoration not consumption).
I spent the following two days collecting in what I called these 'works of art'. So much effort had gone into these houses: the children at each school / nursery / group had so much fun and couldn't wait to see their house on display in store. With this in mind, I asked if I could keep them displayed for the weekend rather than just a day.
The morning of set up: I was full of excitement; this was my baby; it was going to be magic – well in my head it was, I didn't really worry what other people thought as the fact that these children had found so much enjoyment decorating these houses made it magical and was the icing on the (Christmas) cake to me!
After preparing and setting up for over an hour I finally had my finished village. It was spectacular, never have I felt so proud: staff came and looked; they commented on how beautiful it was, customers stopped to admire it, commenting on how lovely, how original it was, head office got wind of it through social media and newspapers – they were amazed at it. The charity bucket sat in front of our sparkling little village and people were donating just to look at it.
It was such a success, creating a bit of magic in store.
Sadly, that year, tragedy struck our store. We lost a staff member in a tragic accident, so with that in mind we changed the charity we raised money for, we didn't auction the houses off and instead we kept them on display. Consequently, this had such an impact on the store as we raised over £1,500 by keeping the village on display until New Year's Eve. This was an amazing amount to be raised for the two charities concerned, Sue Ryder and GOSH. Finally the time came to take the village down, which was the hardest thing. As each house was now covered in dust and kiddie fingerprints, the only thing to do was break them up. It was extremely sad, however they had served an amazing purpose and created more magic than I could have imagined within store.
The following year I dedicated it to the member of staff we lost by adding her favourite colour to the display. The gingerbread village grew and it took a lot longer to set up but it still had a huge impact, it was bigger and better. As each year passes I think it will not only continue to grow and create a very special magic feeling within store, but also bring the local community together while raising money for charities close to our hearts. Surely that is the true spirit of Christmas?
The feature photo above shows last year's gingerbread village …… what will this years be like??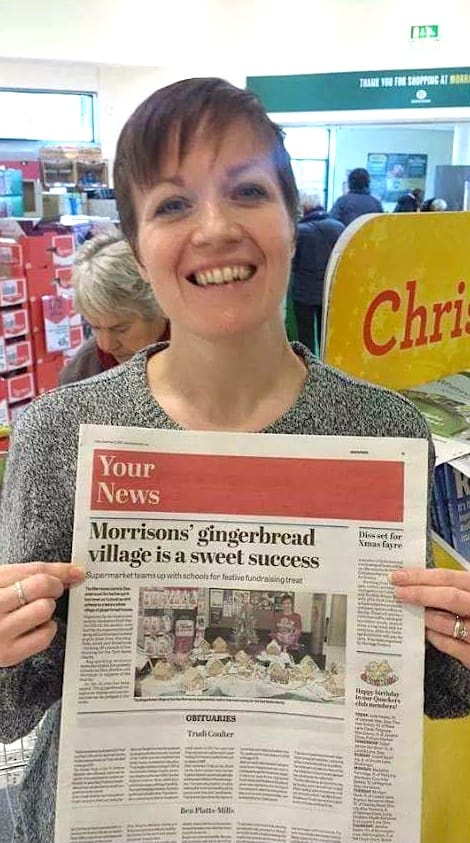 Ruth Harris-0rford
Diss
***
If your child believes in Father Christmas and you want to keep the magic alive for as long as possible, Elfie's Christmas Letters (advent letters), the North Pole Christmas Letters or our Candy Cane Christmas Letters are absolutely perfect!  You can preorder these for Christmas 2016 now, so please pop into the shop or join the mailing list.  Elfie's Birthday Letters and Elfie's Tooth Fairy Letter are available in the Shop too!
Come and join us on Facebook for non Christmassy posts until much later in the year, or find us over on Christmas Traditions & Magic For Children for all year round festive chat.
To receive our blog posts, please sign up at the right hand side of this page or for Product or Christmas News and promotions from the International Elf Service, please sign up at the bottom of the page.