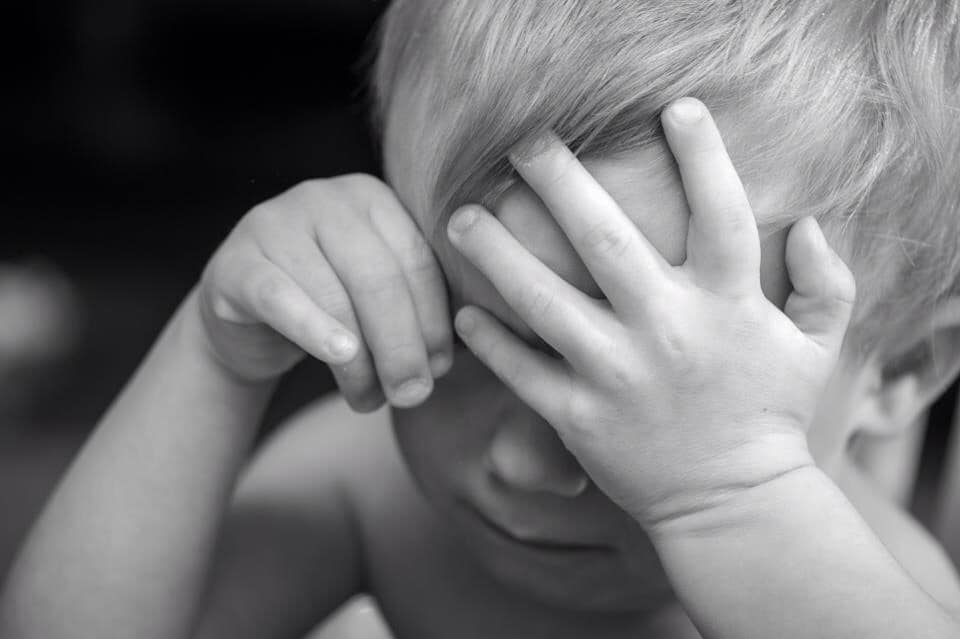 We're having strops, tantrums and loud shouts of 'NO!' after school, which I'm assured is happening all over London, so this does make me feel a BIT better.  I've been totally expecting it, as our gorgeous four year old boy has Sensory Processing Disorder.  You can read all about our journey here.  To be honest I was expecting far worse, but from what people have told me, he's coping well within the range of 'typical' and the teacher says he's settled in better than some of the other children.  Many of the little ones who've started in Reception seem to be waiting until they get home before demonstrating their LEAST lovely behaviour and we all feel like our nerves are jangling and our heads ringing.
'Big school' is a huge step for us them in terms of emotional change but it's also very very busy, noisy and with new routines, new people, in a new space and the whole playground 'thing'… It's exhausting for them, just as it is when we start a new job or become a parent 😉 It's the difficult combination of having total sensory overload with absolutely zero control over your day. They have to ask permission to go to the toilet, if they cough too much they're asked to stop; they're micro-managed up to the hilt. I don't disagree with this but I do think it's relentless for them and takes some adapting to.
We have three children, so the older two are naturally bigger and louder, which means there's no peace at home either! Sometimes I have tantrums too. Anyway, his behaviour was so bad and he was clearly shattered and unhappy, so we've put extra steps in to try and help him transition and get some quality down time either side of his school day.
Things we've found that have REALLY helped and even result in beautiful harmonica-music-in-gloves..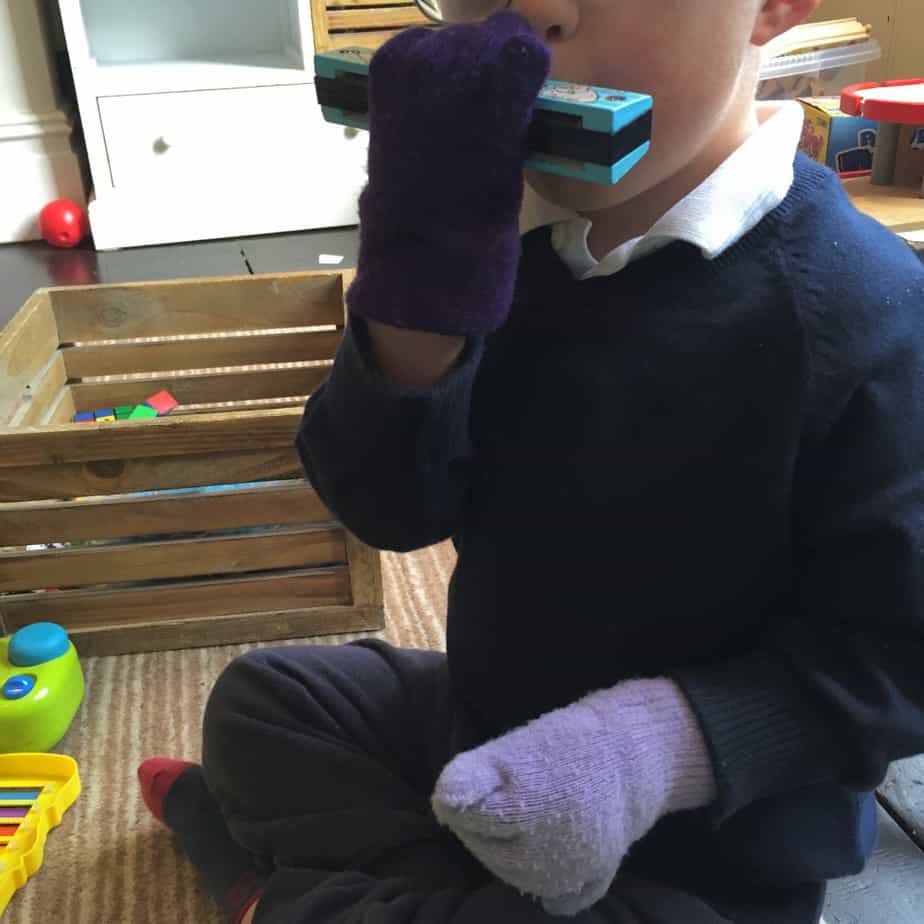 Quietness before and after school:
No radio or TV on, no screaming, no running, everyone talking in calm low voices or playing elsewhere. Amazingly this has had THE biggest effect.  It removes as much external stimulation as possible and really helps him to unwind.
Outdoor Play
This seems to be invaluable after school.  Time to just potter about without being told what to do. A time when all the choices are his.
Calm, Quiet One to One
As soon as we get in, I make sure he has something he wants to read or play with and if he can't settle into it without frustration, we spend 5-10 minutes playing in silence together.  If I do need to talk I whisper or speak in a very quiet low tone. Today we spent 10 minutes putting on and taking off handcuffs because that's what he wanted to do.
Snack Management
Ensure he's had enough breakfast and if we think he needs a top up I give him a healthy snack shortly after breakfast, before he goes in to his classroom.  Something with slow release energy e.g. these sugar free oaty bites or fruit and then a good healthy and substantial snack and a drink on pick-up from school.
Early to Bed
We've brought his bed time forward by 30-45 minutes depending on what state he's in.  His wake-up time seems to be unaffected by the time he goes to bed, so we've increased his rest by lengthening his night at the other end instead (cunning eh?).
I'd love to hear if anyone else is having the same issues and has any other suggestions that have worked for them.  Please do leave a comment!
***
Christmas Is Coming!
Come and join us on Facebook and over on Christmas Traditions & Magic For Children. The Shop is ready for Christmas 2016, so do have a rummage!
To receive our blog posts, please sign up at the right hand side of this page or for Product or Christmas News and promotions from the International Elf Service, please sign up at the bottom of the page. This year's series of 'Elfie's Christmas Letters', 'North Pole Christmas Letters', a shorter set of letters from different elves from the North Pole, Elfie's Birthday Letters and other fun products are in the shop too!