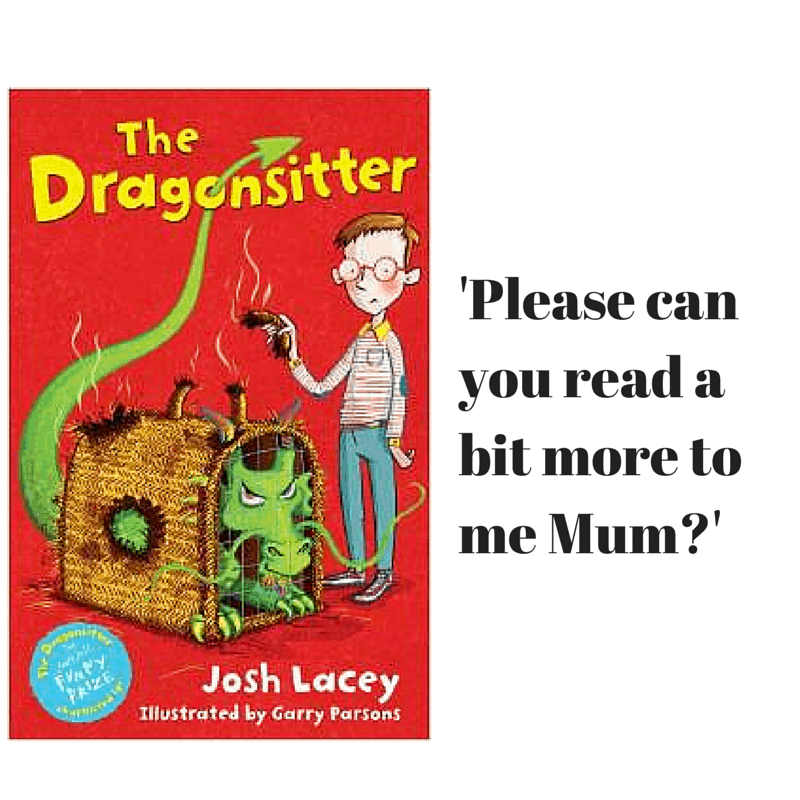 Oh my.  I've just discovered the first book of The Dragonsitter series by Josh Lacey and I can highly recommend it!  The official age is 7+ I think but I'd say that younger kids would absolutely love having these read to them and any kids reading independently will hoover them up.  I enjoyed it and I'm 44!
The style of 'The Dragonsitter' is very dry, short sharp humour and all about <wait for it>…a mum and her two kids looking after their Uncle Morton's dragon while he goes away.
The book is made up of a series of pleading emails from Edward to his Uncle Morton, describing the utter chaos that his dragon has caused.  The dragon eats Jemima (his sister's rabbit), sets fire to the petunias, steals all their food, takes over the sofa (even though he knows he's not allowed on it) and poos on his mum's bedroom carpet.  The damage he causes increases by the day, along with the bill that's being prepared for Uncle Morton.  Edward begs for ideas to get the dragon under some sort of control before his Mum successfully manages to get the zoo to collect him.  Uncle Morton however, is not answering his emails, nor is he staying at the hotel he said he was going to stay at…
Things deteriorate wildly and the zoo want nothing to do with the dragon as they don't actually believe he's real.  Poor Edward's mum confines herself to the bedroom and refuses to come out. Finally and in the nick of time, a return email comes through.
With one word…
I can't tell you what that word is except to say that it changes everything and everyone is mortified when Uncle Morton finally returns from his holiday and takes his dragon home with him!
To receive our Magical Newsletter …
---
Magical moments for you and your child to share
Take your children on a magical journey with these unique, hand-drawn letters from two of the most magical places on earth … the North Pole and Fairyland.
Hide them among the bills and junk mail, lay them on the table first thing in the morning, stashed among the toys, or snuggled up in their bed. You choose where your children find the letters, to create a magical family tradition the kids will love!