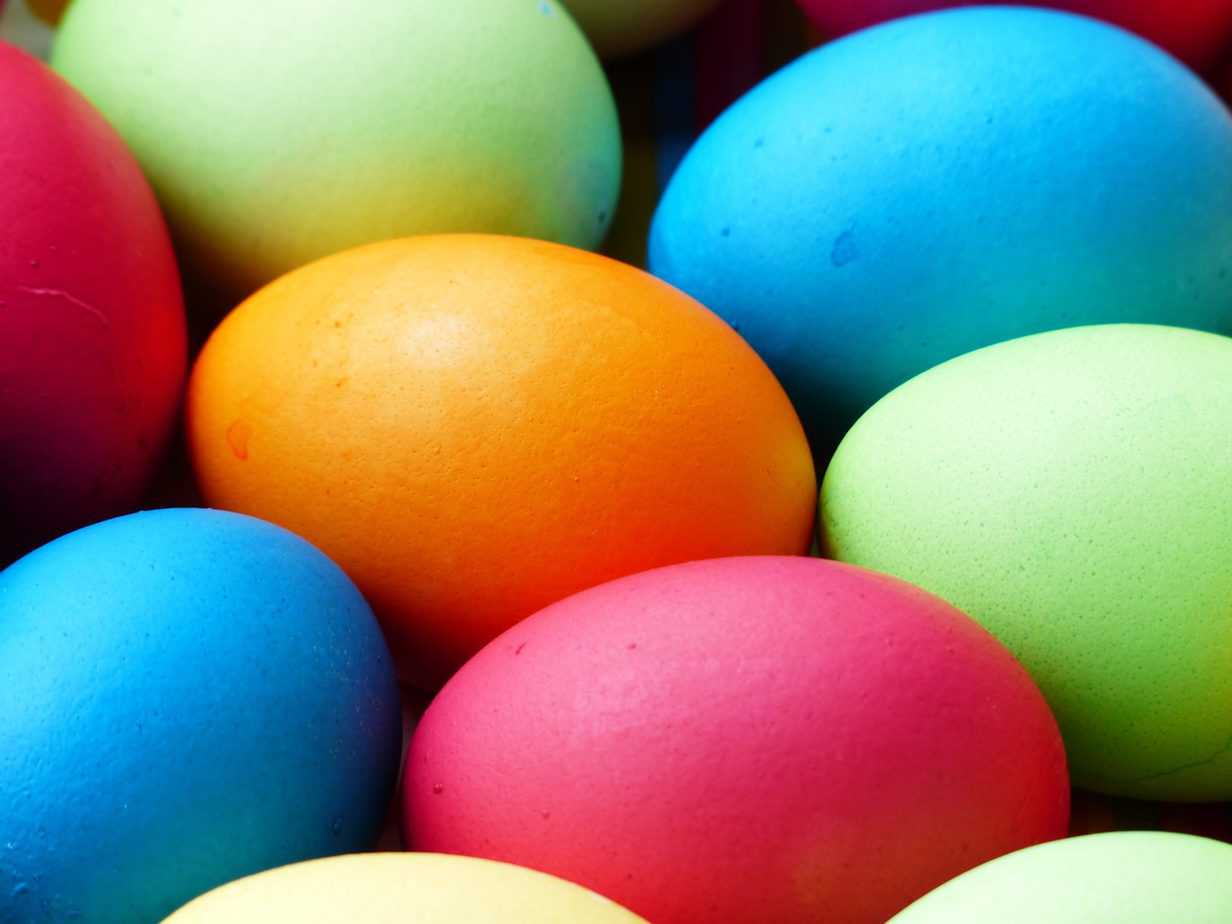 As a child, all I was concerned about, was leaping out of bed and seeing if the Easter Bunny has been and what he'd left. I can remember that wonderful magical feeling of anticipation and excitement to this very day.
---
The Easter Bunny would leave us a single big chocolate egg, and a vintage porcelain chicken would lay chocolate mini eggs. The best thing was, I TOTALLY BELIEVED IT HAD, and I loved the whole thing! It was so magical.
It wasn't until I was in America visiting family in my early 40s, that I realised quite how busy the Easter Bunny preparations could be. They have much better egg paint than I've been able to find here in the UK, and the kids absolutely loved it! The one big thing we did was to paint lots of eggs in vibrant colours, and leave them out for the Easter Bunny in a gorgeous Easter basket with ribbons, bows and all things beautiful. In the morning we discovered the Easter Bunny had taken the eggs, swapped them out for sweet treats and hidden them in the garden for us to find. When we found them, we saw the Easter Bunny had put little stickers all over them too. Cue lots of questions and excitement from the kids!
So, how do you usually play the whole 'when can they eat all the treats' thing? When I was a child (in 1903), we could eat what we wanted on Easter Day, with a 'when it's gone, it's gone' approach. This was all very well, but we spent the day swinging between feeling sick, and wishing we'd saved some because we really needed wanted some more.
Most importantly of all, have fun and enjoy this wonderful time in their lives where they totally know the Easter Bunny is real and will be coming to visit. So whether or not you go on to Pinterest for ideas on a Easter Bunny themed breakfast, make them an Easter Bunny card, do Easter crafts, paint eggs or set up an egg hunt … do whatever is most magical for your family. And remember, however you do it is exactly the right way – children love traditions and they love familiarity. Your family tradition will mean so much more to them than if you chop and change it each year, or try to make it bigger and better. Consistency is key!
Apparently it takes about 45 minutes for teeth to recover from a choc attack, so Dentists advise keeping sweets and chocolates to meal times when you have higher levels of saliva to help combat the downsides of all that deliciousness.
Keep sweets and chocolate to mealtimes to avoid multiple sugar attacks throughout the day and evening.
Eat it all in one go rather than nibbling it through the day (suits me!).
Brush twice a day for 2 minutes using fluoride toothpaste to get rid of the sugar and plaque on your teeth.
Only use a pea-sized blob of toothpaste on your brush.
Spit not rinse after brushing, as rinsing washes away the fluoride.
Make sure you watch children under 7 brush their teeth to check they are doing it right.
Change your toothbrush every 3 months.
Visit your dentist regularly – ideally every 6 months – so that your teeth remain healthy and strong for life.
Encourage family members with a high decay rate to regularly visit the dentist so that harmful bacteria are not passed on to younger generations.
Consider leaving Easter themes crafts, stickers or other activities in place of mountains of chocolate.
Do also have a read of these if you have a mo:
The Going Rate For The Tooth Fairy
Developing Your Child's Imagination
Ways To Make Christmas Eve More Magical
Easter Crafts for Children over on Red Ted Art's Blog
Reader Interactions
This site uses Akismet to reduce spam. Learn how your comment data is processed.