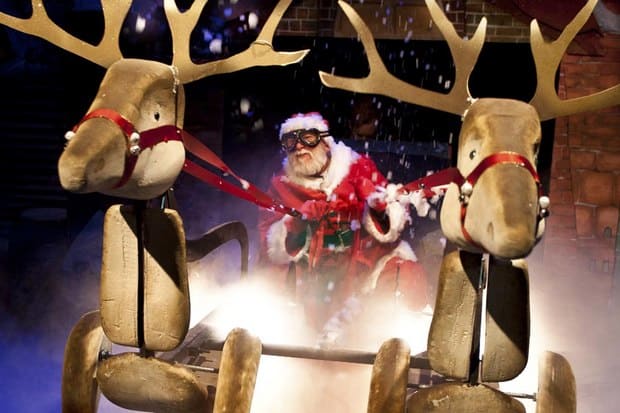 Summary: YES! Go and see it. It's a wonderful magical show and full of good solid vintage loveliness.  It's based on Raymond Brigg's book 'Father Christmas' and is absolutely perfect for introducing the younger ones to the theatre. The show itself is 55 minutes long without an interval and tickets are just £10 each. It's billed for age six and under but our kids were 9, 7 and 4 and they all enjoyed it, though the younger two even more so.  All children should be able to see, regardless of their height, or who's in front of them. And I learnt something very important: Father Christmas appears to be Scottish…
One of my fondest memories is when my Mum used to take us to a Pantomime each year.  It was such a treat and I remember feeling very enthralled with it all.  Now I take our kids to see a show around Christmas time, and it's become a big part of our family Christmas traditions.
Last year I wanted to find a show that our youngest, who has sensory processing disorder, might enjoy … as well as keeping the attentions of the older ones.  I heard about 'Father Christmas' at the Lyric Theatre, so off we went!
The theatre is just a 2-minute walk from Hammersmith Tube and you can see it as soon as you step out of the tube. The staff at the Lyric were very friendly and had fully embraced the festive season by wearing a wide range of Christmas jumpers. There's a very spacious café, a roof terrace area, toilets on every floor and lifts as well as stairs.
The main stage itself was wonderful and had a good solid rustic feel to it.  There was also a 'mini stage' up to the right, full of props and instruments and with a musician providing 'live' sound effects to coincide with the acting. Everything from the kettle boiling, to Father Christmas brushing his hair!  She was SO engaging to watch and the kids loved seeing how all the different sounds were made.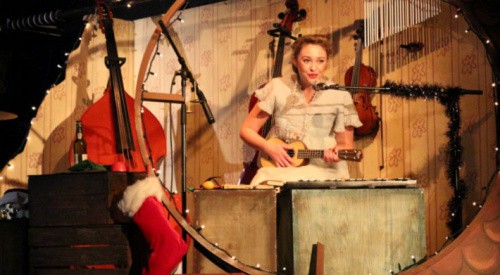 The show takes us through Father Christmas waking up on the 24th December, to going to bed on Christmas night.  It begins with his morning routine, including a visit to his outside loo, (complete with 'PLOP!" sound effects much to our kids' absolute delight). His hen very kindly lays him two eggs on demand, though the second comes rather less naturally and we all wonder if the hen may actually combust instead.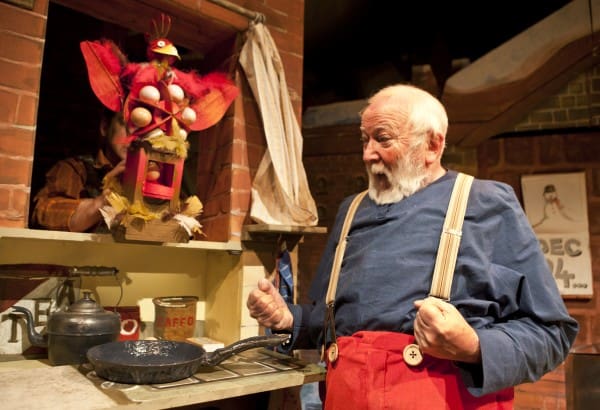 Unfortunately Father Christmas' appetite for breakfast is ruined with the frequent 'bad weather' reports on his old style radio, so he aborts that and starts getting everything ready for The Big Delivery. After several trips across the stage with an ever growing pile of presents in an old wheelbarrow (and a couple of near misses where they almost tip topple into the audience), he's finally ready to clamber into his sleigh and travel round the world.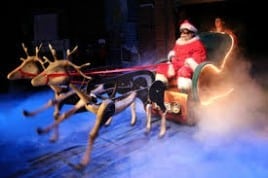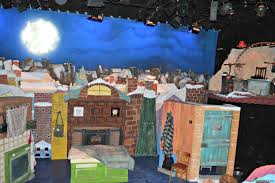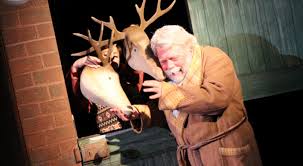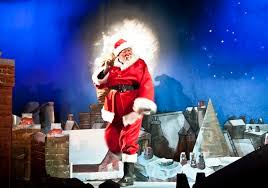 The sleigh and the flying reindeer are controlled by a puppeteer and it's just brilliant. Totally mesmerising.  All the kids were on the edge of their seats when it came on and my middle one said the best bit of the whole show was when the reindeer took off! Once 'The Big Delivery' is underway, we see much heaving and ho'ing as Father Christmas goes down a chimney and gets wedged two thirds of the way down! As the deliveries progress, we get to hear what's happening in different houses – in one house two children are chatting about whether he's visited yet and what they'd like for Christmas and in another there's a huge party going on and Father Christmas can't help but to have a jiggle and a dance too.
Finally his work is done and he returns home.  He has an enormous Christmas dinner and opens his pressies, which includes a pair of disgusting socks from cousin Violet and then, not forgetting to give his cat and the dog a present too, he undresses (down to his thermals), pops his blue and white stripy jim jams back on and climbs into bed.
There was a BIG round of applause from all the kids at the end and the look of wonder and excitement on their faces during the show means it gets 5 stars from me.
The show had a very calm and simple, yet very rich feel to it. Wonderful use of the whole stage, with enough movement to keep you interested but not so it had that manic feel to it. It's all rather comforting and feels a bit like 'coming home.'  
For more information and to book tickets, see here: Father Christmas at the Lyric Theatre.
All these views are my own and I paid for us to see the show. It was worth every penny and I'm taking our youngest again this year!
You might also like:
Unmissable Magical Christmas Websites
Magical Christmas Traditions To Do With Your Kids
***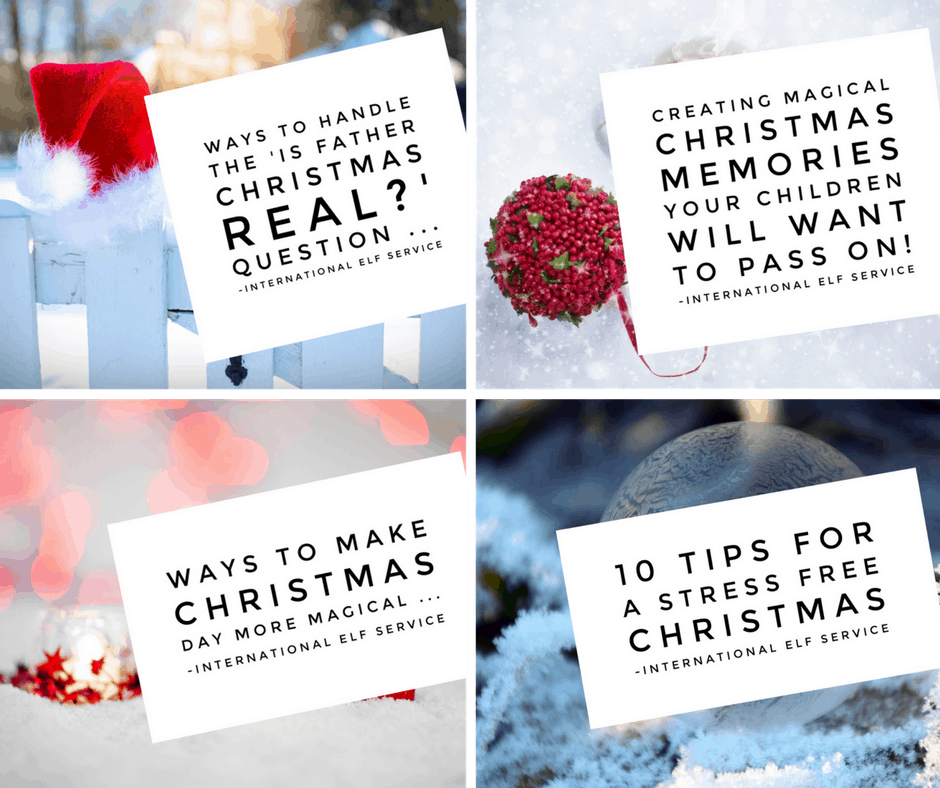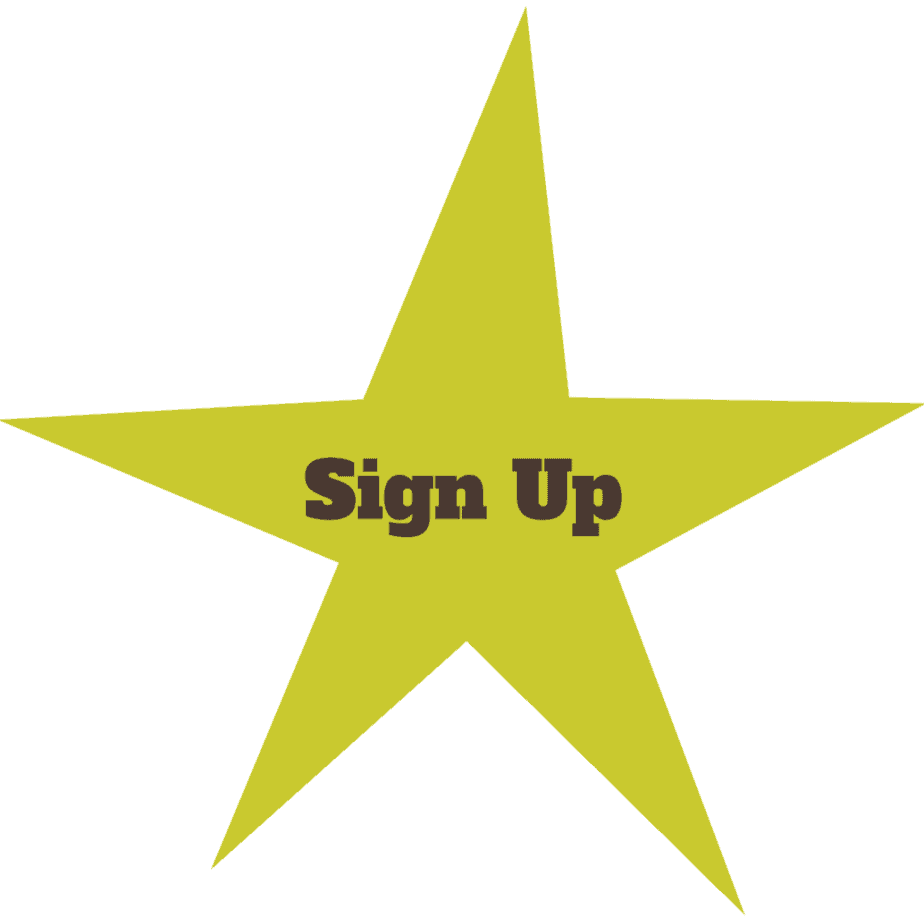 "The best Christmas idea ever." – Charlie Condou (Actor)
***
"These were the best things I have ever (and I mean ever) ordered!!
I've never seen the magic or happiness last so long x"
– Jolene (August 2017)
***
If your child believes in Father Christmas and you want to keep the magic for as long as possible, There are DIFFERENT and NEW! Christmas Letters each year!  You can preorder these for Christmas 2017 for dispatch from September.
***
***
Fairy & Tooth Fairy Letters

Fairy letters from a world of dragons (who set fire to your lunch by mistake), Mystery Gardens (with changing adventures inside), Magical Potion Fairies, Secret Underground Passageways, Magical Tree Bark, Time Travel … and more.
***
Dummy Fairy Letters are available too!
Come and join us on Facebook, or find us over on Christmas Traditions & Magic For Children for all year round festive chat.
To receive my blog posts, please sign up at the right hand side of this page or for Product or Christmas News and promotions from the International Elf Service, please sign up at the bottom of the page.
Emily x