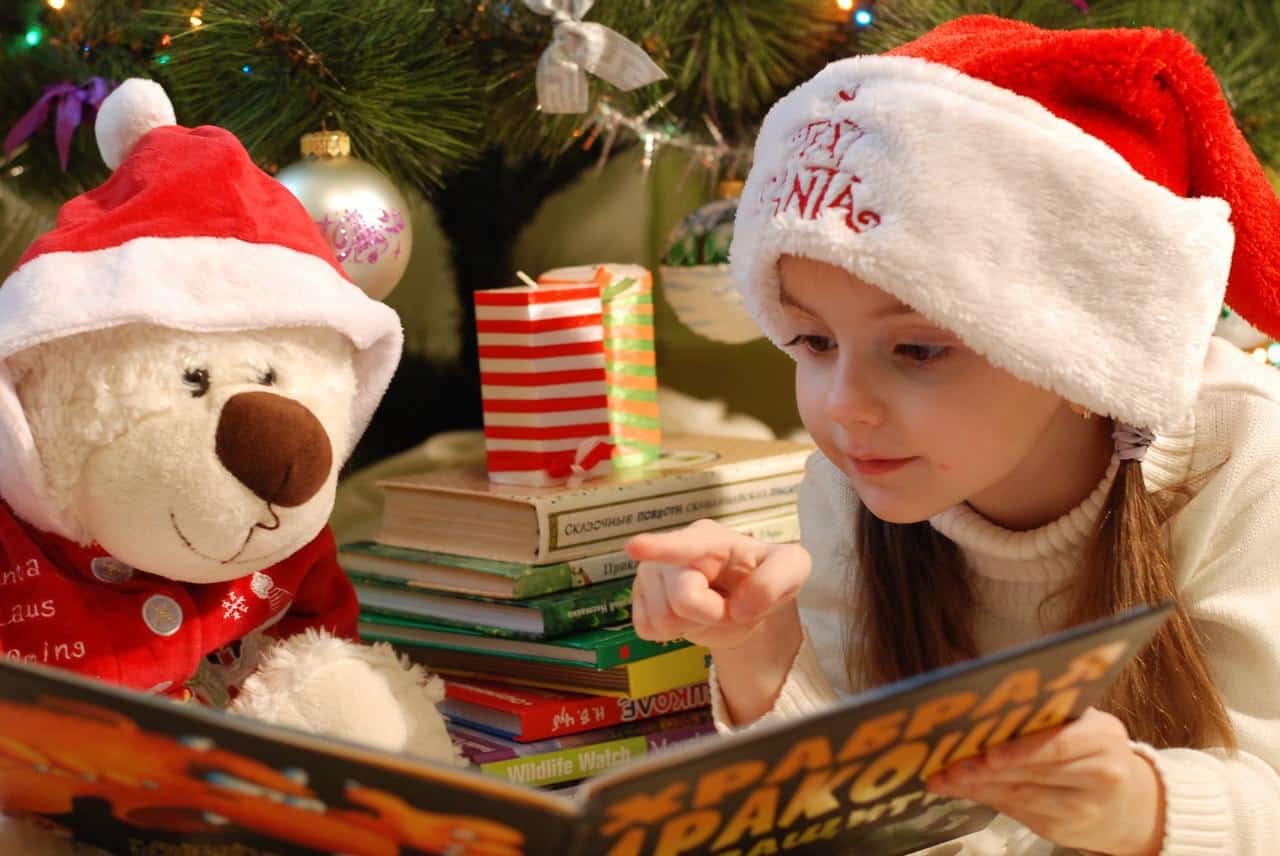 Sitting down together to read one of your (and their) favourite Children's Christmas books, is one of the greatest pleasures I think a parent can have on the countdown to Christmas … and it's an absolute MUST on Christmas Eve!
Members of our lovely Facebook group Christmas & Magical Childhood Traditions, and on our Facebook page have given their personal favourite children's Christmas book recommendations. So, along with my favourites too, and in no particular order I've compiled this guide to favourite children's Christmas books … I hope you enjoy!
Please note, the synopsis for each book has been taken directly from its Amazon listing and has not written by me.
Also … if any of these catch your eye, all the images and links will take you over to Amazon where you can buy the book (if you don't already have it).
You are about to read 
THE TRUE STORY OF FATHER CHRISTMAS
If you are one of those people who believe that some things are impossible, you should put this book down right away. 
(Because this book is FULL of impossible things.)
Are you still reading? Good. Then let us begin…
---

Twenty-five December Lane (Book & CD) (Book & CD)
It was the strangest shop she had ever seen and she couldn't recall having seen it before. As she pushed open the narrow door, she was greeted with the sight of every possible present. But will there be anything left once the shopper in front is finished? The audiobook is narrated by actress Imelda Staunton.
---
This is a story about a boy named William Trundle and a dinosaur named the Christmasaurus.
It's about how they meet one Christmas Eve and have a magical adventure. It's about friendship and families, sleigh bells and Santa, singing elves and flying reindeer.
It's about discovering your heart's true desire, and learning that the impossible might just be possible . . .
---
How the Grinch Stole Christmas! (Dr. Seuss)
With a heart two sizes too small, the Grinch is the meanest creature you'll ever meet. He hates Christmas and the whole festive season. But when he hatches a dastardly plot to steal Christmas, he's in for a big surprise!
With hilarious rhymes and beautiful illustrations, this classic seasonal story has become a favourite for good reason and teaches readers the true meaning of Christmas.
---
North Pole Ninjas: MISSION: Christmas!
You may not know that Santa has a team of special elves, selected for their ability to perform top-secret missions that are all about helping, giving, caring, and listening. Anyone who receives this book is called upon to help carry out those missions with a bit of stealth and an open heart. The gorgeously illustrated picture book retells the legend of the North Pole Ninjas for new recruits. Complete with 50 secret tasks for new recruits this holiday season, this is the perfect antidote to worrying about whether you've been naughty or nice.
---
A poignant, exquisitely illustrated Christmas story, with words by Delia Huddy and pictures by rising star Emily Sutton. When the ugly little fir tree is taken to the city, no one wants to buy him; they prefer the big tall trees. But a homeless boy asks the shopkeeper if he can take the tree, and down by the river in a cardboard box, decorated with a few candles, the tree finds itself at the centre of a magical Christmas Eve it will never forget. A Christmas tale with a classic feel but a modern theme at its heart.
---
Rudey's Windy Christmas
A hilarious story full of noises and naughtiness. A sure-fire Christmas cracker of a book!
"Oh, dearie me!" said Rudey. Now I've done a windy pop!
This is a bit embarrassing. I'll do my best to stop."
Rudey has eaten too many sprouts and the explosive effect is smelt all around the world as he Santa delivery presents on Christmas Eve… The other reindeer have laughed so much, they're out of puff. How ever will they get the sleigh back home?
A naughty, noisy, rip-roaring story, full of hilarious phrases that children will love!
---
How to Catch Santa
Have you always wanted to talk to Santa? Then you need this book!
You could… write Santa some riddles. Bake him some cookies. Listen out for sleigh-bells. Scatter carrots in the garden. Or leave him a special note. And remember: Be crafty. Be clever. Be gentle. Good luck!
This hilarious 'How To' guide style picture book is guaranteed to get kids giggling, and keep them busy at Christmas time!
---
How Santa Really Works
Beneath the Arctic Polar Ice Cap, deep underground, is a bustling community with one mission and one mission only: to make Christmas happen. Have you ever wondered how Santa can pop out of a chimney without a soot stain on his red velvet? Elves, of course – fully trained at the Elf Academy in chimney sweeping! And does Santa REALLY have time to check if every single child's been naughty or nice? Of course not – that's why he created the CIA (Christmas Intelligence Agency) to train elves to spy on children. And where do all those Santas in department store grottoes come from? The Santa Academy, of course. HOW SANTA REALLY WORKS is a true scoop on how Santa does what he does so well, brilliantly conceived by Alan Snow.
---
The Empty Stocking
The Empty Stocking – a brilliantly funny Christmas story by Richard Curtis and Rebecca Cobb. 
In this fantastically funny and heartwarming story by Richard Curtis, scriptwriter of Four Weddings and a Funeral and Love Actually, it's Christmas Eve and there's one very important question on everyone's mind – have YOU been good this year? For twins Sam and Charlie this is a big worry. Charlie has been especially naughty and everyone is sure that she won't get any presents AT ALL. But when Santa makes a mistake, it's up to Charlie to put things right…
---
Winnie and Wilbur Meet Santa (Winnie & Wilbur)
When Winnie and Wilbur write their letters to Santa they never imagine that they are actually going to meet him on Christmas Eve! After the crisis of Santa getting stuck in their chimney, Winnie and Wilbur join him on his sleigh in a desperate race against time to make sure children everywhere wake up to stockings filled with presents on Christmas morning. What a magical memorable night! It's a fun and festive Winnie and Wilbur adventure! Korky Paul's intricate artwork is full of madcap humour and crazy details to pore over.
---
The Story Orchestra: The Nutcracker:
Press the Note to Hear Tchaikovsky's Music
It is Christmas Eve at Clara's house. Scents of ginger, chocolate and peppermint waft through the air. Clara's parents are having a party, and her little brother Fritz is decorating the Christmas tree. Clara's godfather, a toymaker, arrives with gifts, including a very special one for her – a wooden nutcracker carved in the shape of a little man. After Fritz breaks it, the children are sent to bed.
The story follows Clara in her dreams as she battles and defeats a mouse king, then travels with her nutcracker-turned-prince to the Land of Sweets where she watches its enchanting inhabitants perform beautiful dances. As you and your little one journey through the magical scenes, you will press the buttons to hear 10 excerpts from the ballet's music, including 'The Waltz of the Flowers', 'The Dance of the Sugar Plum Fairy', 'The Russian Dance', and the awesome 'Finale'.
---
The Pajama Elves
"The Pajama Elves" is a delightful, creatively presented holiday tale that shares a family tradition of giving children magic pajamas secretly tailored by Santa's sewing elves, so they can sleep snug in their beds on Christmas Eve. Told in verse narrative and creatively illustrated with combination photos/prints in color, "The Pajama Elves" is all about keeping the magic of Christmas alive for young children. The author describes it as follows: "'The Pajama Elves' allows people to adopt and personalize the tradition in many ways, and it can be shared with family members who live far apart from one another." Sensitively done, "The Pajama Elves" is an ideal contemporary response to unique challenges faced by parents of young children today.
---
For another version of the classic all-time favourite children's Christmas book …
"'Twas the night before Christmas and all through the house not a creature was stirring, not even a mouse."
This classic Christmas verse is well known to every parent and child preparing for Christmas and this beautifully illustrated new edition is the perfect Christmas gift for young and old.
---
Or for yet another version of the classic children's Christmas book … 
'Twas the night before Christmas, when all through the house Not a creature was stirring, not even a mouse . . .
It's Christmas Eve and the whole house is sleeping – all except one little boy, woken up by the jingle of bells and the clatter of reindeer hooves on the roof. As he tiptoes downstairs, who will he find?
Mark Marshall's captivating illustrations places a little boy at the heart of Clement C Moore's classic Christmas poem. This bright and bold picture book is a perfect Christmas gift for young children – and a great way to introduce a new generation to this iconic poem. With a magical, glittery cover!
---
… and another!
Twas the Night Before Christmas:
Edited by Santa Claus for the Benefit of Children of the 21st Century
This colorful and bright edition was created for young readers in mind. Attracting global media attention, The BBC, The View, The Colbert Report, New York Post, Huffington Post and many others for what the Kirkus Review calls a legitimate editing of the reference to the pipe and wreath of smoke for the first time in the history of this the most famous poem in the English language. This is the edition that is credited with having Santa stop smoking after 189 years and for taking a small bite out of history. The public health sector, parents, educators and grandparents have applauded and welcomed the addition of this child friendly edition. 
---
With a free 'SANTA STOP HERE' sign to cut out and keep, this picture book is the perfect laugh-out-loud Christmas gift. When Santa's house at the North Pole explodes, a regular family welcome him into their home with open arms. But Santa is NOT an easy houseguest – his elves take over the house, the reindeer poo everywhere and Santa even starts a flood! Will Santa be able to set everything right in time for Christmas?
---
It's Christmas Eve and the Jolly Postman is delivering greetings to everyone's favourite fairy-tale characters. He has a card for Baby Bear, a game for Red Riding Hood, a get-well jigsaw for poor Humpty Dumpty and lots more packages to deliver! The Jolly Postman keeps on peddling his bicycle up hill and down dale. . . and into everybody's hearts.
---
Santa Claus: The Book of Secrets
After centuries of closely guarding ancient secrets, Santa Claus has decided that the time has come to share the magical mysteries behind Christmas. All of the miraculous happenings that contribute towards making Christmas the most remarkable time of the year are finally to be revealed to the world.
Who is Santa Claus and how did he first get the job? What does he really look like?
Who are the Elves and what magic do they possess? How do they keep track of children are naughty and which are nice? How does Santa get inside our houses each Christmas Eve and how can he fly around the entire planet in just one night? In this beautifully illustrated book, these and many more questions are answered by Santa Claus himself, as he finally decides to unlock the startling truth behind one of the world's most marvellous mysteries…Christmas.
---
The house is full of strange bustling, there are new noises and new smells, and where is that tree going? Disconcerted by all the unusual activities, Mog escapes to the roof, and there she stays…until, unexpectedly, she returns with a bump!
---
Father Christmas awoke from his dream of summer in the sun, and there is was on the calendar, December 24th, Christmas Eve – the start of his longest night's work of the year! This book was awarded The Library Association's Kate Greenaway Medal.
---
At each different house that he visits Father Christmas drinks and eats all the goodies left out for him. Before long he really, really, really needs a wee. So much so that he even forgets to leave the presents behind. But he dashes back, delivers all the pressies and flies home at high speed to avoid an embarassing accident . . .  there's just one tiny problem . . . he's lost his house key!
---
Danny wants everything for Christmas. But what he gets is a dinosaur, a very hungry dinosaur. Danny's new dino eats up all of Christmas, but as we all know, what goes in must come out . . . Danny is about to have the most EXPLOSIVE Christmas of his life! There's poop, presents and prehistoric creatures in this festive feast!
---
A boy called George had a magical plan,
One Christmas Eve, frosty and bright.
As Santa brought presents to him every year,
He'd take gifts to Santa that night.
This time George is heading to the North Pole to deliver lots of presents to Santa for a change! But oh no – Santa and the elves are in trouble, and Rudolf has lost the light from his red nose! Can George step up and save Christmas?
---
Late on Christmas Eve, after the town has gone to sleep, a boy boards a mysterious train that waits for him: the Polar Express bound for the North Pole. When he arrives there, Santa offers him any gift he desires. The boy modestly asks for one bell from the reindeer's harness. It turns out to be a very special gift, for only believers in Santa can hear it ring.
"Magical glowing double spread pictures . . . an original and memorable book." – Guardian
If you would like to subscribe to my Elf Club, and receive my newsletters, special offers, free Guides and discount codes, I'd love to see you there!