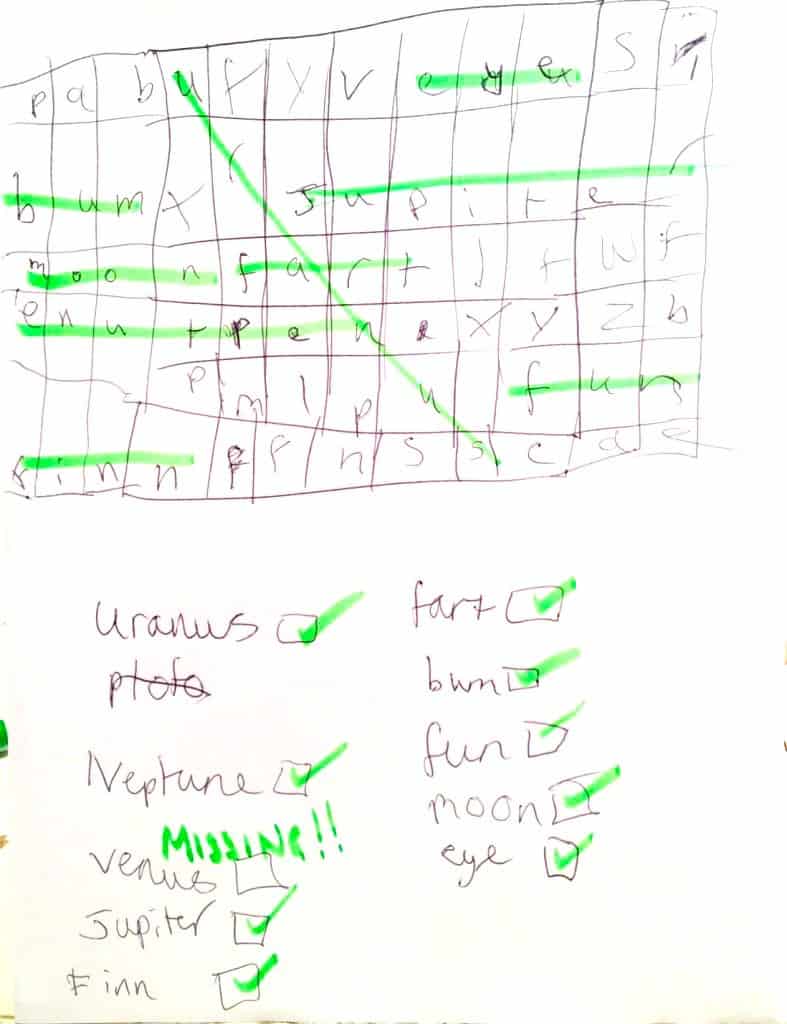 I remember learning to read and write myself, and how difficult I found it. Once you've mastered it to a certain level, it's fine. But before that point, it can create lots of tears and frustration.
This handwriting activity is especially good for children who don't like writing!
I didn't even need to come up with this idea – our 6 year old, (who detests writing so much he'd rather eat his own head), started doing this BY HIMSELF yesterday! I thought it was such a great idea for practising letter formation, I decided to write a post about it immediately.
AND as an extra bonus – it's another one of those great 'developing their visual processing and hand eye co-ordination tasks while working on your spelling' too 🙂
DIY Word Searches
So the kids design it themselves…
Write a list of words
Write the words in the grid
Fill the rest of the grid up with random letters
Get you to find the words
…and then giggle madly because they've chosen rude words like 'bum' and 'poo', tell you where all the words are anyway as they can't stand the suspense and then run off to design another one with more rude words in for you to find. Our daughter's classes at school are all named after planets and she's in 'Uranus'.  So of course there were all sorts of jokes about, 'I can't find Uranus'…
The trick here is to play dumb interspersed with praise – 'sorry I can't quite tell what that letter is' and 'ooh I like your 'd' etc and as they dart off to make up your 17th word search shout after them about neat handwriting and please can they use longer words or you won't be able to play it properly and you're having so much fun' etc etc.  If you can get them to use a ruler and measure out the grid too then you're a better parent than I am and they'll get more learning out of it!
You really should try it – it's incredibly funny.