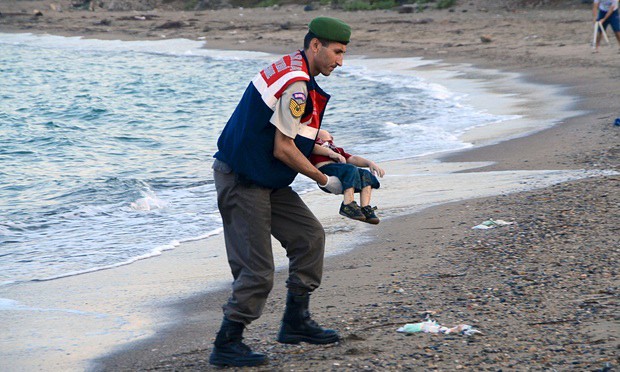 Photo Courtesy of Reuters.
I've been spending time with my little boy while his brother and sister were at school. We've been laughing and kissing, sitting by a pond and looking for frogs. I've held him in my arms while he slept on the bus home. I've helped him clamber over rocks that were too high, wiped toothpaste from his face and tickled him before putting him into a bath full of bubbly warm water.
But so vivid is the picture of the three year old boy, Aylan Kurdi, who was washed up onto a beach in Turkey and the tale of his family who have drowned. Apart from his father, who will live forever more with this unimaginable fire in his heart.
His son was just like mine. He had a five year old brother, a mother. He had a family and yet and most of them are now dead. The fear and anxiety that he must have felt as the waters covered his face for the final time absolutely shatters my heart, yet it can be nothing compared to what his father must feel.
It's too much for any individual to have to bear. The horror of losing your child when you have done your best to help your family. To lose you child at all. To knowingly put your family into the unknown in the hopes that it will save them from an intolerable situation. To feel the risk is worth taking and yet….
We all carry on with our complaints about the school holidays going on for too long, the noise our kids make and the relentlessness of loading the dishwasher and doing the laundry…
That little body washed up speaks far louder than anything on the news. The stillness, the shoes, the harrowed face of his carrier. To know he's not the only person whose life has ended this way.
If you had to jump into the ocean with your family now and hope and pray that you ended up on a beach somewhere, what would that beach look like? Would it be full of sandcastles, sandy feet and ice-cream, or would it be full of hopelessness? Where are the people who could be scooping you and your children up, feeding you and providing you with warmth, shelter and a future?
I am aghast at the number of refugees who are fleeing for better climes, spending all they have and then dying. This is a world full of raw terror that many of us have been lucky enough to be protected from.
I look at my children and I imagine putting them on a boat, seeing them hungry with eyes filled with fear. Their hair matted and their clothes wet and torn.  I imagine us in the water trying to stay afloat and my heart can't take it. I have to do something 'normal' to break the living nightmare. I have that luxury but so many don't. But still my mind comes back to it.
I couldn't wish this on anyone and I feel so helpless. I've sent food to a drop-off centre but it feels so terribly lame and worthless. Their need is so great and my offering so small.
I write this with a lump in my throat and my eyes prickling and that boy…but he's not the only one. There are so many more.
Please help. Any way you can. As you would hope others would help you if you had to flee. We can't help Aylan or his dad, who must live with this for the rest of his life, but please consider doing something however small you think it is.
If you think you can help, please check Calais Action for things they badly need, things they always need and things they don't need.
Thank you x