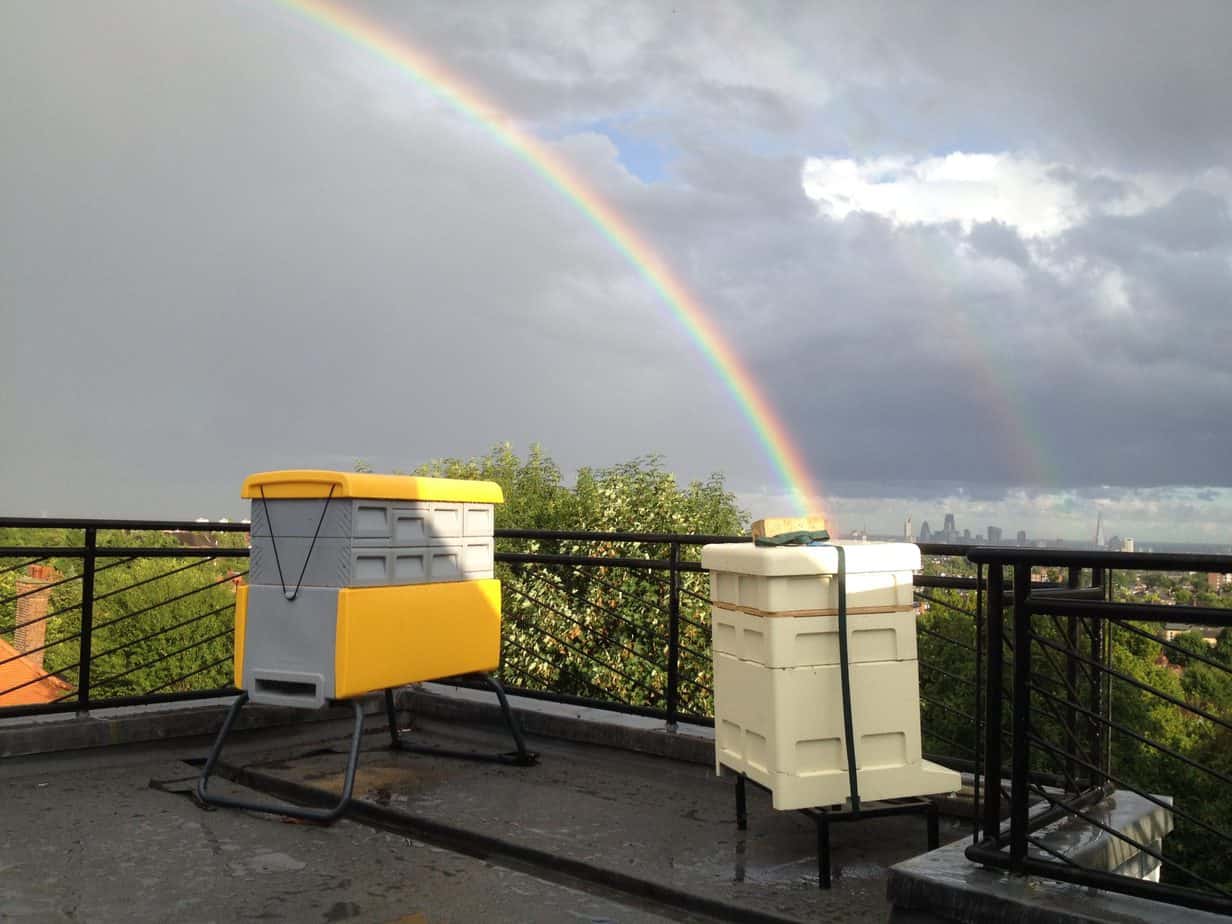 It all started with being given a beehive for my birthday. I have an annoying ability to guess what gifts are before I open, or even see them, so my husband had started giving me things that it'd be impossible to guess. In truth, beekeeping is something I have long been fascinated by, but it wasn't something that I thought I'd be doing at this stage of my life… To be a proper responsible beekeeper you need to put in a fair bit of time and learning – things that have been tricky to work around my young children.
Four years later I'm looking after nine colonies of honey bees in two apiaries. At the moment I have five of them on the roof of our home. It is time consuming – at this time of the year it is important to check the hives every week for signs of disease and to see if the honey bees are thinking about swarming. Swarms of honey bees in London aren't very popular and I try very hard to keep my neighbours on side – so far they have all been very encouraging and appreciative of the honey samples…
Keeping honey bees has rekindled my childhood obsession with nature and the passing of seasons. Everywhere we walk we are looking to see which flowers the bees are foraging on. Yes, we are the weird family staring up into the horse chestnut trees to see if the flowers are open yet. My daughter cried when the avenue of Lime trees near our house was being pollarded. She remembered that our first ever crop of honey had come from these trees. I gently had to explain that they will grow again – we just have to be patient. Being patient is another thing we've had to learn – waiting to see the bees fly in the spring, for queens to emerge, for them to mate, for them to lay eggs, for flowers to open, for honey to be capped, for the weather to improve, and so it goes on.
My daughter (7) sometimes likes to put on a bee suit and watch me inspecting the hives. She is really great at spotting queens and is very knowledgeable about what is going on in the hives. She loves the fact that the drones all get booted out of the hives before winter. My son (3) is a bit young and a little short to see into the hives, but he loves to help me fill our garden with honey bee friendly plants and keeps me updated on which are the "honeys" and "bumbles" current favourites – raspberries at the moment. They both have really latched on to the old custom of "telling the bees". Traditionally honey bees should be informed of any important events like births and deaths in the beekeeper's family, but my two are often to be found telling them what happened at school that day or what Bob the Builder is making.
We are, of course complete honey addicts too! The honey, oh the honey! It is like no honey I have ever tasted before. Several of our customers have remarked that it tastes like honey used to taste when they were children. It got me thinking… Our honey is made from nectar from a huge variety of plants – unique to our urban landscape, unlike the the monocultures much of our countryside is made up of now. We don't do a thing to it either, no heating, no blending, no fine filtering. Our cut comb has simply been taken out of the hive, cut and put in a box. That is it. I don't like my food to be messed about with too much.
It is widely said that every beekeeper thinks that their own honey is the most delicious, so we were stunned to win the top prize in the London Honey Show last year. Now, if only the weather would improve then we might get a crop this year…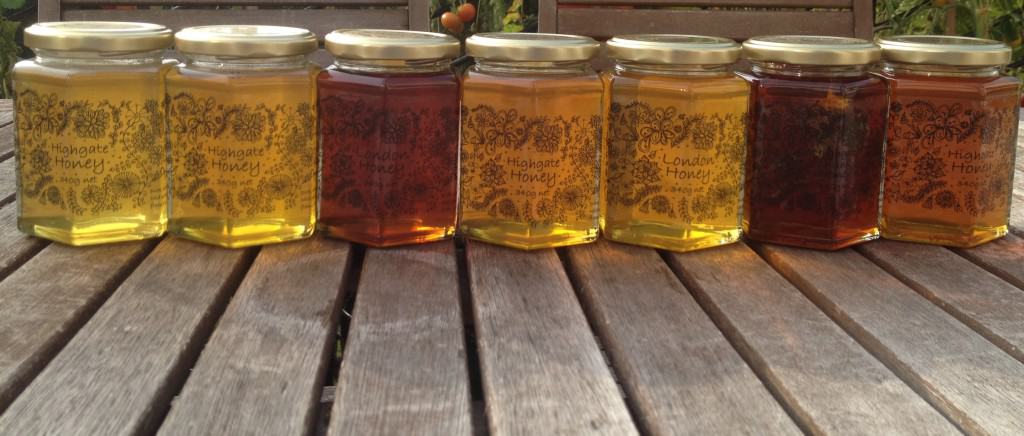 Helen and her husband share their home in Highgate, London with their two children, two cats and about 300,000 honey bees! You can find out more about their exploits and what the bees are up to at www.highgatehoney.com or follow them on Facebook and Twitter:
Facebook: https://www.facebook.com/HighgateHoney
Twitter: https://twitter.com/highgatehoney
Website: www.highgatehoney.com
***
To receive our posts straight to your inbox do sign up at the right hand side of this page (or sign up at the bottom of the page to receive product news & promotions from the International Elf Service). Do also have a browse through our other posts and come and join us on Facebook for lots more! Follow my blog with Bloglovin
Don't forget Elfie's Birthday Letters are now available in the shop and there will be more products in the shop a little later in the year!