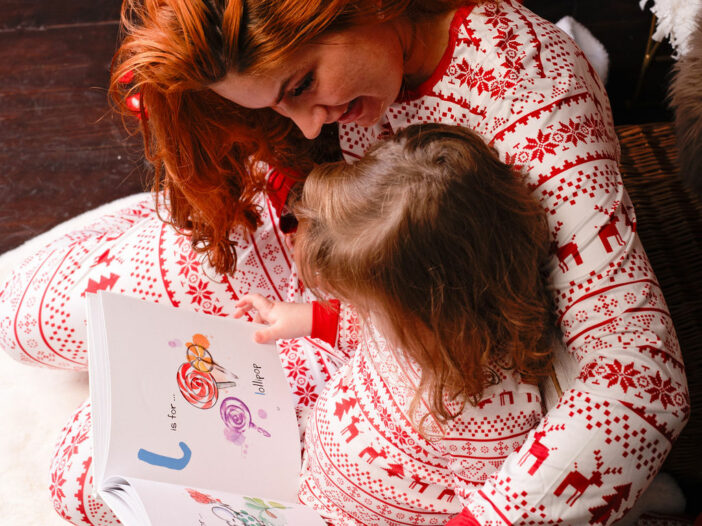 Everywhere in the Elves' Workshop is always bustling with excitement, but there's one area that's definitely the most popular – the Christmas Books Department … where North Pole Elves love making Christmas books for children!
Of course, as with everything in the North Pole Village, none of the jobs are completely straightforward … there's an awful lot to do with organising all the letters and numbers, and only then can everything be put together to make their magical stories! To begin with, the A-Z Elves have to fill The Elfabet Machine regularly with gallons of piping Hot Chocolate to make sure the printing machinery is running smoothly. Then, 4,395 of them have to get on a ridiculously long tandem bike to push the pedals and squeeze out each letter one by one. It's an extremely long process, so they all sing their very own "Elf Days of Christmas" on repeat to keep going!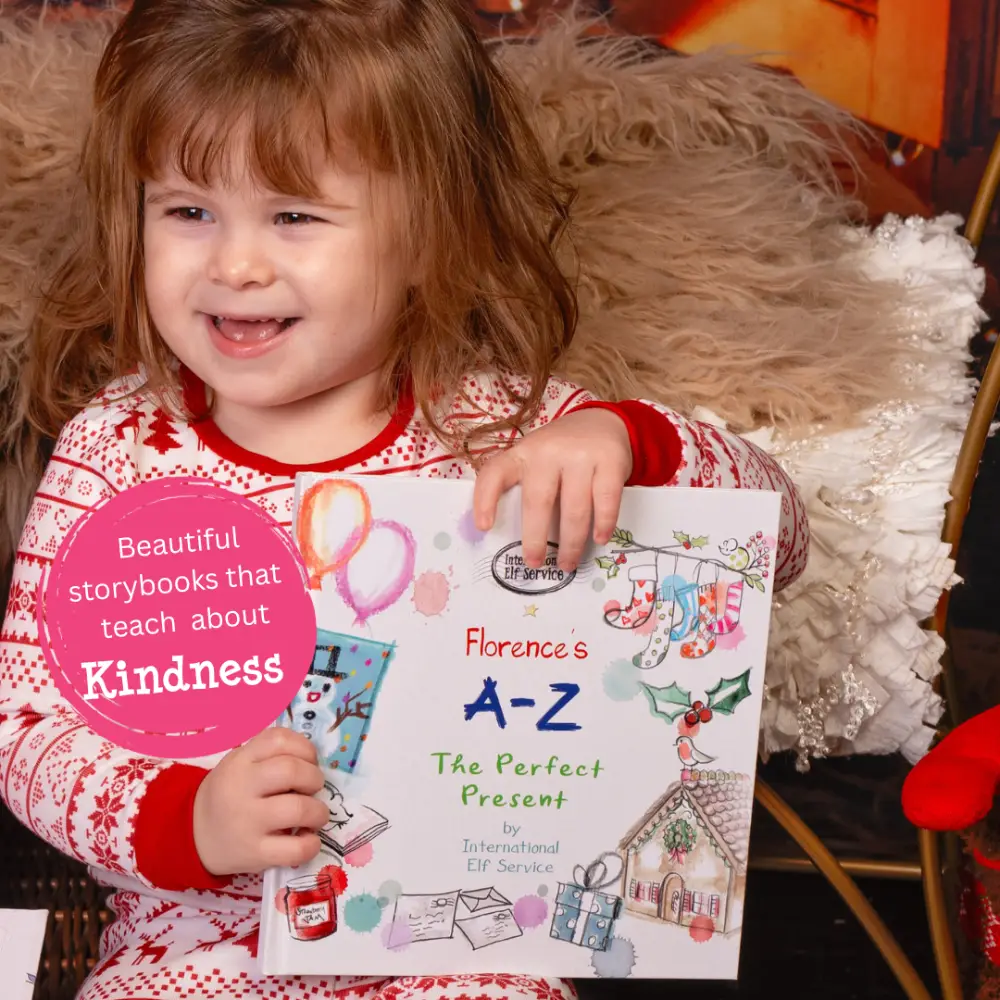 At the same time, the 1-10 Elves spend a LOT of time counting (they love counting!) to make sure all the numbers work properly before they're used. They check and double check every single number by carefully hiding groups of their favourite Christmassy things around the North Pole Village … from one very special teddy and two cleverly hidden snowmen, to six crayons, seven cookies and ten lights. Then they all go on a very special Treasure Hunt to find them all, and make sure everything is present and correct.
Once all the letters and numbers are ready, the most exciting thing happens – Father Christmas comes to the Christmas Books Department to choose his Story Elves (the ones who arrange all the letters and numbers into the most enchanting tales). Being a Story Elf is the greatest honour because Father Christmas says it's the most important job of all …
"Ah yes … that's right! You see, I believe that reading is the magical key to a child's healthy development … from the minute they're born, children are naturally curious about the world and the people around them. They watch and take in everything they see. And so, the sooner you read them stories to spark their imaginations, the more they'll learn about themselves and others, and the more knowledge and confidence they'll have as they grow. In fact, I'm so sure of this, that as soon as a new baby is born, I make sure their name is entered into my Enormous Book of Christmas Magic. It's not just so I can deliver them presents on Christmas Eve, but it's also to make sure that they all receive the magical gift of reading!"
Finally, once the books are printed, the Wrapping Department Elves come in to make everything into the most gorgeous gift sets … they paint Treacle Toffee on the backs of the Stickers and iron all the beautifully illustrated, planet-friendly gift envelopes completely flat and ready for packaging.
Only then can these fantastical keepsakes be delivered through the Magical Wind Machine with love and a generous sprinkling of cinnamon. All that, just to make one book – no wonder they're such precious keepsakes for early learners! …
This year, the Elves are particularly proud to present …
The Perfect Present tells a story about Elfie – a loveable North Pole Elf – who writes a letter to your child, asking for their help to find the ideal gift for a special friend. Having searched carefully through a colourful A to Z of favourite things, Elfie bursts with excitement, suddenly realising that 'K' for Kindness is the one. Read this magical and captivating story with your child as the perfect interactive introduction to the alphabet – help them to recognise letter shapes and practise early handwriting skills using their own name.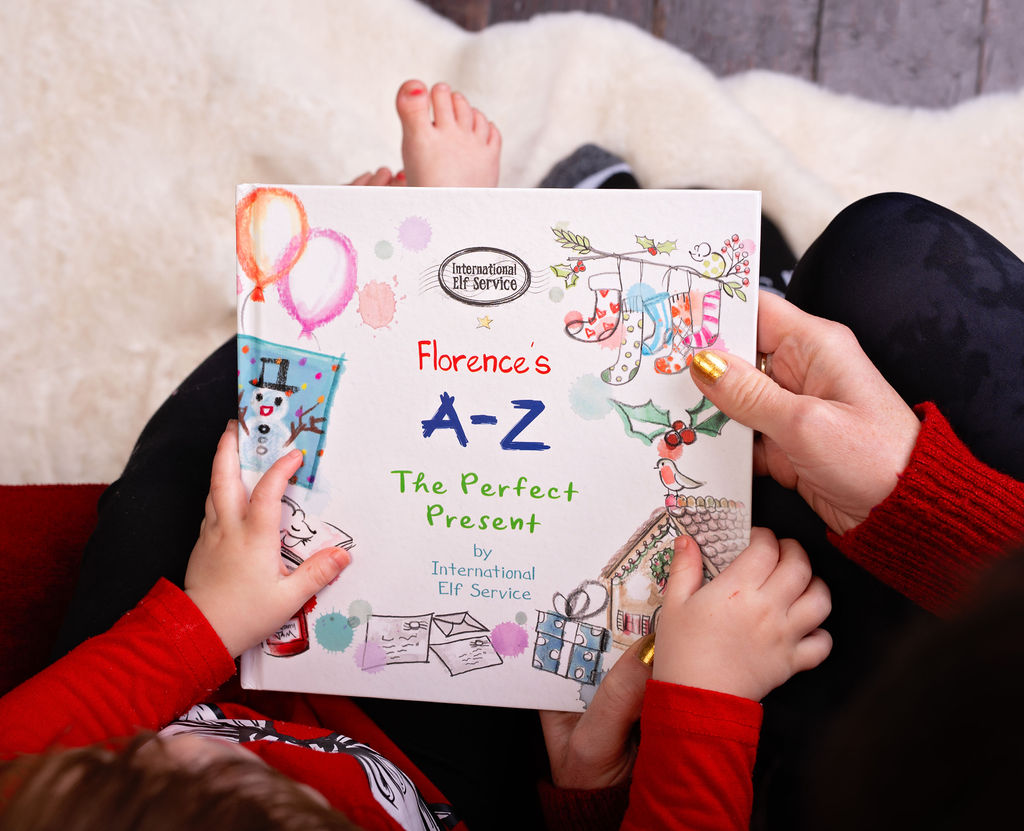 ---
---
The Treasure Hunt sees Elfie and the other North Pole Elves finding and counting some of their most favourite things … from one much-loved teddy and two cleverly hidden snowmen, to six crayons, seven cookies and ten lights. Along the way, Elfie finds a missing hat and socks, and realises that kindness is the best treasure of all. Trace the numbers, count the objects, and enjoy the story, over and over again.
Each of these personalised Storybook Keepsakes are an ideal gift for both girls and boys. They include an adorable Early Learning Sticker Set to be used as a learning support for literacy and numeracy, and they're the perfect all-year-round conversation starter between parent and child to learn about moral values such as kindness.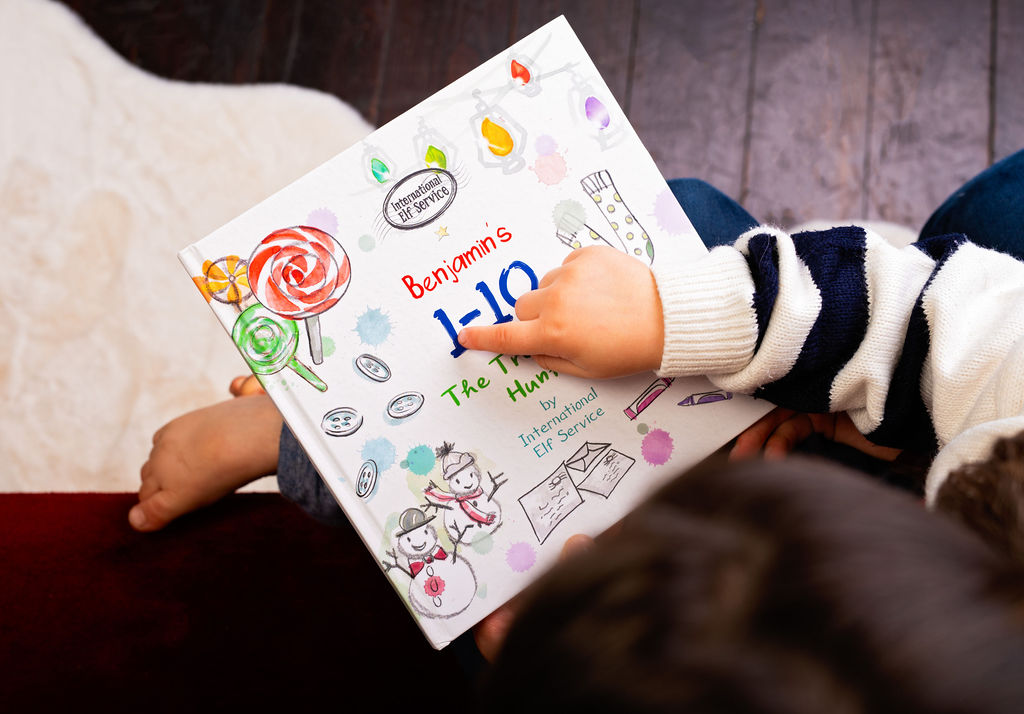 ---
Designed for listeners, early learners and readers alike!
** Approved by Father Christmas! **
Oh, and don't forget – the North Pole Elves don't just write letters and books for Christmas … their storybooks are for all-year round enjoyment too! So, grab a hot chocolate, get cosy with your family, and join us at https://internationalelfservice.com to escape to a world of magic, adventure and the perfect storytelling gift for any occasion!
Feature photo by Zaneta Gorham Photography – with huge thanks to Terra Libra