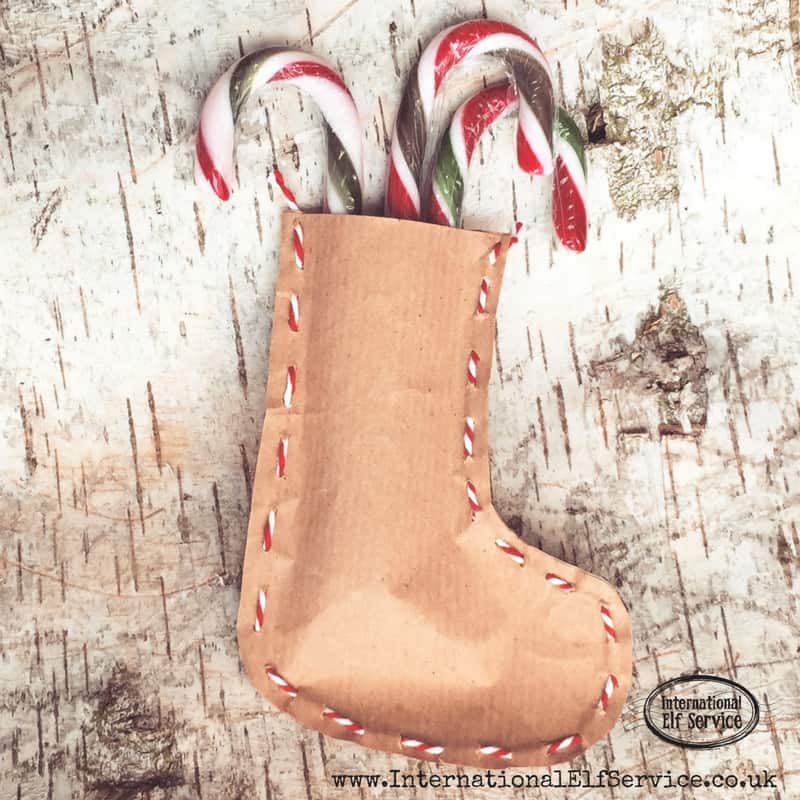 These brown paper Christmas stockings are the cutest, easiest and most gorgeous things in the whole world. They make wonderful little additions under the Christmas tree, or cute little Stocking Fillers if filled with sweets. These brown paper Christmas Stockings would make such a sweet Baby's First Christmas Stocking too – either by itself, or as a special Christmas decoration for Baby's First Christmas. I saw them on Pinterest a while ago and decided to make one for each of our three children, to go with their Christmas stockings on Christmas morning.
You can do any shape you like – stars, baubles, balls, trains…obviously this one is left open at the top, but I'd suggest that if you do any other shape, sew all the way around so you enclose the treats entirely. Just don't forget to stuff the treats in your brown paper Christmas Stockings before you finish the sewing!
You will need:
Brown paper cut into your chosen shape in pairs.  Don't forget to allow for enough room to do the actual sewing…!
Twine of your choice, or embroidery thread.
A needle with an eye large enough to take your chosen thread or twine.
A plaster for when you prick your finger.
A spare pair of shapes on standby 'just in case'.
A glass of wine.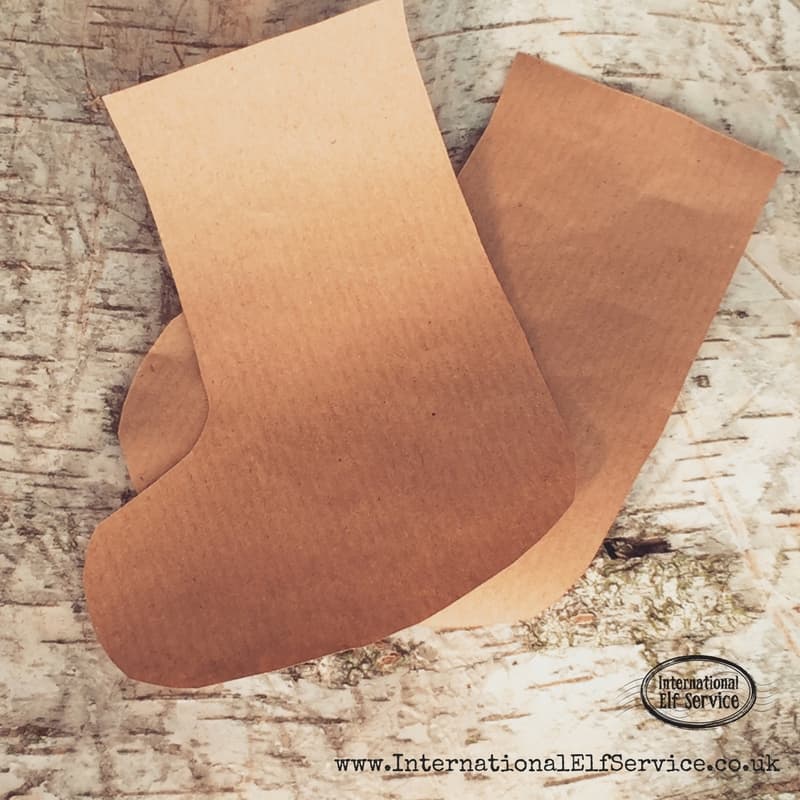 What You Do:
Tie a knot in your thread (and make a hanging loop if you'd like to hang your stocking up…)
Sew the two shapes together.
That's it!  The sun went in when I took this pic…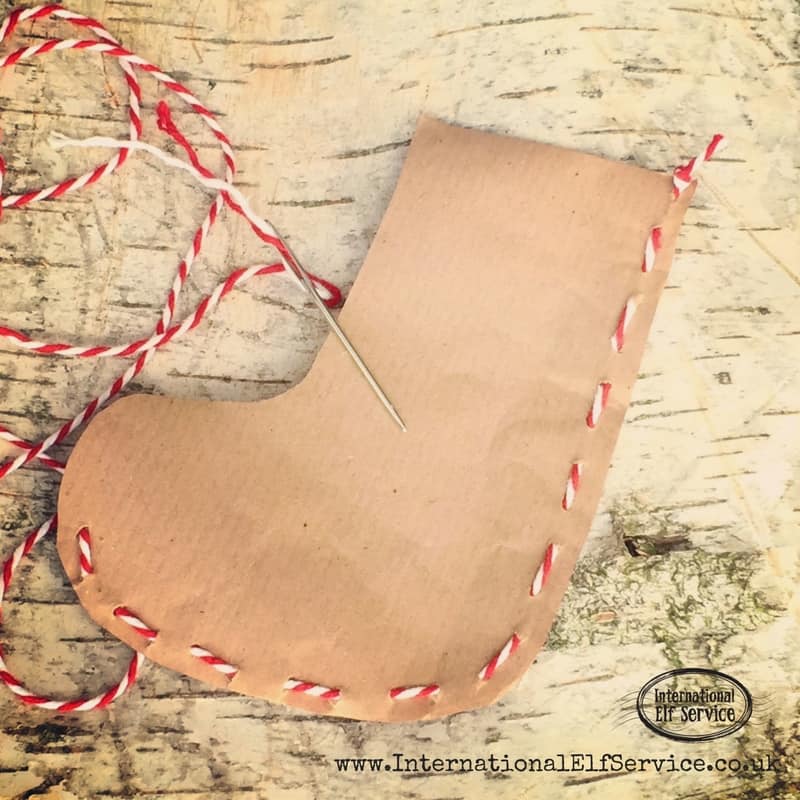 Voila!
Now I've popped in some Candy Canes, but you could put anything in – novelty pencils, Candy Cane drinking straws, sweets, Glitter pens, Eye Liners (for older ones obvs)…how cool are they??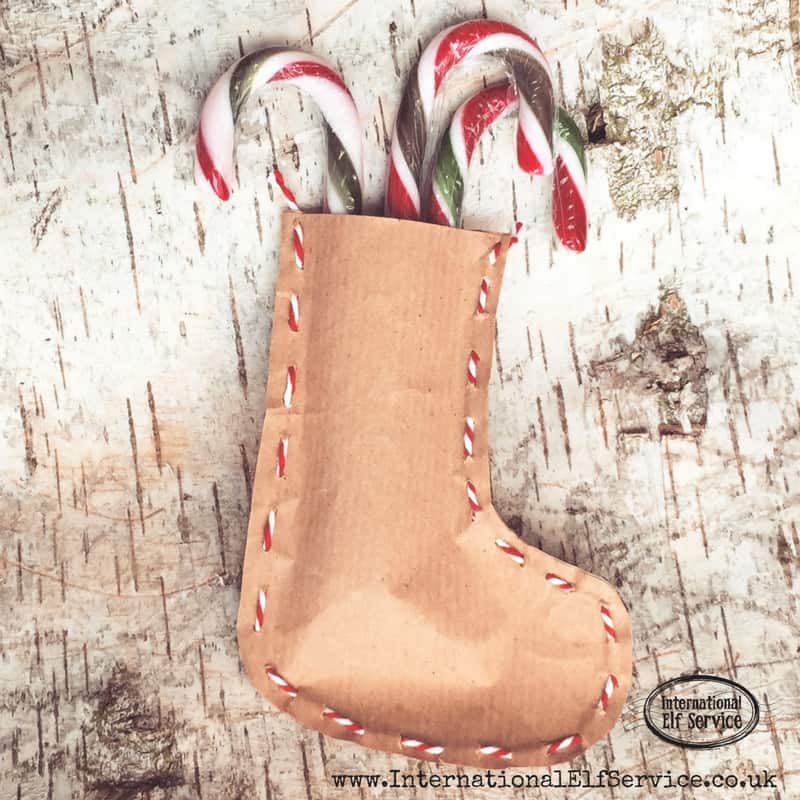 Please give this a go – these brown paper Christmas Stockings are so easy and super cute.  The kids will love them!
You may also like our other Christmas Activities.
If you would like to subscribe to our Elf Club, and receive our newsletters, special offers, free Guides and discount codes, I'd love to see you there!

To receive our Magical Newsletter
PLUS
Two FREE Guides in the newsletter:
Family Advent Activities & Ways to Make Christmas Eve More Magical!