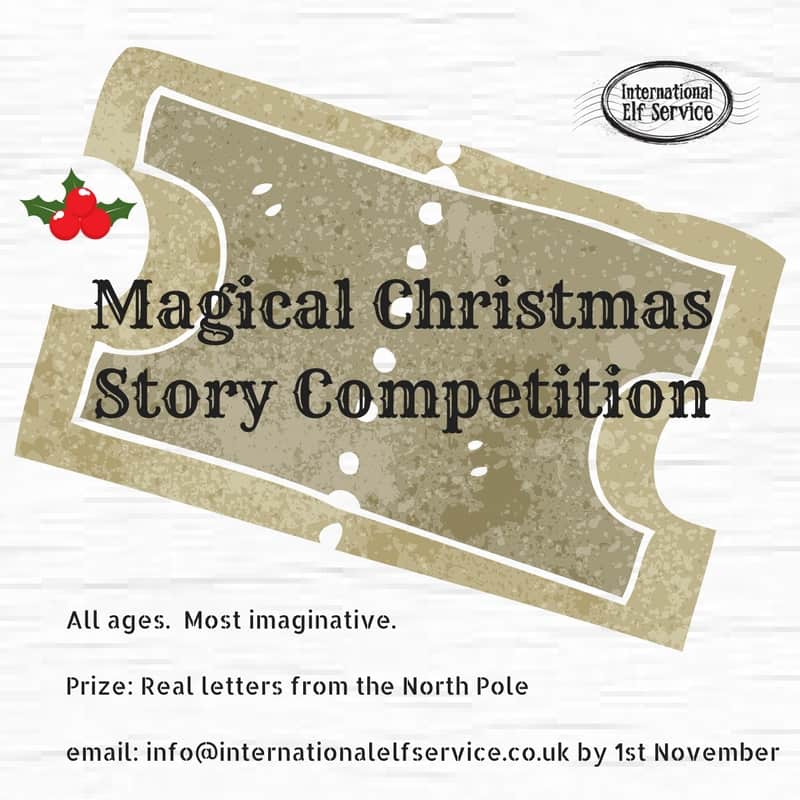 Dear Children,
We've decided to have a Magical Christmas Story Competition and ALL us Elves are going to enter!  It's not quite Christmas time yet, BUT we get so busy closer to Christmas, we didn't think we'd have time later on!  I know Lily's going to write hers using her favourite pen, I'm going to borrow Father Christmas' computer as usual, and Marty says he's going to use 'stink ink'.  Why would he want to do that?  I can't imagine using 'stink ink' will win, can you?
Father Christmas said he loves getting your letters SO much he wondered if you would like to enter too!  He says it really doesn't need to be to be very long at all, but it must be as imaginative and fun as we can make it.  We're also allowed to draw pictures on it too if we like.
****
The Rules
Our stories have to be about something Christmassy.  It can be funny or not funny, full of clever inventions or delicious food.  It can be about the reindeer or presents we'd like in our wildest dreams (that don't actually exist).  It can be about a Christmas party we'd like to go to, or the tallest Christmas tree that reaches all the way up into space…or anything!!
I can't wait – I'm going to go over to Mistletoe Stores this minute to get a new notebook to write all my ideas in.
The only thing is, there will only be ONE winner and Father Christmas has already said it will be impossible to choose a winner.  Lily very sensibly says the winner should definitely be the person who's tried their hardest, and we should all just have fun and enjoy making up all our stories!
****
The Prize:
I will definitely write a letter to the winner every day from the 1st to the 24th December, with all our news while we get everything ready for Father Christmas to deliver on Christmas Eve!
****
Our Magical Wind Machine is being mended at the moment so we can't ask you to post us your stories in the usual way. Please could you ask your Mum, Dad or Guardian, to email it to us with your name and age to us here at the International Elf Service and sent to us by the 1st November 2016. We LOVE hand written entries in particular so we can enjoy seeing everyone's writing.  If you do that, please can you ask your Mum, Dad or Guardian to take a photo of your story and email it to us?
We have a special email we've requested from the internet people, which is info@internationalelfservice.co.uk.
This really is all SO exciting!
Lots of love
Elfie xxx