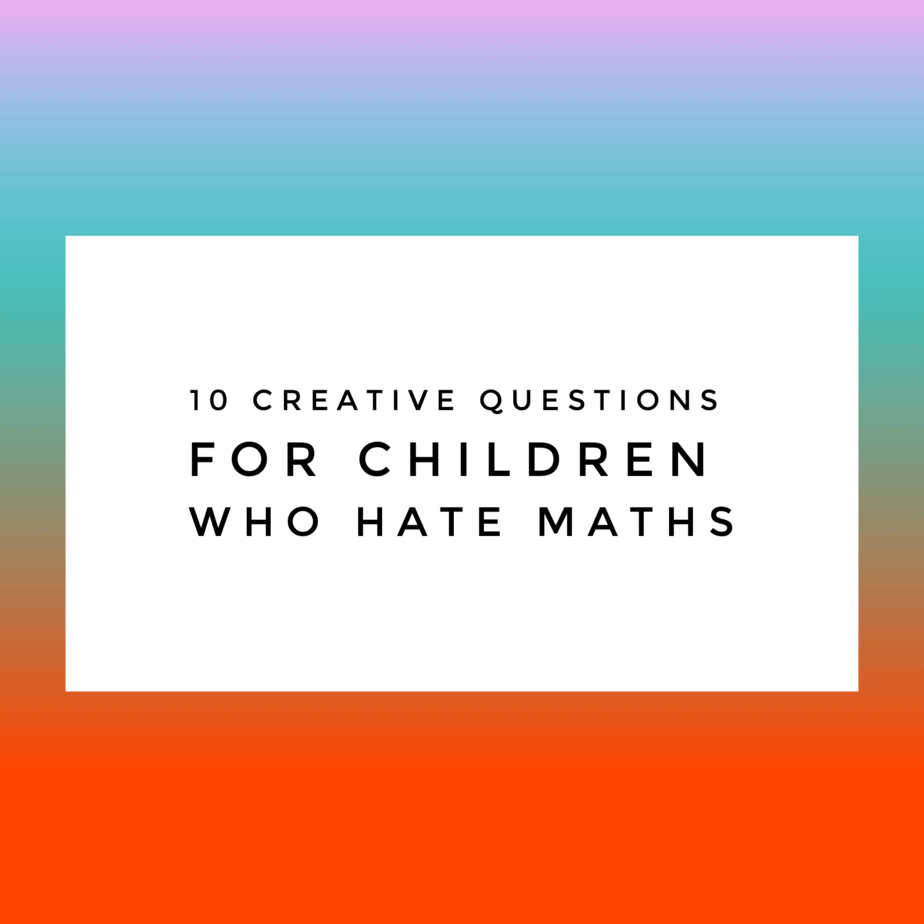 Our 8 year old flounced into the house yesterday and announced (again) how much she hates maths. She's always found it hard and who can blame her? I'm dreadful at maths myself but unfortunately it's one of those things you just have to get on with isn't it?
'Oh don't worry honey, maths is useful when you need to work out if you have enough pocket money to buy something you know you'll die if you don't get', I told her reassuringly.
I was speaking to a secondary school maths teachers at a 'do' last week and he said they do fun maths days where the kids are grouped up and have to build a virtual house for under £30k…everything has a cost: walls, doors, skirting boards etc. Then, if they come under budget, they get to build a model of their house. How cool is that? I'm going to devise a primary school version. I know lots of people cook with their kids too, and that's always great for learning maths by stealth.
Anyway, we were all eating whatever it was I'd made for dinner when I had a brain wave and started throwing some odd fun questions out to her and her 6 year old brother. After question 2 she was asking me for another question and then she was making them up for us too. It was actually quite fun and I don't THINK anyone noticed me on my iPhone under the table with the calculator app open …
Do give it a go. You can either make your own questions up (obviously) or try ours and adapt the questions to suit if needs be!
And if you want more fun ways of learning, check out our Wizards & Wonders Subscription Box:
10 Fun Maths Questions For Any Child Who Hates Maths More Than Anything
42 eyeballs weighing 26kg each are put into a bag.
Your friend Mr Sausage Bottom puts 4 more eyeballs into your bag.
How many Kgs of eyeballs are in the bag?
A zombie has 12 feet. Each foot has 12 toes.
How many toes does the zombie have?
There are 5 pairs of super cool sunglasses. Each of them is 30cm wide. 10 more pairs come along but they're only 26cm wide.
If we line them all up, how many cms of super cool sunglasses do we have?
Your bank account has £65 in it and you want to spend it all on Time Capsules, which cost £5 each.
How many time capsules can you buy and where would you go in them?
You have 63 'sick' flavoured Jelly Beans, 9 'exploding magic' flavoured ones and 12 'all wishes come true' flavoured jelly beans. You manage to give half of the sick flavoured ones away to your friend who weirdly quite likes them.
How many jelly beans do you have left and which ones are your favourite?
You have to be at school for 9 O'Clock (09:00 hrs). It takes 27 minutes to walk there, 7 minutes on the bus, 3 minutes by magic carpet or 1 minute by catapult.
You decide to go by catapult because you're feeling lazy. What time do you need to leave home?
You go to stay with Uncle Stinky (he never washes his socks). He lives on a farm and has 50 sheep, 300 Kangaroos and a dragon. He asks you to go and feed the sheep for him while he puts an apple pie in the oven. When you get to the sheep field, you see a big hole in the fence and realise that 18 sheep are now jumping around with the kangaroos. Suddenly the dragon into the field and flies off with the 18 sheep! You run back to Uncle Stinky and tell him the bad news. He's so shocked he can't think straight and asks you how many sheep he has left. What do you tell him?
Great Aunt Agnes now lives in your spare room. You actually really like it because every morning before breakfast, she gives you 4 squares of chocolate without your Mum and Dad knowing. Your Mum tells you that Great Aunt Agnes has now lived with you for 7 weeks. How many squares of chocolate have you been given?
You go into the kitchen and see the most amazing sight: 8 bottles of cherryade, 47 bars of special crunch chocolate, 9 giant marshmallows and a veeeeeeery long cake with cherries on top.
You're told you can have them all!
How many are there altogether and how much could you eat and drink before you felt sick??
You swam like a superhero at your swimming lesson yesterday and managed to swim 8 lengths of the pool UNDERWATER AND WITHOUT BREATHING in 10 seconds! Your swimming instructor couldn't believe his eyes as no one else has ever done this before. He's just given you a certificate for it but he was so shocked he totally forgot to write down how far you swam.
If one length of the pool is 50 metres and you swam 8 lengths, how many metres was your underwater swim?
If you have any more ideas for questions or other fun ways to learn maths, I will love you forever if you could leave them in a comment below so we can steal it!
You might also like:
Handwriting Practice On The Sly
Help Your Kids To Enjoy Creative Writing
DIY Colouring Activities