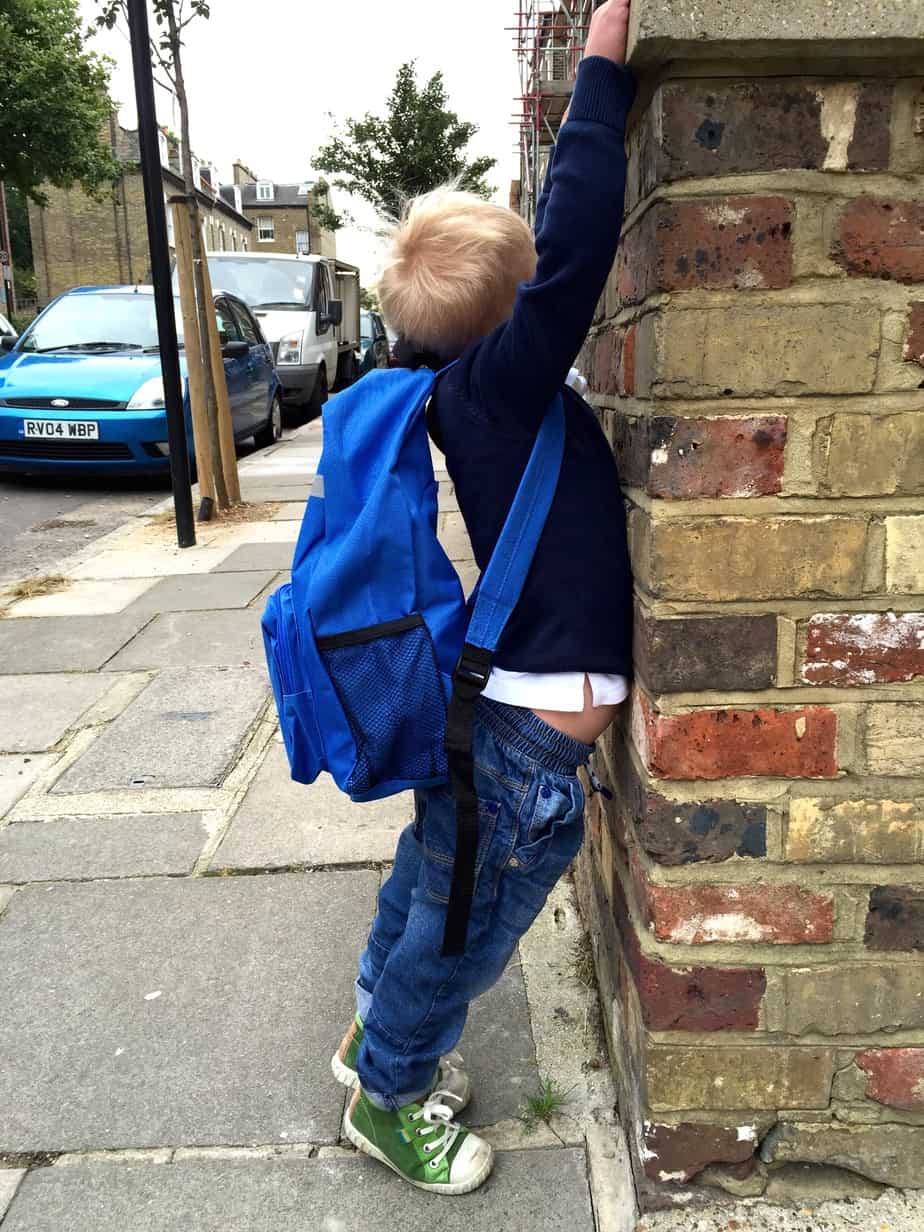 September 15, 2015
|
|
BY Elfie
Our Boy With Down Syndrome Starts School
Exactly four years to the day after having Open-Heart Surgery and dithering about whether or not to delay starting school for a year or not, our boy with Down Syndrome started in mainstream school last Monday, along with all the other children of his age. He received funding for educational support from the Council and the school has put in the rest from their budget to ensure he has a full time TA.  Amazingly, his Keyworker from nursery applied for the job at the school and got it!  We feel so incredibly lucky to be in this situation and it's certainly been a huge help to him while he settles in.
Wanting to be prepared, we thought we'd practise saying his teachers' name out loud, with varying results. Rather than 'Miss Constable,' we got 'Miss Constabum' and rather than 'Miss Plomer', we got something that sounded more like 'Umpalumpa…a rather good start I thought.
Feeling completely ready for the Big Day, I suddenly realised I'd forgotten to get him any uniform and had to rush into M&S with two days to go. The choices left for jumpers, were ages 9-10 yrs or 3-4yrs. Now he's diddy, so I plumped for the latter, absolutely certain I could get away with it.
But then it ended up in the tumble dryer…
The morning started very well, he ate his breakfast and then ate some more and was in fact still eating his breakfast over an hour later, with only seven minutes until departure, IN HIS PYJAMAS.
12 seconds to take the obligatory photos. Him with a school bag 2/3 the length of his body on his back, looking like a turtle and me shouting 'CHEESE!' and we were off.
Except we weren't.  He wanted to wear his school bag AND carry his packed lunch and he could barely walk under the sheer awkwardness of it all.  When I asked if I could carry his bags, he said a very firm 'NO!' and held on to everything all the tighter. I made a point of asking him in a loud voice just as people walked past us, because I knew they were thinking what a cruel mother I was to make him carry it all.
Having ripped him from his third bowl of cereal to shoe horn him into his clearly too-small-jumper, I decided he simply must still be hungry and had grabbed a fruit smoothie for him to have on the way. This ended up on his jumper, under my wedding ring and on my shoe.  Then I realised he hadn't had a wee before we left, which for children that are in the vulnerable post potty training period, can be disastrous.  Praying he wouldn't suddenly declare a call of nature, we actually reached the playground with 15 seconds to spare.
Having packed my suitcase ready to move into Reception with him, I was assured this wouldn't be necessary and that parents are encouraged to say goodbye as soon as their child has found their peg, hung their coat up and settled into the classroom.
We didn't even get that far, he barely acknowledged his peg and shot into the classroom without so much as a goodbye!
So, the report from the teacher at the end of his first day was that he'd settled in well, was integrating with the other children and had participated in all the activities BUT he'd really struggled with playtime.  Apparently he'd tried to run away when the bell rang for the older children to join them in the playground!  All credit to the school – they actioned a new plan with immediate effect to make sure he wasn't in the playground during that time (but still with a couple of friends), with the aim of 'weaning' him on to a full playtime with the others as soon as he's able.
Now for those of you who have followed our sensory journey, I was actually stunned and amazed that this was the only thing he'd apparently struggled with! How proud was I?!  He wasn't in tears or clinging to me and he trotted in very happily the next day and for the rest of the week.
As the week went on, he was visibly getting more tired and generally a bit stroppy at home, but still his end of day reports are that he's doing really well, is joining in and is a pleasure to have in the class.  We kept our ritual of pottering about in the park for an hour or so, LOTS of food and an earlier night than usual.  He's coped brilliantly and a particularly proud moment was when his teacher told me how incredibly impressed she was that he knows all his phonics already.
#DownSyndromeRocks
Our eight year old said to me today, 'do you know what Mum? Something made me so happy at school today. Every time I see him, he's always got loads of friends around him who want to play with him.  Everyone loves him!'  I asked her if she was surprised and she said yes because neither she nor her other brother ever seem to be that popular!  I reassured her that
It's still very very early days but so far so good (I shouldn't have said that should I?).  I'll leave it for a few weeks and post again with more of a 'how the learning's going' update.
****
10% Early Bird Discount (sleighbells2015) on our Christmas Letters until 25th September (I'm hoping this will encourage people to order sooner rather than later because I got in a huge fluster last year when everyone left it until the last minute!
Come and join us on Facebook and over on Christmas Traditions & Magic For Children. The Shop is ready for Christmas 2015, so do have a rummage!
To receive our blog posts, please sign up at the right hand side of this page or for Product or Christmas News and promotions from the International Elf Service, please sign up at the bottom of the page. This year's series of 'Elfie's Christmas Letters', 'North Pole Christmas Letters', a shorter set of letters from different elves from the North Pole, Elfie's Birthday Letters and other fun products are in the shop too!
tags