A guest post…by Helena on reading recommendations from a 9 year old bookworm and a 7 year old reluctant reader!
As an avid reader, I was naturally eager to encourage my children to love reading too. When they were little, we all loved snuggling up to read a book at bedtime (or any time!) and I discovered a whole new world of beautifully written, funny, emotive and frequently tear-jerking children's stories that I am sad to have left behind now my children have grown.
Before the move to big school, I had made a few half-hearted attempts to teach them to recognise key words and letters, but I did not go all out to teach them to read (partly because I am lazy and distinctly lacking in patience, but mostly because I felt 5 years old is early enough to be starting formal education and there was no need to bring this forward). As a consequence, it came as quite a shock to me when my eldest started bringing home her reading book and I realised just how challenging this learning to read lark was. Many an evening was spent with me attempting to bite my tongue and make encouraging noises as my 5 year old struggled over the same three letter words time, after time, after time. I found the whole process torturous (although second time round it didn't seem so bad – maybe my tolerance had increased by then?!) and longed for the days when my girls would be able to read fluently and confidently.
Fast-forward 4 years and both my children have developed into solid, capable readers so some combination of early reading together and school-based learning to read seems to have worked out well for them. What is interesting is the marked difference in their attitudes to reading. My eldest, Ana, took longer to grasp the process of reading, but from the age of 7 has been a voracious reader, gobbling up book after book and story after story. I remember a camping trip with friends the summer before she was 8 when my heart swelled with happiness and pride as my little bookworm curled up in any corner she could find to read her precious 'Harry Potter' (by this point, she had reached the colossal fourth instalment) and this love of losing herself in a great novel has not diminished as she has grown older.
On the other hand, my younger daughter, Faith, took to reading much more readily and is a competent reader, but reading for pleasure is yet to become a main feature in her chosen relaxation activities. Having seen Ana's love of literature blossom, I am keen to nurture a similar love in Faith, so I have attempted to scour the internet and bookshops for reading recommendations for a 7 year old to try and draw her in to the magical world of books.
So here it goes: recommendations from a 9 year old book worm and a 7 year old reluctant reader:
Ana's Recommendations: books for 8-10 year olds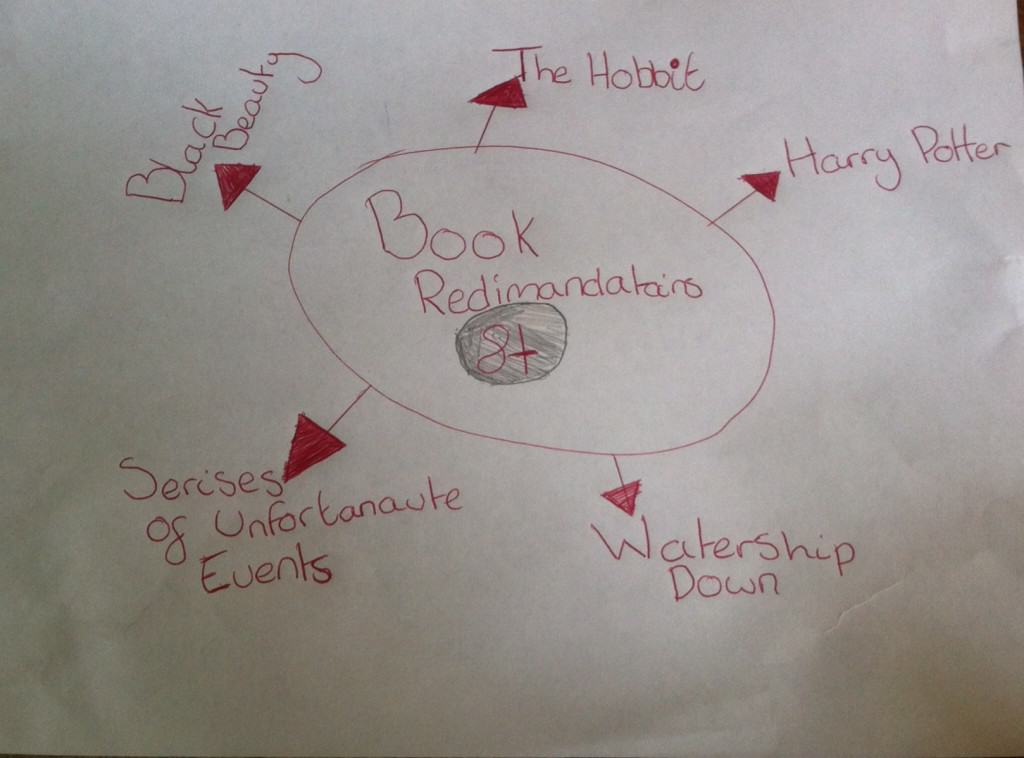 So at first glance, it may seem as if the one thing Ana has not gained from her extensive reading is competent spelling and this is true: her spelling is not great, but verbally her vocabulary choices are varied and impressive for a child her age, so I am hoping the spelling will come with practise! The recommendations however, come spelling error free (hopefully)!
Harry Potter series – J.K. Rowling.
Now this may be a predictable one, but there is no doubting the power of these novels to engage readers of all levels and they were Ana's immediate first choice. She started reading them just before she turned 7, but I think 8 would probably be a better age to ensure they are not put off by some of the challenging language. Part of her motivation for reading these books was that I had told her she couldn't watch the films until she had read the books and – because many of her school friends raved about the films – this inspired her to zip pretty quickly through the first few books. Once she hit book four things slowed down a bit as 'Harry Potter and the Goblet of Fire' was a step up in terms of challenge from the previous three novels and, in fact, having read the first three in the space of a few months, it then took a good year and a half to complete the remaining four books in the series.
When I asked Ana why she would recommend these books, she told me that 'they are really interesting and exciting with lots of surprises. They draw you in because you want to know what will happen next.'
Black Beauty – Anna Sewell
When I showed my mum Ana's spider diagram, she pointed out that many of the books on Ana's list were classics rather than modern novels, but this has definitely been where her interests have drawn her. She got a kindle for her birthday and I have downloaded a number of newer children's fiction books onto it in an attempt to engage her with more current literature, but she has only ever made a half-hearted attempt to begin these novels and none of them have truly captured her interest. Instead, she has read and loved classics like Black Beauty, which appears to retain its charm for those with a love of horses and of nature. The appeal of good writing, it seems, does not fade with time.
The Hobbit – J.R.R. Tolkein
I have googled this to see what the suggested age rating is as I attempted to read it when I was about Ana's age and gave up pretty quickly. I think, at 9, she is probably at the lower end of the age range that this book is accessible to and other 9 year olds might find it a bit of a slog (I certainly did). Ana loved it however, and is now about halfway through 'The Lord of the Rings': a gargantuan tome that she carries everywhere with her. For children with a love of fantasy and adventure, I think 'The Hobbit' (and the lure of the accompanying blockbuster films) is a very good starting point.
A series of Unfortunate Events – Lemony Snickett
I must confess to having had a significant hand in this one as I methodically purchased book after book in this series from charity shops in order to encourage my girls to read them. They are truly fabulous novels: funny, surreal and often disturbing, but brilliantly written and immediately engaging. For Ana, it was a deviation from her normal reading material, but (after I nagged her to give them a go) she was surprised to find how much she enjoyed them.
Watership Down – Richard Adams
This appears on Ana's spider diagram, but as she is only a few chapters in I will hold off with recommending it for now: who knows if she will love it as much when things start to turn dark and foreboding!
Faith's recommendations: books for 6-8 year olds (reluctant readers included)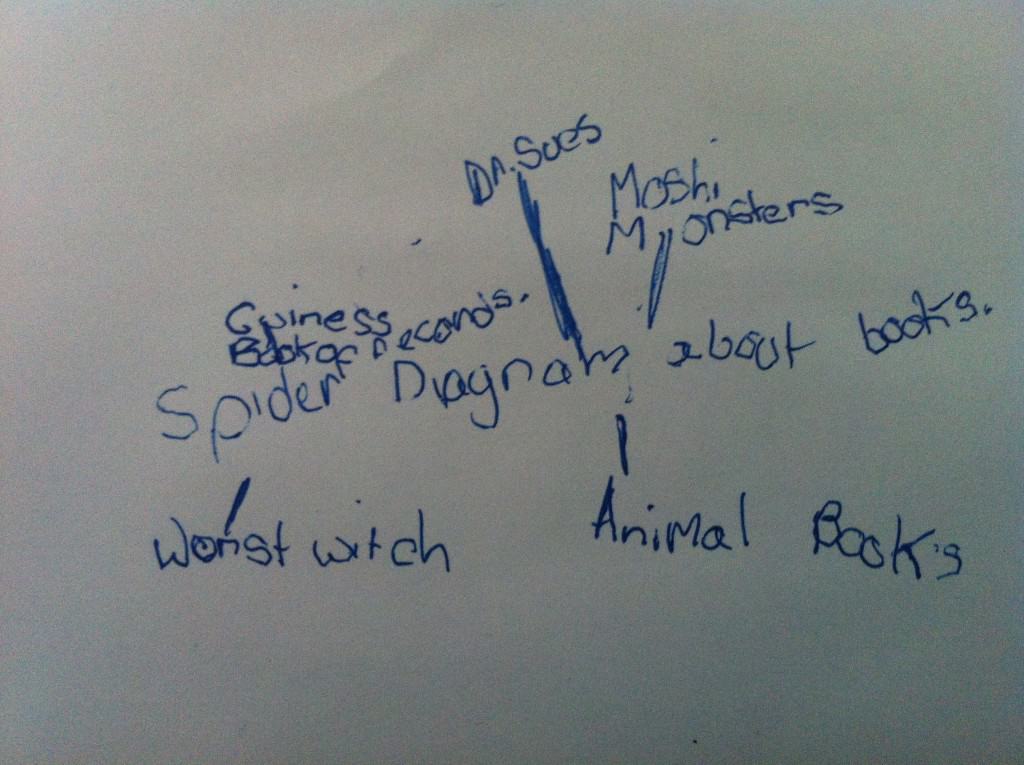 The Worst Witch – Jill Murphy
I am starting with this as it remains the only novel to have truly engaged Faith in reading. It's a nice easy read for a 7 year old, but it is also entertaining and well written. Faith received this novel for Christmas from Santa (wise choice Santa: well done!) and spent much of the Christmas period with her head buried in the book until she had read it from start to finish. I was overjoyed and made the mistake of assuming we had finally found a way to encourage Faith's love of literature, but despite encouraging her to spend some of her Christmas money on the next book in the series, we never managed to recapture the level of enthusiasm shown when she read the first novel and even that one she now denies liking at all. Go figure!
The Guinness Book of Records
This was Santa's other great contribution and really tapped into Faith's love of trivia and factual information. She really enjoys the fact that she can dip in and out of this book as she wishes without the perceived effort (as she sees it) of plugging away and reading a novel from beginning to end. A warning to those of a more delicate constitution: some of the facts are pretty unappealing and helpfully come with full colour pictures, so this might be one to avoid unless you have a strong stomach!
World of Animals
At the time of writing we couldn't locate this book and I failed to unearth it in my google search, but suffice to say it is a hefty non-fiction book (found in a car boot sale around 3 years ago) packed with factual information about a plethora of animals. Both girls delight in scouring its pages and sharing nuggets of information about all sorts of animals and the whole family now have an in-depth knowledge of the habitat, diet and behaviour of a whole range of animals some of which I had previously never encountered.
The key thing about both this book and the previous title, is that they suit a more pragmatic reader who enjoys reading for the knowledge that can be gained, rather than the more romantic concept of reading to immerse oneself in a fictional world. In addition, they suit those with shorter attention spans and a limited desire to sit still for any length of time (which just about sums up my 7 year old!).
Collected Stories of Dr Seuss
These fabulous, lyrical stories started out as bedtime reading together, but Faith has recently started to enjoy reading them alone as well. Her favourite (and mine) is the story of 'The Lorax': a warning to all, of the dangers of putting personal greed above the protection of our environment. The combination of sharp, witty humour and a serious hard-hitting message is very appealing.
Moshi Monster books
Now many people may feel that these kind of throw away fact books about children's characters are largely focused on increasing the sales of their related toys and do not count as 'proper' reading material. I certainly believed this before, feeling quite strongly that reading material should be challenging and enlightening. However, as the parent of a reluctant reader, I have changed my position on this and now believe that any reading material that can encourage a child to read more should be celebrated and encouraged. Of course, I still try and introduce Faith to different kinds of text and I continue the search for a novel she might actually find herself absorbed by, but if Moshi Monster books are all she will read, then take it as read (see what I did there?!) that I will encourage that too.
All in all, I think my over-riding advice – if advice you can call it – would be to try your children out with different types of text: short and long; fiction and non-fiction; classic and modern. Eventually, if you persevere long enough, you will hit on something that will engage their interest and draw them into the magic of reading. When that moment comes: grab it with both hands and hold on tight because I firmly believe that a love of reading can open a child's eyes to the world.
Helena blogs over at Mother Inferior. Her blog is full tales from the frontline of parenting and her goal is to make the rest of us feel better about our occasional parenting fails by describing hers in minute detail! Pop over and read her latest posts about her family's 'Come Dine With Me' competition.  Do pop over and have a read!
****
I hope you enjoyed 'Reading recommendations from a 9 year old bookworm and a 7 year old reluctant reader as much as we did.  To receive our posts straight to your inbox please sign up at the right hand side of this page (or sign up at the bottom of the page to receive news from the International Elf Service). Do also have a browse through our other posts and come and join us on Facebook for lots more!
Don't forget Elfie's Birthday Letters are now available in the shop.