May 01, 2018
|
|
BY Elfie
Slime Recipes That Work!
Like many households, we also have a Slime Lab! This however isn't the half of it. It also involves shampoo, conditioner, endless bits of Tupperware (to keep it all in), bowls and wooden spoons. Be warned …they don't make slime once. If they find a recipe they love, they make it LOADS of times! So stock up!
Our eldest daughter (Slime Queen) has come up with her two 'go to' Slime Recipes' that consistently work really well. It appears there are many types of slime, all as much fun to play with as each other. The Fluffy Slime is 'chemically', but works soooo well. The other one is a no Borax 2-ingredient slime / play dough, which she really loves too! Don't forget, I've also got How To Make Snow here on the Blog, and the really fascinating Oobleck Slime too.
As long as you understand what each ingredient does, you can rescue anything … just keep on tweaking. A bit like my cooking really …
Don't panic at the size of our PVA glue – we do so many crafts here, it isn't worth buying it in a smaller size! But ⭐️do make sure in the description, the glue says it's suitable for slime.⭐️ Weirdly some PVA glue doesn't work properly.
*I've discovered it's tricky to take good photos in the gloom of our current weather!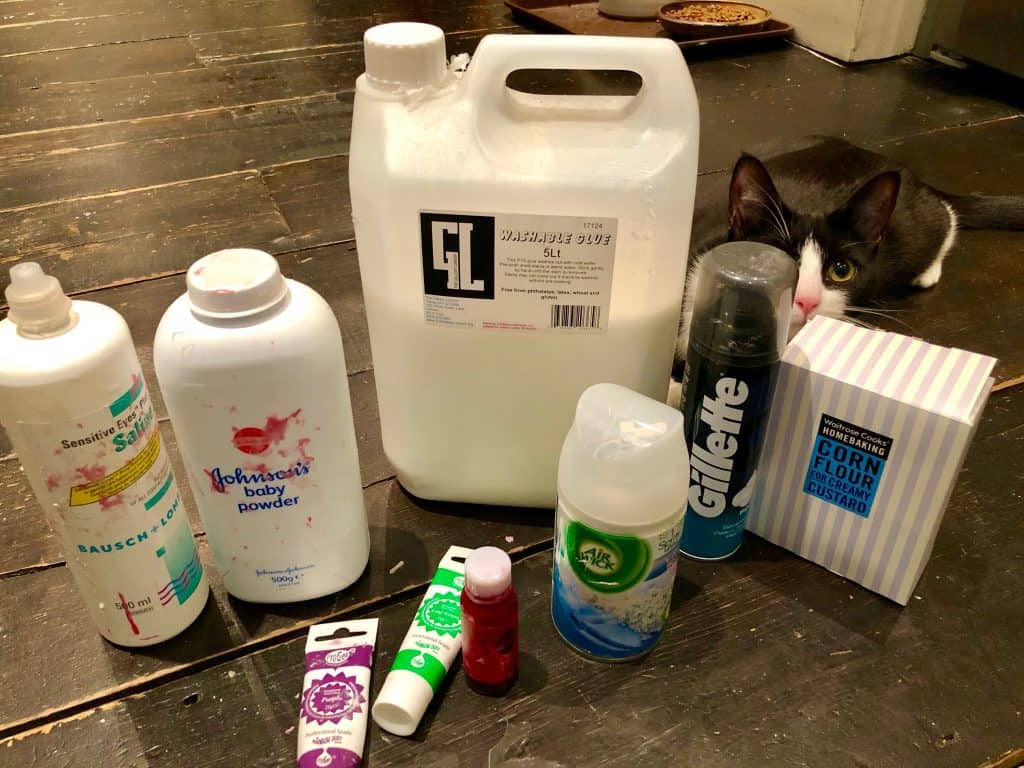 So many of you wrote in (thank you!) saying you'd be interested in some good slime recipes … so here you go! The chemically one first …
Fluffy Slime
This our 11 year old's recipe, and her favourite! She's talked you through the different stages, so you can learn how to tweak it yourself. She says EVERYONE goes back and adds a bit more of this, or a bit more of that – which she's explained at each step too.
What You Need:
1 cup PVA Glue (suitable for slime recipes – it will say in the sellers description)
1/2 cup Shaving Foam
Food Colouring
1-2tbsp Saline Contact Lens Solution
4 – 'spritzes' Air Wick Air Freshener (we use Freshmatic Max Refill)
1-2 'puffs' Baby Powder
What You Do:
Mix the glue and the shaving foam together, with some drops of food colouring …
It should feel stiff at first. Then add 1 tablespoon of contact lens solution (it makes it less stiff and more stretchy), and stir … it should turn into a 'jelly glob' (!)
Add one more tablespoon of contact solution if it isn't quite stretchy enough for you. Then touch it and see how sticky it is. Probably disgustingly sticky!
Give it 4 spritzes of Air Wick, and more colour if you like – but not too much, or it will ruin the slime!  The Air Wick makes it less sticky and stiffens it up a bit.
If after 4 spritzes, the slime doesn't come away from the bowl when stirred, add 4 more spritzes.
You may decide you want to add a bit more foam at this stage (up to 1/2 cup), to make it more fluffy. And more contact solution. If you do … stir well, and the contact solution will mix in after a while.
You may decide you want to add a bit more foam at this stage (up to 1/2 cup), to make it more fluffy. Go for it!
Push your finger into it and pull it upwards. The slime should stretch upwards and then fall off. If it doesn't, you need a puff or two of baby powder!
Enjoy!
And now for two super simple almost-the-same recipes, that avoid all the chemical nasties – well, unless you count shampoo and conditioner as nasty.
---
Two Ingredients – Supersoft Stretchy Playdough
This stuff is AMAZING, smells delicious, and it really couldn't be easier. And ALL our kids love it. They're 11, 9 and 7 years old.
1 part cheap Hair Conditioner OR Shampoo 
2 parts cornstarch
Food colouring (we made some white, one lime green, and one a rich berry colour this time)
Knead it for a minute or so, and that's it. It's amazing stuff!
As conditioners vary you may need to add a bit more, or a bit more (a teaspoon as a time), of each to get a non-sticky wonderfully soft and pliable end result.
(NB: It's not edible!)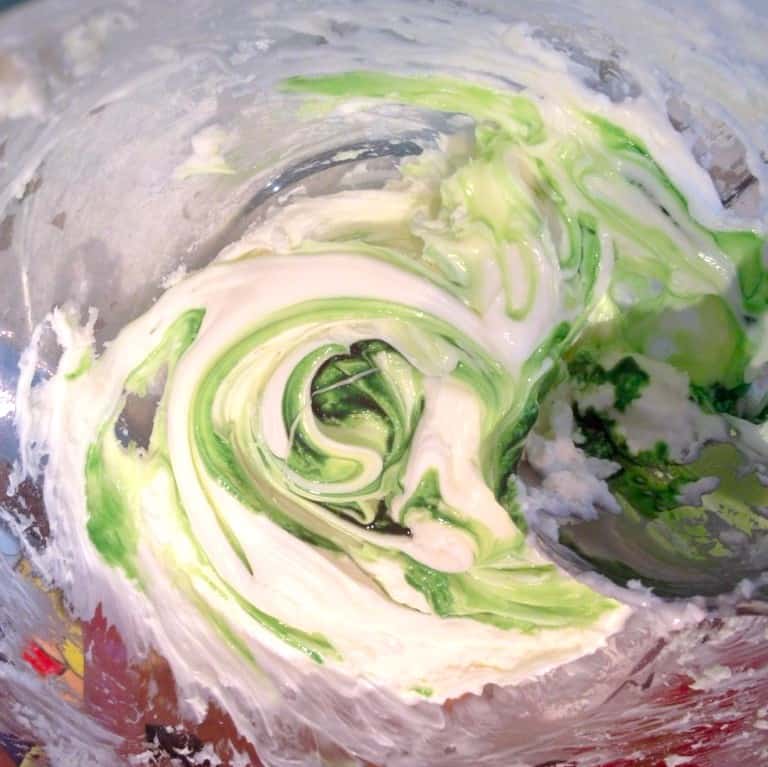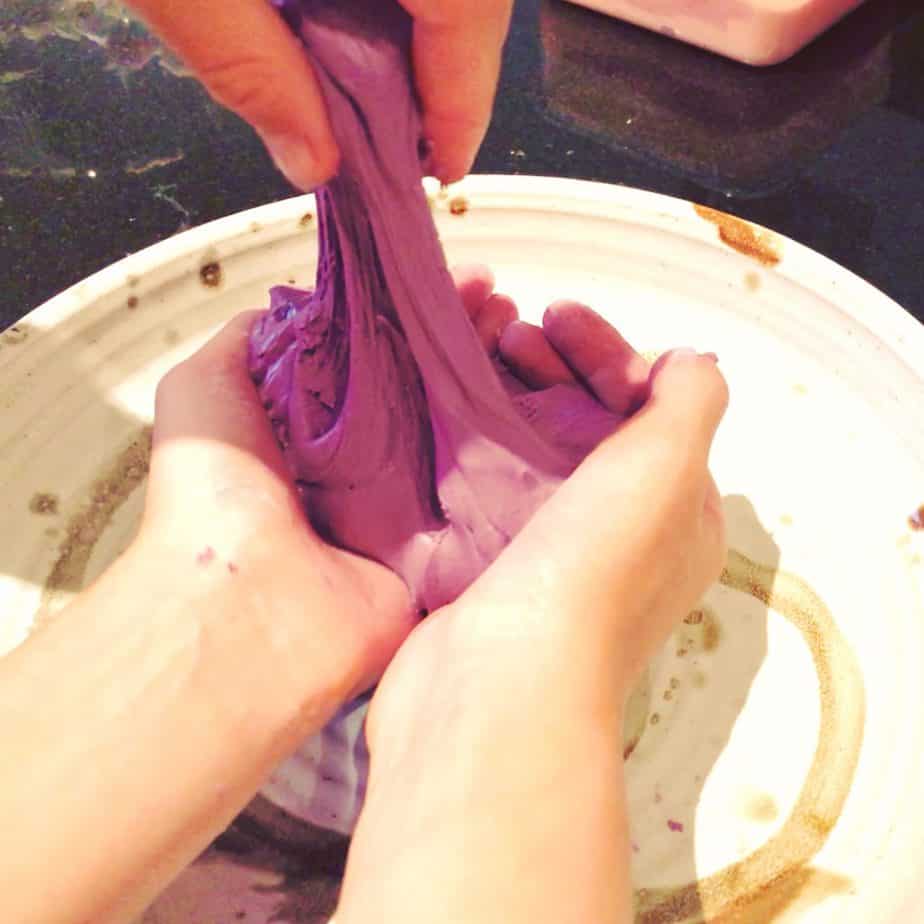 If you'd like more no Borax recipes, Maggy has a great post over on Red Ted Art.
Whichever recipe they make … it's VERY messy! Give in gracefully. Resistance is futile.
You might also like to make a Salt Crystal Garden!
---
To receive our Magical Newsletter …
---
Magical moments for you and your child to share
Take your children on a magical journey with these unique, hand-drawn letters from two of the most magical places on earth … the North Pole and Fairyland.
Hide them among the bills and junk mail, lay them on the table first thing in the morning, stashed among the toys, or snuggled up in their bed. You choose where your children find the letters, to create a magical family tradition the kids will love!
***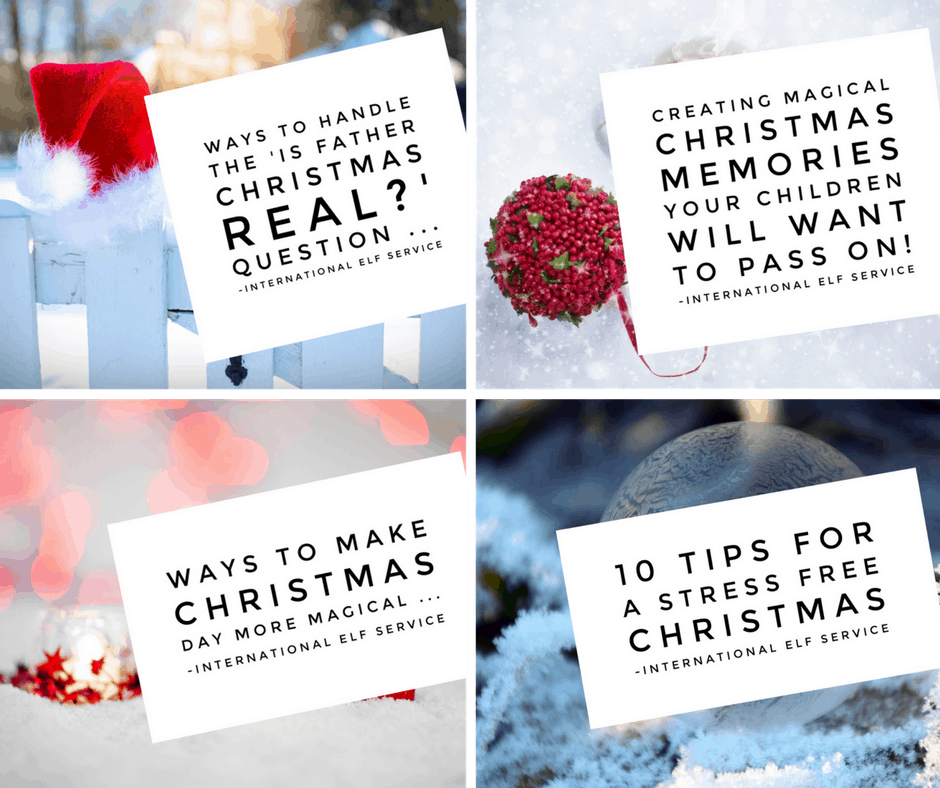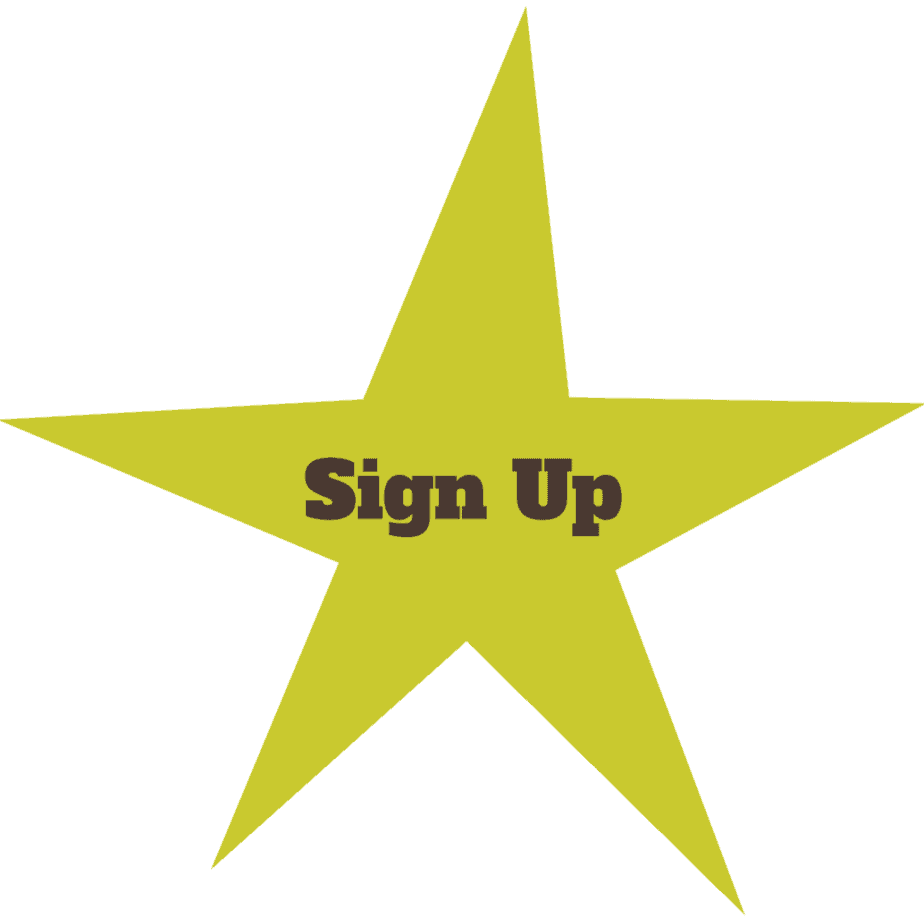 "The best Christmas idea ever." – Charlie Condou (Actor)
***
"These were the best things I have ever (and I mean ever) ordered!!
I've never seen the magic or happiness last so long x"
– Jolene (August 2017)
***
If your child believes in Father Christmas and you want to keep the magic for as long as possible, There are DIFFERENT and NEW! Christmas Letters each year!  You can preorder these for Christmas 2018 for dispatch from September.
***
***
Fairy & Tooth Fairy Letters

Fairy letters from a world of dragons (who set fire to your lunch by mistake), Mystery Gardens (with changing adventures inside), Magical Potion Fairies, Secret Underground Passageways, Magical Tree Bark, Time Travel … and more.
***
Dummy Fairy Letters are available too!
Come and join us on Facebook, or find us over on Christmas Traditions & Magic For Children for all year round festive chat.
To receive my blog posts, please sign up at the right hand side of this page or for Product or Christmas News and promotions from the International Elf Service, please sign up at the bottom of the page.
Emily x
tags