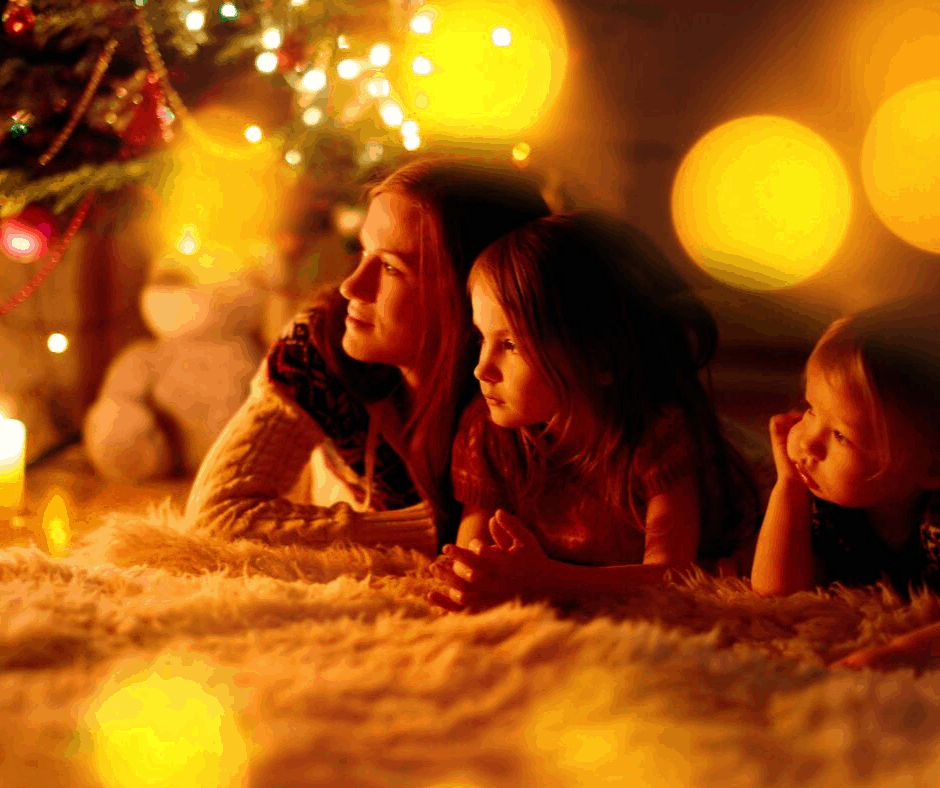 Whether or not you're looking for board games to play during the long hot rainy summer evenings, or for family gatherings at Christmas – this guide will hopefully help you find something you haven't come across before. Playing card games and board games together as a family really are one of the best Christmas traditions out there. It helps to build bonds and memories, and as with any family tradition, it also helps to make a child really feel like they belong in their family unit.
(You might like to read: Why playing games at Christmas is a good thing)
In no particular order, here are some board (and card) games that come highly recommended, either from lovely people I know personally, or from members of my Facebook group: Christmas Traditions & Magic For Children. Some of the board games you'll have heard of, and some you won't!
I'd love to hear what you have to say, including which versions you think are best – so please leave a comment in at the bottom. I tend not to take too much of recommended ages personally, but do have a look through the reviews for each of these to get a better idea of what they're like.
If I've missed anything off, please let me know. Also, do shop around and keep an eye out for any of these in Charity shops! If you do choose to buy from Amazon, do purchase via my affiliated links here 😊
Exploding Kittens
"This game, is pure brilliance. It's so funny and just is perfect."
Family-friendly, party game for 2-5 players (up to 9 players when combined with any other deck).
Exploding Kittens is a card game for people who are into kittens and explosions and laser beams and sometimes goats. In this highly-strategic, kitty-powered version of Russian Roulette, players draw cards until someone draws an Exploding Kitten, at which point they explode, they are dead, and they are out of the game — unless that player has a defuse card, which can defuse the Kitten using things like laser pointers, belly rubs, and catnip sandwiches. All of the other cards in the deck are used to move, mitigate, or avoid the Exploding Kittens.
---
Payday
"Simple but fun and competitive – recommended age 8+ but I would say it would be fine for younger children too."
"Brilliant game – bought for 7 year old daughter."
You have to spend money to make money – PAY DAY sees you invest, borrow and spend your money in order to make your fortunes

Countdown to PAY DAY as you face the highs and lows of the calendar month – watch out for DEAL cards and MAIL cards that may help or hinder you along the way

Will you win the lottery? Overspend on groceries? Or win big at the Family Casino Night?

With PAY DAY the action takes place on a calendar, just like real life, something happens every day!

The classic game of money management is suitable for ages 8+ and 2-4 players
---
Dweebies
"Great family game! Our 5 yr old loves it and it is easy to play. One of our favorites!"
Meet the Dweebies! These uniquely colourful characters are out to capture your heart, but you must capture them first! Round up Dweebies by matching cards on both ends of any row. Seems simple at first…but Dweebies can be tricky and some will disappear before they've met their match! Collect the cards and consider yourself Dweebies-in-chief!
---
Ligretto
"Fab and addictive game!"
Ligretto is fast, fun and easy to learn

Test your reactions, speed is key

Add another pack and four more players can join in

2 – 4 players

Age 8+
---
Pictureka
"Great family game. Lots of variations to suit different ages. Works with just two of you or a larger group. Children from 5-13 in our household were kept interested and had fun!"
Pictureka game challenges you to spot things fast

Outrageous picture hunt

Pack of 55 mission cards for picture-finding fun

For two or more players

Suitable for age 6+
---
Uno
"A great game! My 12, 9 and 6 year old play together."
For more than 40 years, Uno has been a card game that just about everyone in the family can play. The object is simple get rid of all your cards before everyone else. Match the number, colour, or type of card to play; use a wild if you don't have a match, or draw from the pile until you get a card you can play.
---
Sequence
"Sequence is the best!"
"A more challenging evolution of connect 4."
With a little strategy and a little luck, you can be a Sequence winner! Play a card from your hand and place a chip on the matching space on the game board. When you have 5 in a row, that's a Sequence! But watch out for the wild Jacks, use them to block your opponents and even remove their chips on your way to victory!
---
Dobble
"Totally brilliant!"
A game of Speed, Observation and Reflexes

Race to find the one matching image between one card and another

Images may be different sizes and placed on any part of the card, making them difficult to spot

Every card is unique and has only one picture in common with every other card in the deck

5 mini games: Fill the Well, The Towering Inferno, Hot Potato, Catch them all & The Poisoned Gift
---
Gubs
"Great game , well made, well illustrated and fun to play from adults and kids alike. Mine are 8 and 11 but I think a 7 year old could understand it."
"Best holiday investment ever made. Looks complicated at first but isn't."
"Welcome, you who have chanced to look beneath the dewy clover to uncover the secret struggles of the Gubs. Behold this clever card game that casts you in an epic contest to build the mightiest Gub colony. Seek wisdom from The Esteemed Elder or take shelter from a Toad Rider as you fend off a myriad of traps, lures and other surprising events, Victory lies down an ever-changing path and no one is safe until the final card falls!" 20 minutes play time. 2-6 players (recommended age is 10 years and up).
---
Blokus
"It's a game that works well for different age players — in our family that's two adults, a teen, and an 7 year old. We were able to play well together without any one of us having a huge advantage due to age. The more we play, the better we get."
Stake your claim and protect your territory with Blokus game! There's just one rule: each piece you play must touch at least one other piece of the same colour, but only at the corners! It takes less than a minute to learn but has depth to challenge your whole family.
---
Hare & Tortoise
"Best board game ever!"
"Never before have I come across a board game where you never know who's winning."
Family board game

For 2-6 players age 8+

A game of skill, no luck or dice involved

Spend your carrots to move around the board and be the first to finish
---
Halma
"My 5 year old daughter really enjoys this game with me. It is fantastic."
*Check reviews regarding board layout and possible printing error
A classic Victorian strategy game for 2 or 4 players

Similar to Chinese Checkers but with increased complexity
---
Forbidden Island
"Great little game to play with the kids, because its a cooperative game you don't have a winner or loser."
Instead of winning by competing with each other your team of adventurers must work together to keep Forbidden Island from sinking, in order to buy enough time to capture its four treasures. Once you've captured them, you must make it to Fools' Landing and escape by helicopter to win. If however, the island sinks before you can complete your tasks, the mission ends in defeat for all players.
For 2-4 players aged 10 plus and a playing time of around 30 minutes. This game is great for reinforcing problem solving, strategic thinking and cooperation skills.
---
Othello
"Very addictive!"
A minute to learn….a lifetime to master!TM

Internationally acclaimed

Two player strategy game

The lead can change with a flip of a disk

Age: 7+
---
The London Game
"Love this game young or old it's fun to play'"
"This kept us occupied for a long while over Christmas and involved more strategy than I had expected."
The classic race through London's Underground.

Be the first commuter to travel to each of your landmarks.

Visit London's landmarks.

Watch out for station closures and hazards.

2 to 6 players.
---
Pass The Bomb
"We had so much fun with this Xmas day – great gift for a 9 year old."
In turn players must shout out a word that contains the letters on the card and pass the bomb before it 'explodes'.
The explosive word game that will blow your mind

Suitable for 2 or more players

Age 9+
---
Cleudo
***Now digital too, which is perfect for long car journeys! (Apple & Android)
"Give me strength! Spent 3 hours playing this and the kids keep changing the rules partway through. Hours of fun."
Fun twist on the classic mystery game features new characters and a two-player version.

The mystery everyone is dying to solve

Use your skills to move round the board and discover who the guilty player is

Get caught up in the scandal of the century

Ages 8 and over
*not the original version
---
Mapominoes
"Got this game for my 8 year old and the whole family love it."
Fun, easy to learn, educational and highly addictive

It's like dominoes but with maps, as you build a map of Europe, by connecting countries that share a common border.

No geography knowledge required, but you learn as you play.

Travel game for both children and adults

Can connect to other continental versions of Mapominoes to play the whole world.
---
Beat The Parents
"Family hours of absolute fun for parents and children – will last as a forever game to keep. Lots of laughs!"
Kids Go Head-To-Head Against Parents in this fun-filled family trivia game.

Watch out for the Bonus or Bust tokens. They can push you ahead or send you back!

For a shorter game, play with only one mover per team.

Beat The Parents is for 2 or more players, ages 6 and up.
---
Junior Monopoly
"Helps the little ones understand maths, decisions, and consequences. its nice because you can actually finish a game in 20-30mins, so its not the endless infinite games that we grew up on."
"The game has been very cleverly simplified. The squares are made attractive to children, instead of street names or areas they have generic business activities like "Swimming Pool", "Sweet Shop" and "Bowling Alley". So the children learn to own businesses for income."
My First Monopoly Game – the classic game for younger players

Adorable Junior Tokens – comes with 4 junior tokens before they grew up

Fun, kid-friendly properties – buy cool properties such as the pet store, the candy store, and the video game arcade

Fast, Fun, and simple to Play – easy rules use single dollar bills for simple transactions

Suitable for ages 5+ and for 2-4 players
---
"The most used game in our house by a clear mile. Is played almost every day. Our 6 year old's maths is now lightening quick."
"I'd give it five stars but for the fact that for the money, you really don't get very much – in fact you're just paying for the scorepad really because dice and a shaker you can get anywhere.
"
Yatzy – the ancient dice game of luck and tactics.

2 or more players aged 5+.

Fun game for the whole family.
Christmas Monopoly
"LOVE LOVE LOVE! Excellent for any Christmas fan!"
"If you love CHRISTMAS, you'll love this edition. Great family fun, we loved it."
The festive season starts here with this very special Christmas Edition of MONOPOLY! Play as one of six bespoke tokens, including Rudolph, a snowman and Santa himself! Travel around the board collecting your favourite things from the season of goodwill: from Santa and his reindeer, to a full festive feast, via decorating the tree and doing your Christmas shopping, no stocking would be complete with this family favourite.
The world's favourite family board game brings you another exciting edition of MONOPOLY – the Christmas Edition

Choose your favourite festive token, tour your favourite Christmassy things and accumulate fortunes, but watch out for taxes, jail and bankruptcy

Advance to Santa, Dasher, Dancer and Prancer, or even Sprouts – will you owe rent or reap the rewards?

Invest in Grottos and Workshops and trade your way to success

The Fast-Dealing Property Trading Game is festive fun for the whole
---
Scotland Yard
"A bit tricky for my 7 year old but the 10 and 12 year olds love it."
"Slightly confusing to begin with put once you've tried it a couple of times, it becomes an extremely fun game."
Race around London to try and capture the elusive Mr X
This item includes 1x Game board, 6x playing pieces, 29x start tickets, 130x tickets, 1x travel log for Mr. X, 1x Visor for Mr. X, 2x inserts, 2x rings for bobbies and instructions.
This game is suitable for 3-6 players
Suitable for ages 8 years and up.
Average playing time 45 minutes
---
Labyrinth
"What a brilliant, simple game to play! Every game is different as the board keeps changing based on each persons go. It really is great fun and very simple."
The a-maze-ing game with magical moving walls. Collect all your treasures by creating a clear path
This item includes 1x Game board, 34x Maze cards, 24x Treasure cards, 4x playing pieces, 1x Set of Instructions
This game is suitable for 2-4 players
Suitable for ages 7 years and up.
Make your way through the labyrinth, avoid the traps and out manoeuvre the other players with clever wall-moving-strategy
---
The Logo Game
"Great family board game, to play individually or in teams. Questions to suit all age groups. It's interesting to see how clued up we all are on logos and advertising slogans. Clearly the advertising campaigns are memorable at least. Definitely worth buying."
Trivia board game

Includes 400 cards with 1600 questions

Identify images and answer questions based on logos, products and packaging of the UK's most well-known brands

30 minute game play

For 2 to 6 players
---
Quirkle
"This is a great family game, suitable from about age 5 upwards. It had a random playing layout, with a playing format similar to that of dominoes."
While Qwirkle is as simple as matching colours and shapes, it also requires tactical maneuvers and well-planned strategy. The game consists of 108 wooden tiles with six shapes in six colours. Using the tiles, players score points by building lines that share a common attribute – either colour or shape. Qwirkle is a quick game to learn, but you'll soon discover that you need to think strategically in order to score the most points.
---
Rummikub
"Fantastic game, lots and lots of fun. Nice to move on to if you're getting a bit tired of playing normal rummy. Also played it with nieces and nephews, the youngest is 8, and they all picked it up fast and wanted to keep playing."
Like Rummy, players build melds of run of the same colors – Red 7, Red 8 and Red 9 – or sets of the same numbers – Blue 8, Red 8 and Black 8. If you're looking for a fast action game where the outcome is undecided until the last play and has a never-ending variety of strategies and play situations, you'll love Rummikub! For 2 to 4 players.
---
Survive
"Great game. Easy to learn. My 10 and 14 yr old love the game."
The Giant Squid expansion for Survive adds another sea creature to attack your meeples. This time, the giant squids attack those on land or boats. You see, the giant squid is smart enough to know there's already sharks and whales and the sea serpent, why not be different and avoid the competition.
---
Bohnanza
"It's a good, light-hearted game suitable for families or anyone, and doesn't take too long to play."
"Sounded a bit boring at first, just grab beans and put them down. Highest wins. However, it's the trading that makes this game fun!"
This great card game designed by Uwe Rosenberg is about planting, trading, and selling beans, 11 kinds of beans. Players try to collect large sets of beans to sell for gold. There is limited growing space and always new beans to plant. To avoid planting unwanted beans, players trade them to other players who want them for their bean fields. For 2-7 players Takes about 45 minutes to play
---
Carcasonne
"It's brilliant!"
The land around Carcassonne is being visited by a Dragon, making life very difficult for the followers. Brave heroes venture forth to face the danger, but without the aid of the Fairies, their chances are not good. In the city, the princess seeks help from the knights, and farmers build secret passages to move about undetected by the Dragon.
---
Ticket To Ride
"So easy to setup and play even my 7yr got it straight away."
"Ticket to ride is an extremely enjoyable and brilliant game for the whole family."
Ticket to Ride can be learned in 3 minutes • Provides players with intense strategic and tactical decisions every turn • 2-5 players • Ages 8 + • Playing Time: 45 mins
---
Settlers of Catan
"I cannot recommend this game enough!"
"If you like games like Carcassone, Ticket to Ride etc you'll like this."
"More skill involved than a lot of other games, and you get to do something on each persons turn not just your own roll of the dice so your interest is maintained."
---
Canasta
"Great game for children and adults!"
Canasta is ideal for both novices and experienced players alike, and is part of the rummy family of games.
---
Double Bananagrams
"This game is an absolute must!"
"We even had a 15 player game with a jumbo set on Boxing Day and it was hilarious."
Your favourite best selling word game, Bananagrams, now goes JUMBO SIZE

Perfect for Outdoor Play

Contains Waterproof tiles

Suitable from age 4+ , 2-6 Player Game

Fun for children and adults alike
---
"A revelation for family gatherings. Great fun for all ages. I mean, seriously great fun. Has to be one of the best board games we've bought."
The fast talking description game

Describe as many words as possible to your teammates in 30 seconds

You can't say "rhymes with" or "sounds like"

Includes 500 cards and 3000 entries

For 4 to 20+ players
---
Downfall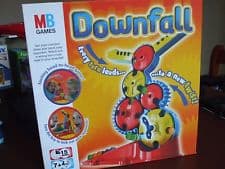 "Great game for big and little kids!"
Play against your friends and family

Try and undo all of their hard work

Get your counters out before your opponent gets theirs
---
Game of Life

*Digital version also available – (Apple) & (Android)
"Our family love this game it's all the fun of Monopoly without the fallouts! An hour or so of fun and laughter with actions to do whilst trying to earn as much money as you can. Suitable from about age 5 upwards."
Game of Life is spin the wheel of fate and take a drive along the twisting roads families have enjoyed for more than 40 years. Do good deeds as you go through the game to earn Life Tiles and more money down the road.
---
Mousetrap

"Very finicky to put together but a very fun family game".
Do check the reviews – if you can get the original version, it sounds more robust an easier to put together!
Fun filled action game

Race to the finish and nab your opponent's mouse before your own gets caught

The last "mouse" left uncaptured wins

For 2-4 players

Manufacturers recommended age 6+
---
Tension
"Very tense. You could cut it with a knife after a few goes."
"A very good game for young and old."
Can you name 10 Famous Artists in 30 seconds? What about 10 Skylanders Characters? You'll find the answers on the tip of your tongue but can you shout them quickly enough? With 200 different naming challenges Tension Family offers hours of family fun. It doesn't matter if you're eight or eighty, game play is the same – correctly name as many of the examples on the card before the timer runs out, then use your score to progress around the board. Tension Family features categories that will appeal to all members of the family and tap in to their specific interests and areas of expertise – so no one feels left out. The handy slide scorer records correct answers and prevents 'I said that' arguments during the game. Suitable from age 8+ and played in two teams.
---
Woolfy
"I bought the Woolfy game for my daughter who is 4 and we all have played with it. It is great fun for everybody. My son (10) plays it too. I would recommend it."
A game designed to encourage cooperation. The players work together to build the brick house and bring all 3 little pigs safely to it before the wolf catches them and puts them in the cooking pot! Gorgeously tactile pieces. For 2 to 4 players. Age 4 to 8 years.
---
Dog Bingo (or Bird Bingo">Bird Bingo, Or Bug Bingo">Bug Bingo!)
"Our kids love it! (10, 9 and 6 yrs)
"I bought the game for my great nieces aged 8 and 5. They played with it immediately and since then have got everyone who has visited them to play it."
This beautifully illustrated bingo game features 64 breeds of dog from around the world. Spot all kinds of dogs – from the tiny chihuahua to the noble Great Dane, from the sleek Saluki to the dreadlocked Hungarian Puli, mark them off on your card and bingo! Dog Bingo brings a fun and educational twist to the traditional game as players learn the names and colourings of both their favourite breeds and weird and wonderful exotic dogs.
---
Gotrovo Treasure Hunt
"My 2 year old enjoys it, and I'd imagine kids up to 10 would still enjoy it using the riddle cards included."
Solve picture, word, riddle and role-play clues, fixing them to a treasure map as you travel around the home, school or garden in search of the golden treasure bar at the end of the trail.
---
Rush Hour
"Fab game – my 8 & 6 year olds really enjoy it and it's so nice to have a logic puzzle for them to have to really think about. Handy travel bag and good difficulty levels, would highly recommend."
"Can play by yourself, or with others."
The classic traffic jam logic game. Escape: That's your goal. Rush Hour is the premier sliding block game which challenges beginners and experts alike. Rush Hour has 40 challenge cards, which depict various gridlock scenarios to set up your traffic jam to. Get your Red car through the exit. Slide the blocking cars and trucks in their lanes–up and down, left and right until the path is clear for the red car to escape. There's only one rule–you can't take pieces off the traffic grid.
Helps with problem solving skills and develops critical thinking. This game makes an ideal travel game as it come complete with a Game Go Bag and a built in storage compartment for the challenge cards. Rush Hour can be enjoyed by single players or various players competing, and is suitable for 8 and up.
---
Don't Wake Dad
"The SUSPENSION is a killer. So good."
"This is a very funny game. The whole family enjoys it very much."
Can you reach the fridge and win the chocolate cake without waking Dad?

Use the exemption cards to avoid pressing Dad's alarm clock so as not to disturb him.

Electronic Sound effects – Dad snoring, the clattering of pans, the shriek of the cat as you tread on his tail and several more

Requires 2 X AA Batteries (Not Included)

For 2-4 players

***