We've discovered Kapla, the fabulous wooden construction toy!
'Grandpa' says that he gets in a right old stew about buying presents for the kids and very kindly gave us some money to buy something for them on his behalf. I thought what they would absolutely love, is a really good construction toy. They're forever making things out of anything they can lay their hands on – mostly the contents of the recycling buckets. Enormous creations fill the room and we feel as if we're living in a pool of litter (they say art).
So, I set about a quest to find something that would suit a 3, 6 and 8 year old and not just for this year but to last us for years to come. I wanted something simple, well made and, most importantly, requiring absolutely no input apart from lots of imagination.
Just then, our middle small, the 6 year old, announced that he'd put 'Kapla' on his Christmas list – he'd seen it at a friends house and was DESPERATE for it. I looked into it and it ticked all the boxes. It's a wooden block construction toy that appears to be suitable for all ages. Each block is exactly the same size: 12 x 2.5 x 1.5 cm and they stack. That's it. Simples. Within seconds / minutes you can make elaborate towers that just grow up from under your fingers, marble runs, shapes, animals, buildings, model pieces of furniture or anything you like!
Grandpa went missing on Christmas Day and when I found him, this is what I saw: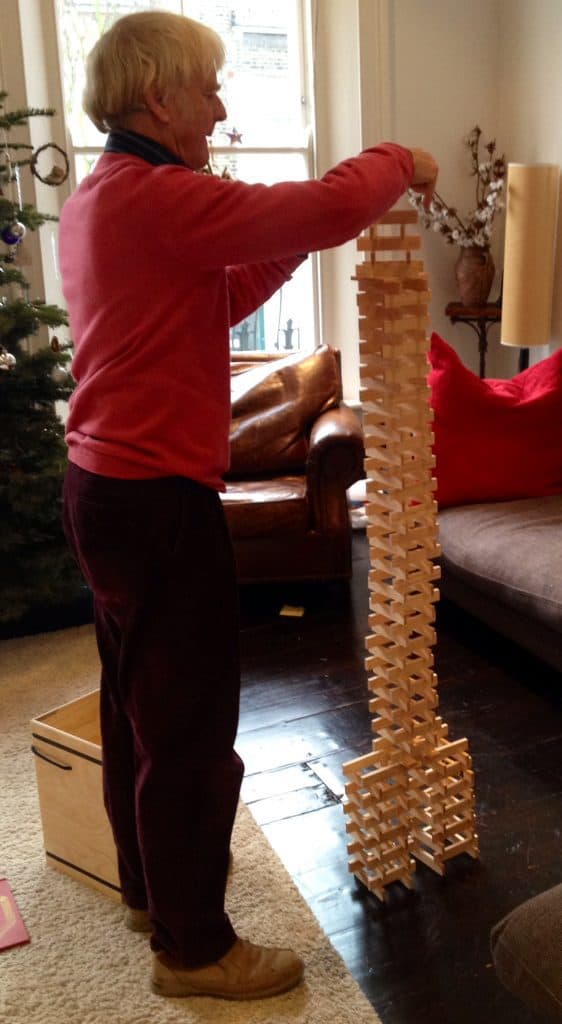 'The floor's wonky' he complained. Apparently the first one had toppled and he'd had to amend the design of the base.
Then I caught my 41 year old sister at it: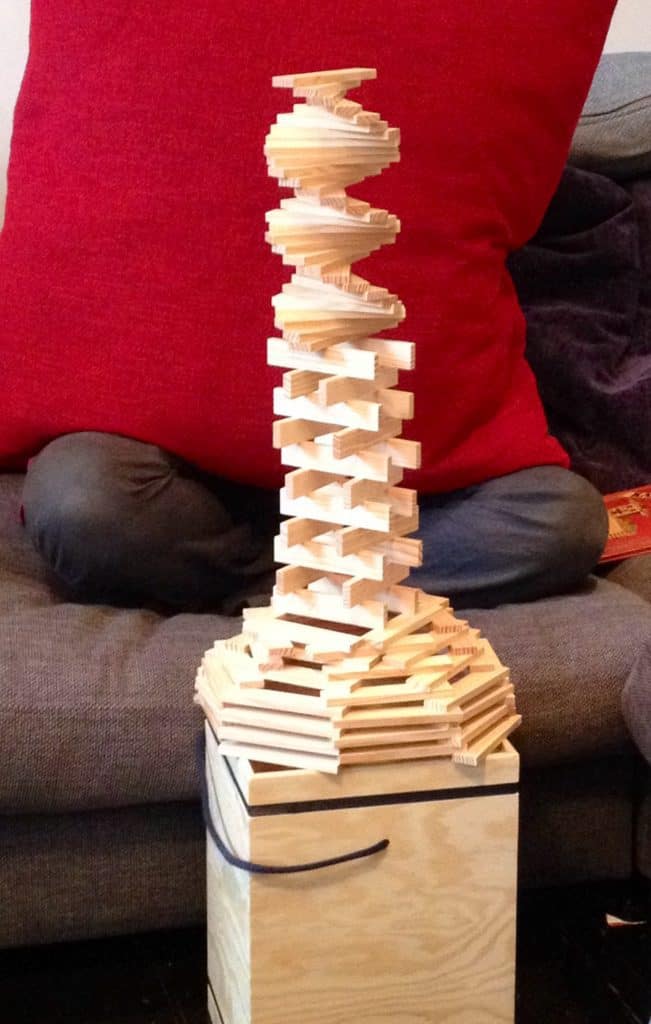 She was taking no chances with the wonky floor and decided to use the box as the base. The only thing I was allowed to photograph were her knees.
The kids have made all sorts of things and somehow I've missed catching any of them with my camera! We had great fun building a snail from the book that came with it and it was all going swimmingly until I reached for my cup of tea and sent the shell flying. I had to make amends with a tickling session.
Newsflash: The kids have just made a marble run, which you can see in action here…
Kapla comes in boxes of 100 (about £28 from Amazon), 200 (£35), 280 (£55) or 1000 (£160) blocks. Colour sets come in boxes of 40 pieces. You can also get books with various designs for different age groups or you can throw caution to the wind and just create. I would say that 200+ piece sets would be the most useful if you have 2 or more children and can afford it. Grandpa was impressed he'd bought such a good present that all the kids could share!
If you have a quick google, you'll see people have built incredible things with it. We love it and have high hopes for it being used by everyone for many years to come.