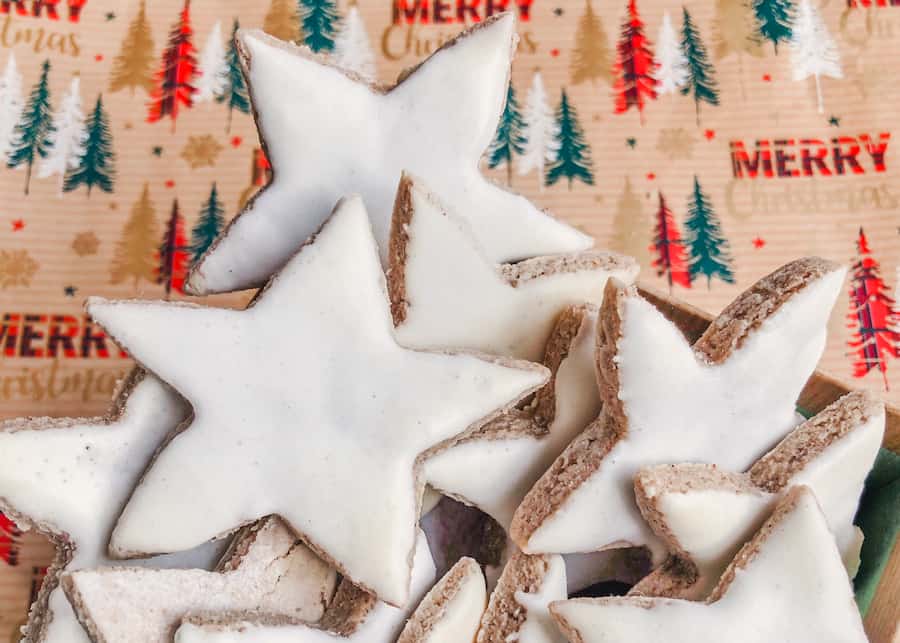 These German Cinnamon Star Cookies are completely delicious, and perfect for Christmas. And for those of you who have allergies or intolerances, they're also naturally dairy and gluten free!

I first had these starry drops of heaven (officially known as 'Zimtsterne') when I was about 9. Someone in our village made our family some of these traditional star biscuits one Christmas … I was hooked! I vowed they would always be a staple in my home at Christmas time.
They're full of everything Christmassy … the heady aroma of warm cinnamon and vanilla, mixed with nuts and a dose of sugary sweetness. For those of you who love macaroons, these Christmas star cookies are very similar. They're beautifully chewy with a delicate crispy glaze. And they're amazingly easy to make. My children love the whole process, from cutting out the stars, to painting the 'icing' or glaze on. I particularly love the eating bit.
And I'm sure you don't need me to tell you. They're incredible straight from the oven.
What You Need:
3 large egg whites
2 cups icing sugar, sifted
3 1/4 cup ground almonds (or hazelnuts)
2 teaspoons ground cinnamon
1 tsp vanilla essence
A pinch of salt
What You Do:
Preheat the oven to 150 degrees C (without the fan as it can cause the glaze to brown before the cookies are done). Place the rack on the bottom rung of the oven.

Beat the egg whites in a medium-sized bowl until peaks form (be careful not to over-beat the egg whites or the icing/glaze won't turn out right). Stir in the icing sugar until combined. Reserve 2 generous, heaping tablespoons of this egg white mixture for the glaze.

Add the nuts, cinnamon, vanilla essence and salt and beat until the dough comes together in a fairly stiff but pliable mass. If it's too soft to work with add a few more ground nuts and icing sugar. (If the dough is too sticky, add a little more nut flour.)

Press/roll the dough onto a non-stick surface sprinkled with icing sugar to a thickness of about 1/3 inch and cut out as many stars as you can. And repeat!

Use a pastry brush to brush on the reserved egg white mixture in a thin layer (covering it properly) reserving enough for all of the cookies and extending the glaze out to the edges of the cookies.

Bake for 15-20 minutes, making sure the underside of the cookies is dry (showing they're cooked) but the glaze is still white, not golden. Let the cookies cool completely.

The cookies can be stored in a dry, airtight container in a cool place for at least 2 weeks.

If you've never made these before, please give them a go. You won't regret it.
You may also like to see other Christmas Recipes & Christmas Baking Ideas … including:
Christmas Elves Gingerbread Cookies
Easy Christmas Tree & Christmas Star Pizzas