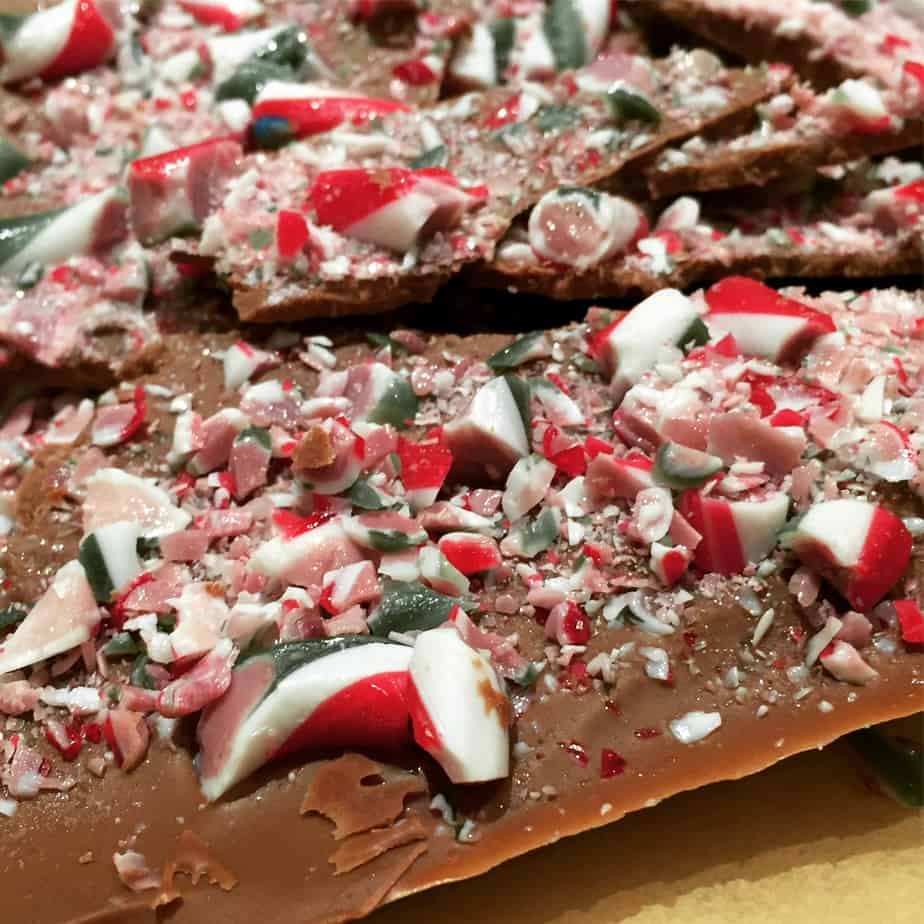 November 08, 2015
|
|
BY Elfie
Peppermint Bark!
I discovered Peppermint Bark from the Americans! It's so easy to make, so delicious and not in the least bit good for you. Do keep it in the fridge because Peppermint Bark can get a bit melty and bendy at room temperature and that's less posh looking.  Father Christmas makes an incredible one.
What You Need:
Good quality chocolate (I prefer milk, but choose whichever chocolate you love eating the most, whether it's milk, white or dark chocolate).  If you need it to be gluten & dairy free then I can really recommend Montezuma's chocolate.  I use 200g.
Candy Canes (about 8-10).  It depends how much of a minty crust you'd like.
What You Do:
Cover a large baking tray with some parchment paper.
Take the wrapper off the candy canes and place them inside a closed food bag.  Smash them into tiny pieces – you'll end up with the full range of some chunky pieces all the way down to some fine powder.  The kids LOVE doing this bit.
Break the chocolate into small pieces and melt it in a heatproof dish (e.g. in a pyrex bowl), sitting on top of a pan of boiling water.
Once it's all completely melted, stir it well and then spread it over the parchment paper to form a thin-ish even layer using a palette knife.
Quickly sprinkle the candy cane pieces over the chocolate and gently press them into the surface of the chocolate.
Put the Peppermint Bark into the fridge until it's set hard, break it into pieces and place it in an airtight container in the fridge.
You may also like to see other Free From Recipes including:
Incredible Bombproof Meringues.
Mixed Berry Muffins
Churros
If your child believes in Father Christmas and you want to keep the magic for as long as possible, Elfie's Christmas Letters (advent letters) and our North Pole Christmas Letters are absolutely perfect and still available to order! Come and join us on Facebook and over on Christmas Traditions & Magic For Children. The Shop is open!
To receive our blog posts, please sign up at the right hand side of this page or for Product or Christmas News and promotions from the International Elf Service, please sign up at the bottom of the page. This year's series of 'Elfie's Christmas Letters', 'North Pole Christmas Letters', a shorter set of letters from different elves from the North Pole, Elfie's Birthday Letters and other fun products are in the shop too!
tags