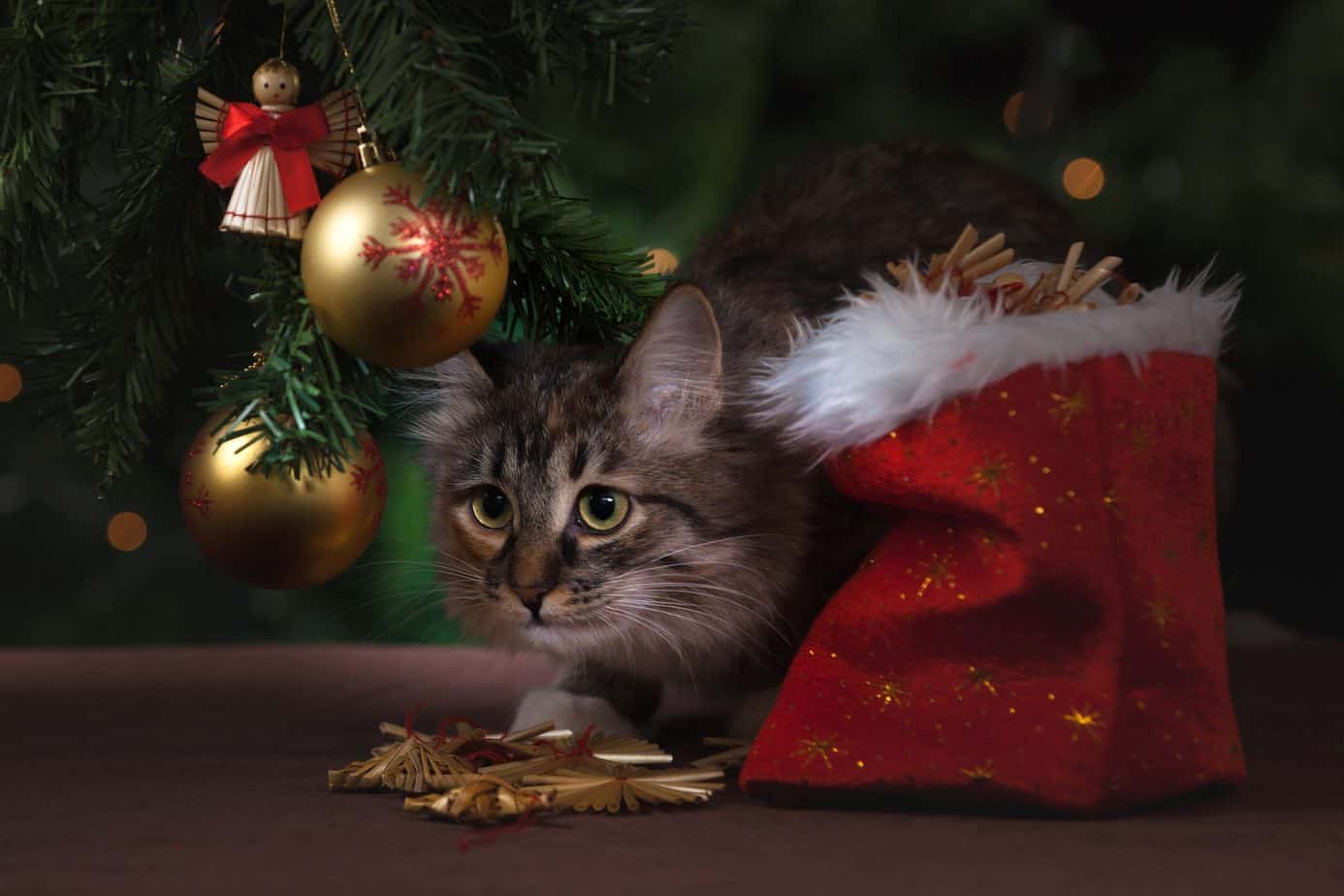 Just the thought of your pet 'enjoying' your Christmas tree, is enough to bring you out in a cold sweat! Christmas is just as exciting for your pets as it is for you, which is why you're likely to need to pet proof your Christmas tree!  Just think – all those lovely jingly jangly sparkly things, and not to mention all those lovely treats!  In an ideal world, your Christmas Tree will stay looking the way it did when you first put it up.  But this is highly unlikely if you have children pets that also like your Christmas Tree.
So how do you keep your pet proof your Christmas Tree and keep your pet safe?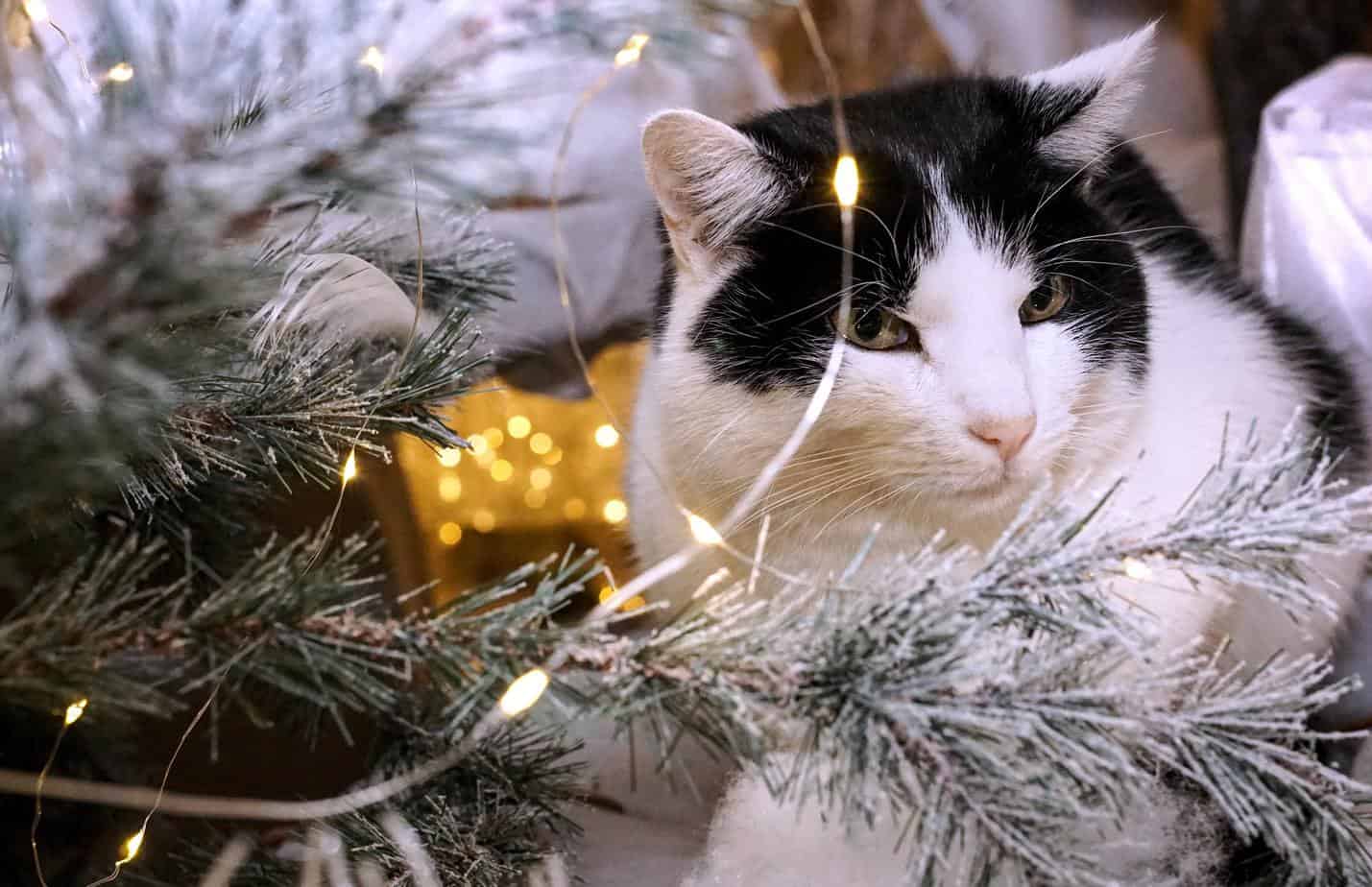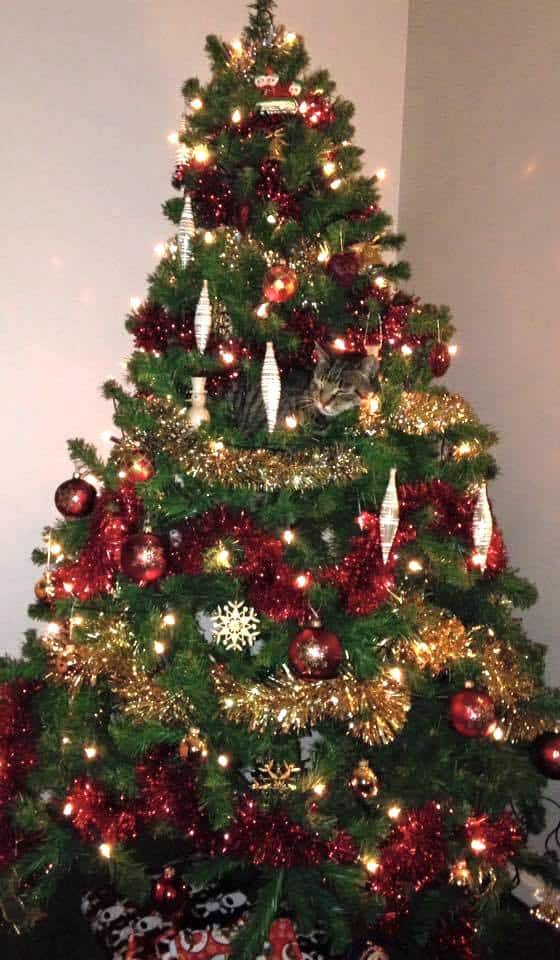 Safety First
Christmas Tree Lights
Apart from potentially causing death to your furry friend, Electric Cord Injuries are very damaging to the mouth tissue and can lead to long term problems with eating. Either keep the cables up high, or cover them with cardboard or plastic tubing, and check the electric light cords frequently for signs of chewing.
Beware of Edible Decorations!
Chocolate is very very harmful to dogs, but they don't know this!  So, if you have a dog, or are expecting one to be visiting or staying with you over the festive period, don't hang chocolate decorations on your tree, or you could well end up very unhappy.
Avoiding all edible decorations is much safer – the last thing you want is for your pets to be shimmying up your tree to gorge on them.
If your pet is the 'eating pine needles' type, then an artificial tree might be the way to go.  Dramatic though it sounds, pine needles can cause digestive blockages and can even puncture the intestinal wall.
Tinsel & 'Pretend Snow'
These can be really harmful to pets if they're ingested, causing obstruction in the former, and poisoning in the latter.  So do avoid these when you pet proof your Christmas tree!
Watch the Water!
Pets may drink from the Christmas Tree water, but it can contain harmful pesticides and fertilisers that leach out of your tree. Keep the tree topped up with water, (which it will thank you for), and cover it with a tree skirt, potted plant protector, foil, a towel or something similar.
Dangerous Plants:
Holly, mistletoe, and poinsettias are poisonous to cats, so avoid decorating with those if you have a cat.
Secure Your Tree! 
Make sure that if any pets (or hyperactive kids) are going to climb your Christmas Tree, that you secure it firmly.  Wrap invisible fishing wire tightly around the trunk (so they can't get tangled in it) and then tie it to a hook on the ceiling, or to the wall.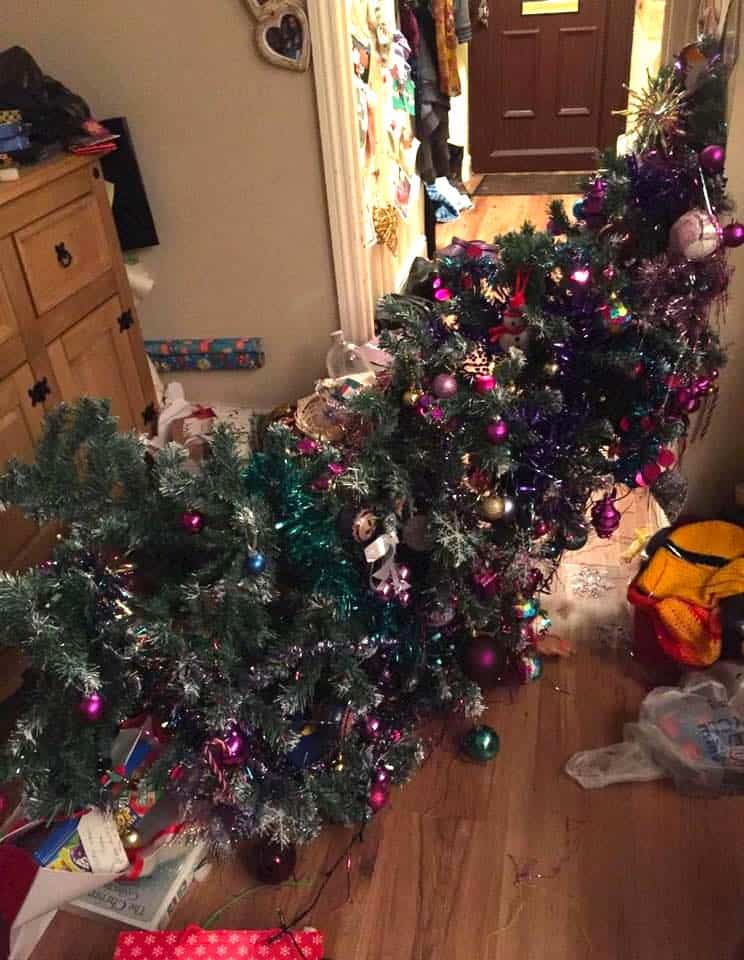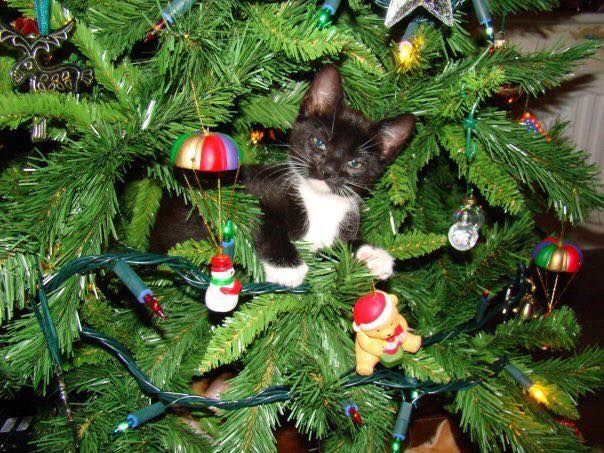 Deterrents
Keep the tree away from 'Jumping Platforms'!
You could keep your tree behind a closed door if you really do need to, but it will certainly help to pet proof your Christmas tree if you don't have it near any sofas, shelves or tables!
Spritz!
Spritz those sharp pine needles before decorating or adding any lights with a 50% mix of red-pepper sauce and water, or try diluted citronella or vicks.  Choose whichever smell you'd prefer your room to smell of!
Helpful Textures
To keep your cat from walking under the tree (and considering climbing up), put unpleasant textures at the bottom of the tree. Cats hate the feeling of walking on aluminium foil, pine cones, sticky surfaces (like double sided tape), or non-slip rug bumps (bumps-up).
Types of Decorations
Rather than enticing shiny decorations, ones made out of wood, felt, and paper are far less interesting.  Having said that, every cat I've ever had has been obsessed with paper, so maybe ignore that suggestion.
Discipline
Reinforcement might be needed to pet proof your Christmas tree! Keep a spray bottle of water handy, and spritz them if they get too close.
Distraction
Have a favourite toy they only have access to in the same room as the tree, or near the tree and then hope and pray they prefer that more.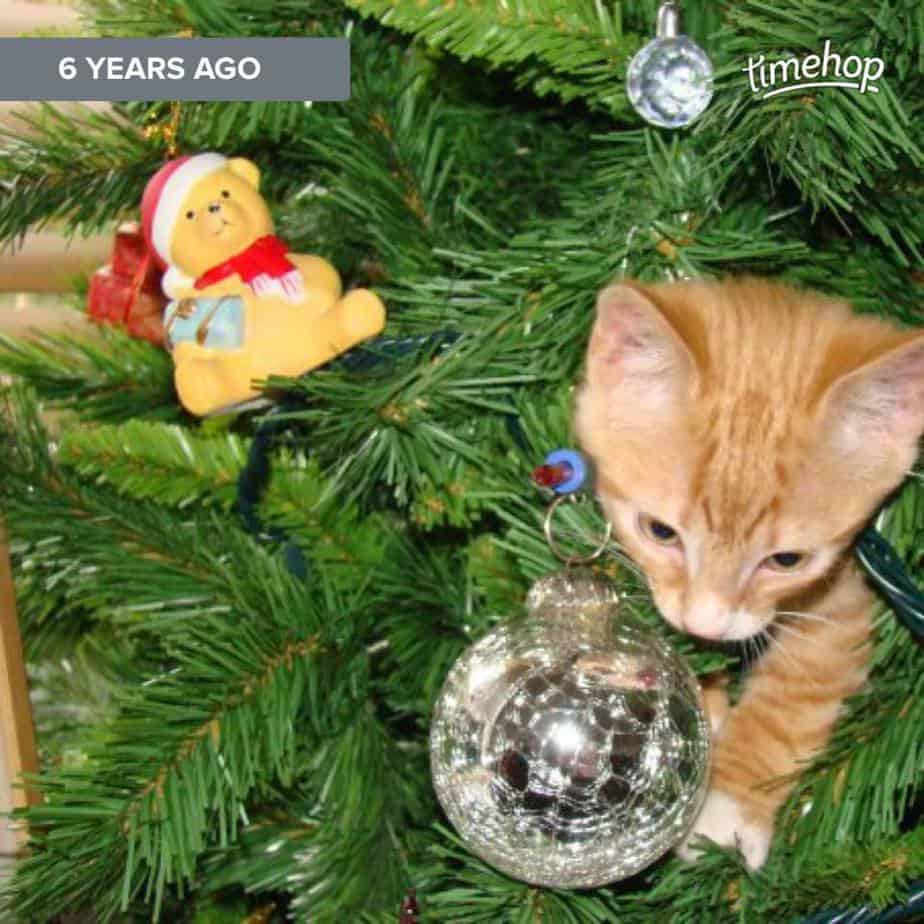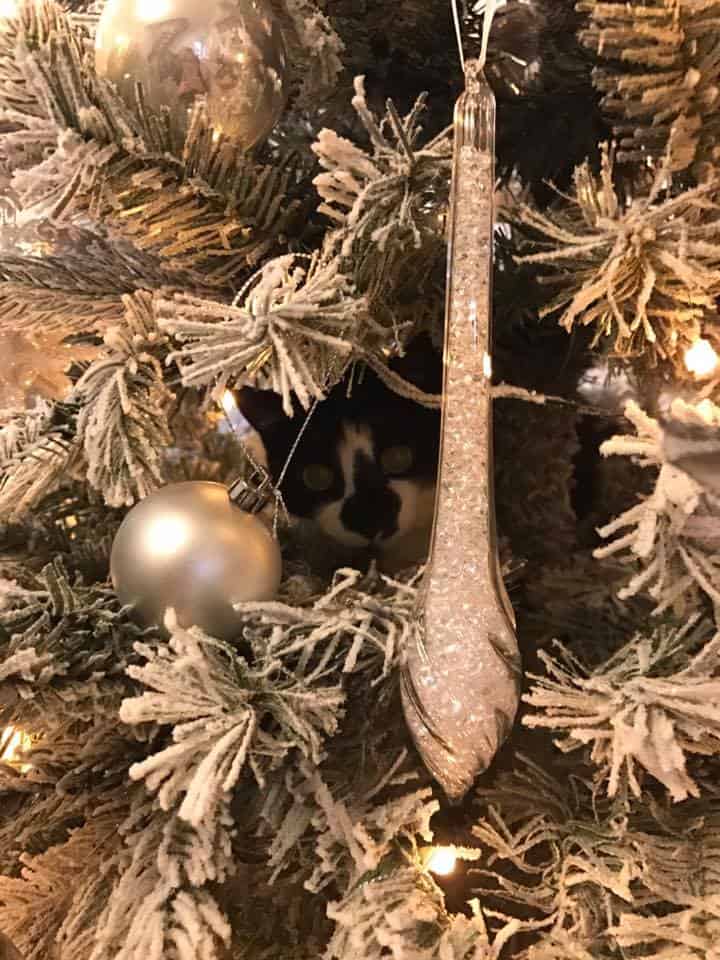 If you have ANY other tips that have helped to keep your minxes out of your tree, then please please post them in a comment below!
You might also like:
Ways To Inject More Magic Into Christmas Stocking Fillers
Handmade Stocking Filler: Noughts & Crosses
How To Make Giant Paper Snowflakes
---
If you would like to subscribe to our Elf Club, and receive our newsletters, special offers, free Guides and discount codes, I'd love to see you there!