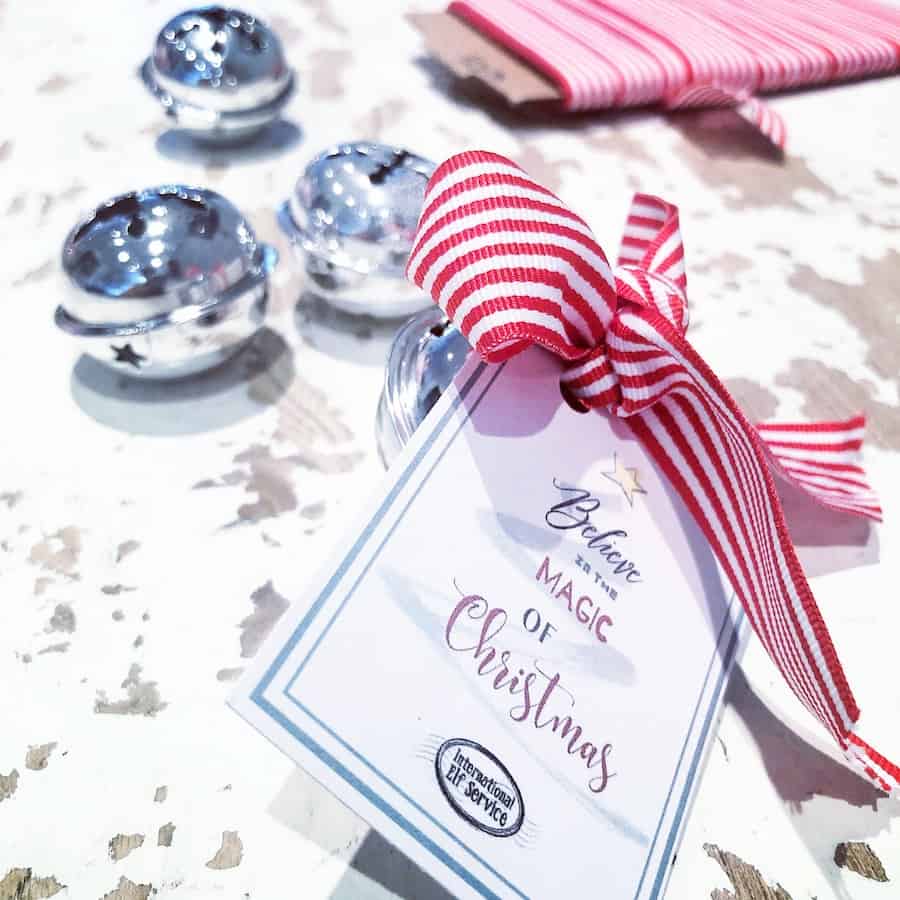 I love these Polar Express Christmas Bell Tags so much that I've made a Polar Express Christmas Bell Tag printable for you to use if you'd like to. They came about because I thought my children and I could make some Christmassy bits and bobs for our school's Christmas Fair this year … and these Polar Express Christmas Bells are perfect! They'd actually make a really lovely homemade Baby's First Christmas Gift too.
Historically, our youngest has always struggled with the noise and bustle of our school fairs (sensory processing issues) which are always exaggerated by the end of the week when he's most tired.
Usually, after a quick whip round the fair at the speed of light (not forgetting his beloved visit to see Father Christmas) he asks to go home … approximately 17 minutes after it's started.
But I've had a light bulb moment this year … he's older and is finding things much easier than he used to (doesn't everything to do with children seem to go in phases?!) so … I thought he (with me as his overly-excited-about-Christmas helper) could run a stall!
We'll have so much fun together.
So … my getting-older two children and I designed and made these International Elf Service Polar Express Christmas Bell Tags. You can buy a set of 3 Christmas Bells in our shop, but if you'd like to use the Free Printable, to make your own Christmas Bells the printable is HERE.
What you need:
Medium or large sized Silver Jingle Bells (we used 40mm ones)
*Check they all have a jingle first!
A4 White Card (we used 300 gsm, but 220 gsm behaves better in my printer!) or matt photo paper.
Candy Cane Ribbon or Bakers Twine, or even natural jute twine would look lovely.
Printer
Scissors or a Guillotine
Hole Punch
Free Printable Polar Express Tags, found HERE.
[one_half]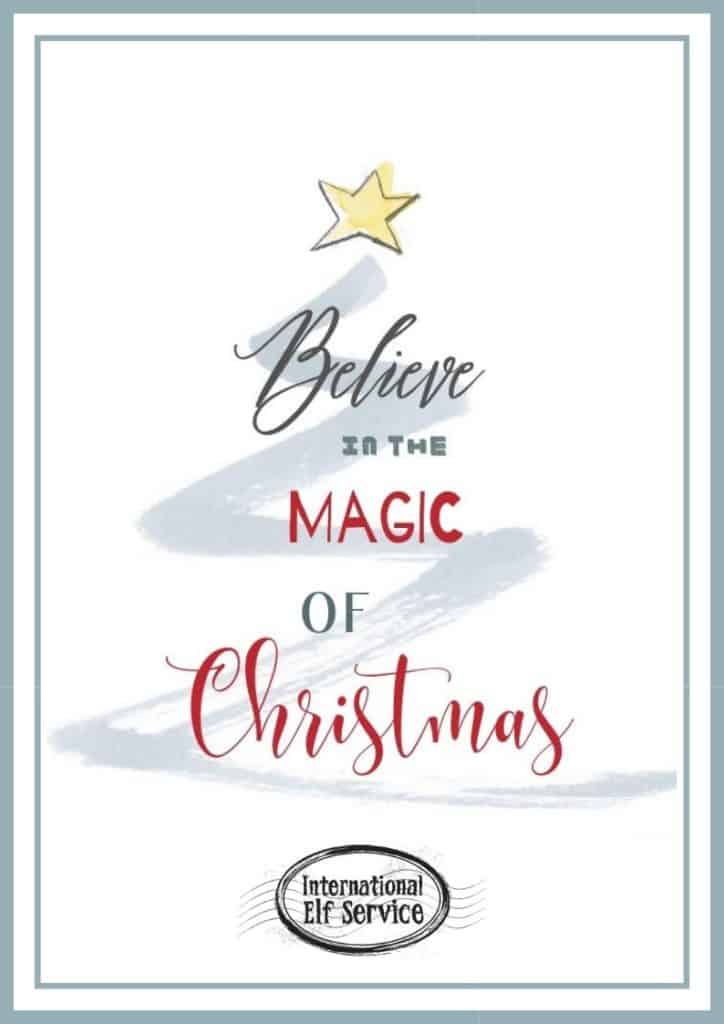 [/one_half]
[one_half]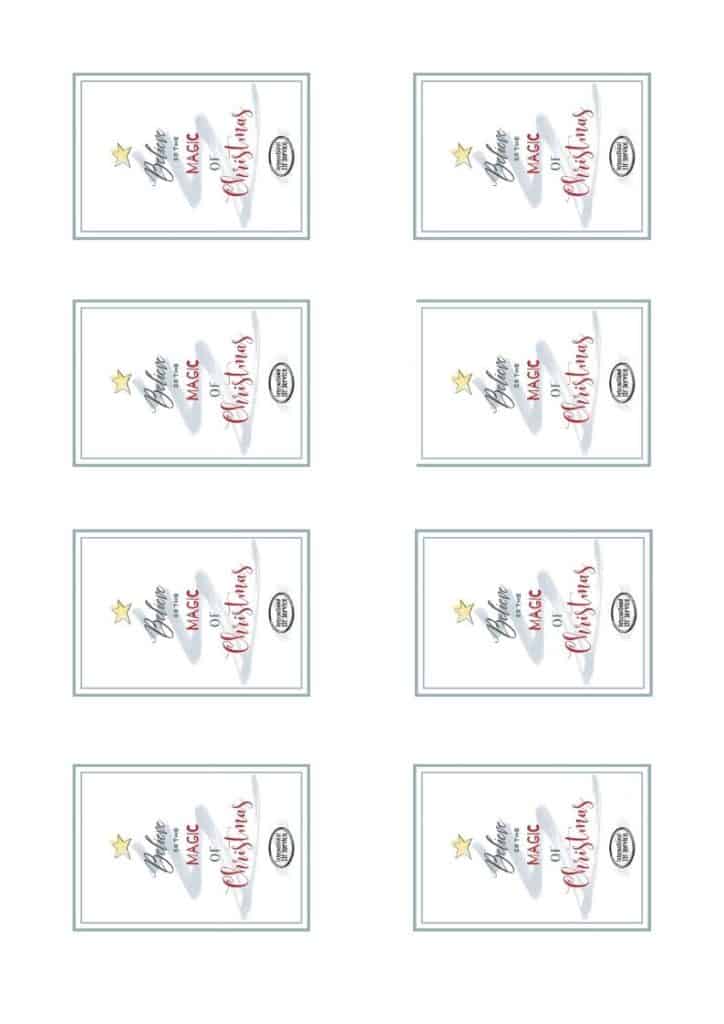 [/one_half]
What You Do:
Print off the templates for your Polar Express Christmas Bell Tags found HERE on to card or matt photo paper.
Cut out each tag and punch a hole at the top or in one corner (I punch a hole in the corner).
Thread your Candy Cane ribbon or Bakers Twine through each magical bell.
Thread your printed tag on to the Candy Cane ribbon or Bakers Twine, and tie a beautiful bow.
This is how I tie my Elfie, Fairy & Tooth Fairy Bows here at the International Elf Service – for guaranteed cuteness!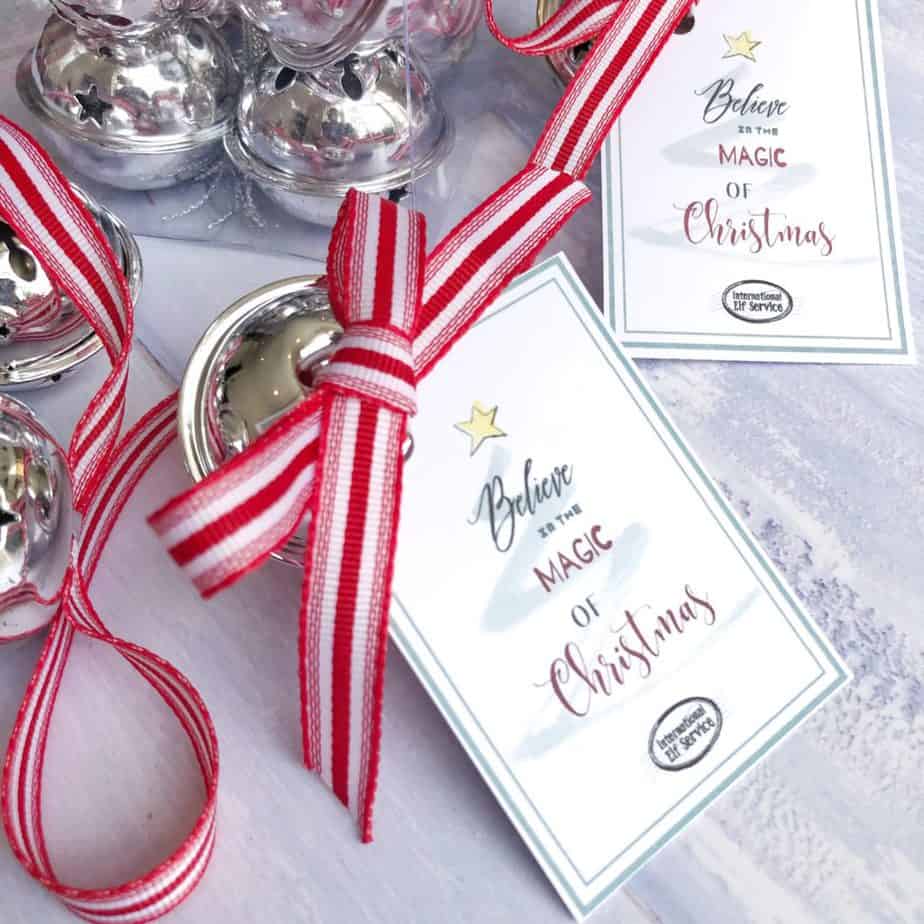 These magical Christmas bells make beautiful Christmas decorations … how about on your mantlepiece or on a table in the hallway …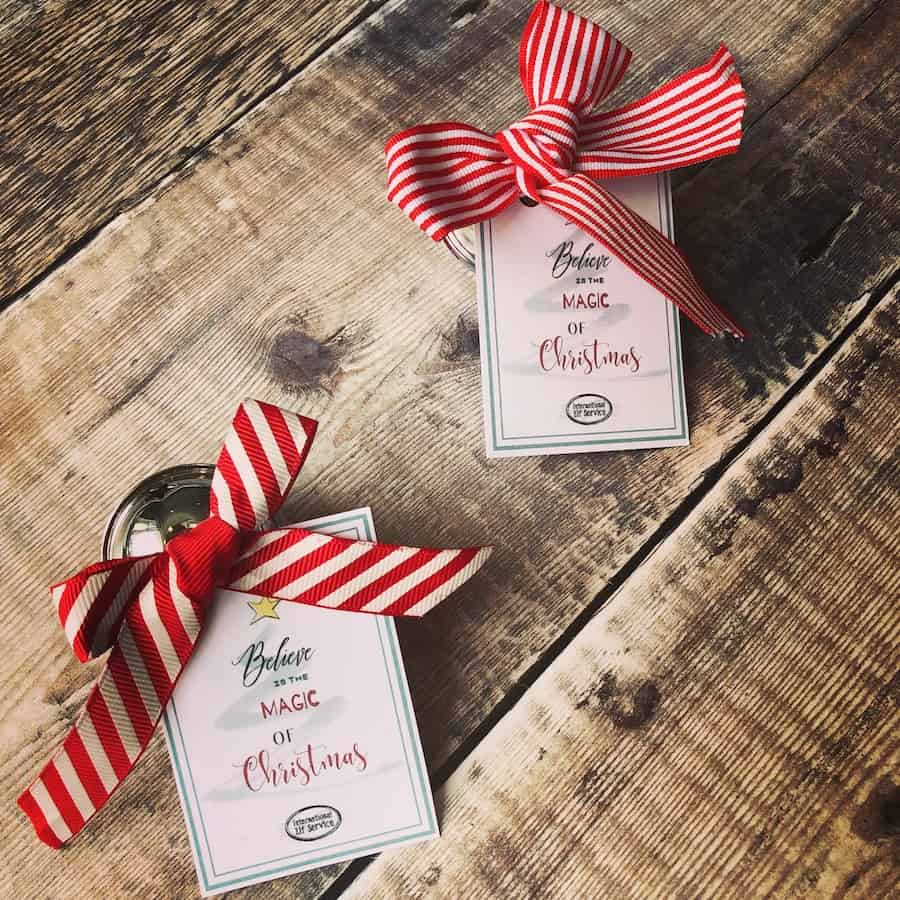 You may also like our other Christmas Activities.
If you would like to subscribe to our Elf Club, and receive our newsletters, special offers, free Guides and discount codes, I'd love to see you there!

To receive our Magical Newsletter
PLUS
Two FREE Guides in the newsletter:
Family Advent Activities & Ways to Make Christmas Eve More Magical!