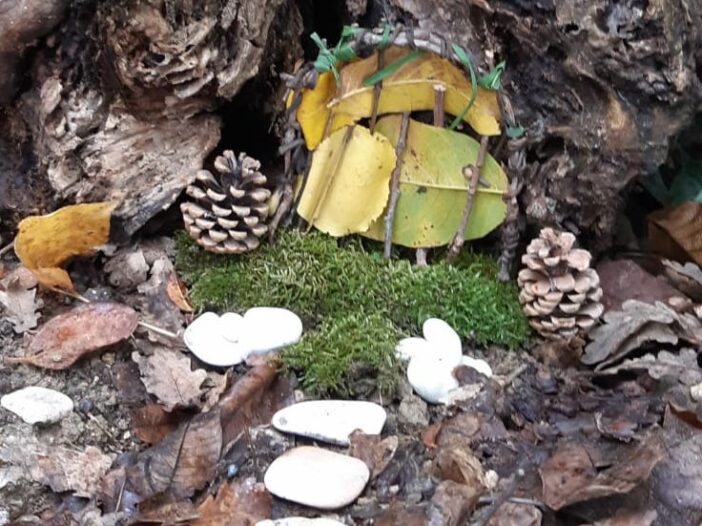 Creating a Magical Fairy Trail is a truly wonderful way to add fantasy, magic and creativity to walks with your children. Imagine their excitement when they find a strange-looking leaf and you tell them it's also a flying carpet for a Forest Fairy, or they ask you about an animal track they've seen, and you say it could be from a bird but it might also be the prints from an extremely rare enchanted Wolpertinger!
Whether it's a wander through the woodlands or a ramble in the park, garden or even while you're taking them to school, turning it into a magical Fairy Trail really simple to do! It's a fun family activity that not only inspires their imaginations but also gives you the chance to teach them about the flora, fauna and Fairy realms of our beautiful outdoor areas …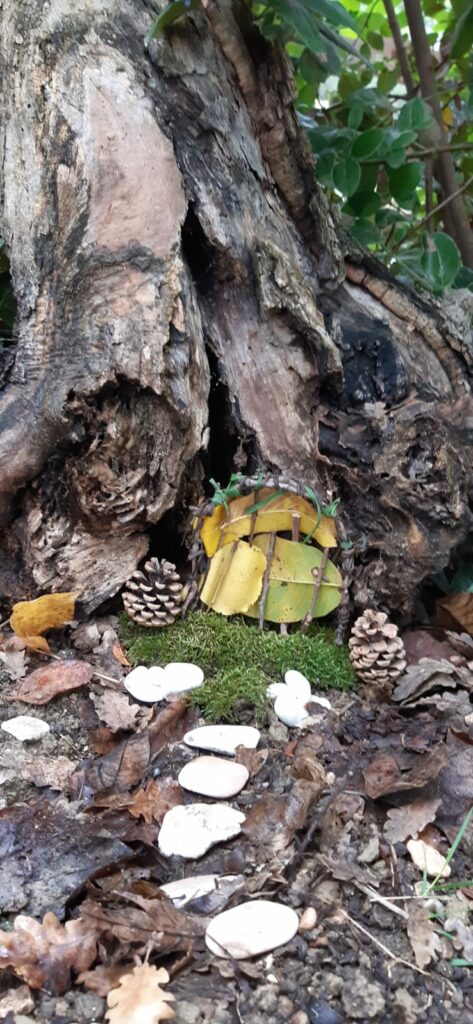 So as you wander along together, encourage them to explore and talk about the treasures they find. Then start to introduce the magic … let them know how fairies can be found if they look hard enough. (They bathe in buttercups, ring bluebells and snowdrops to call other Fairies, and use dog rose to make perfumes and potions.)
If you come across some cow parsley, explain how Imps and Sprites use their flowers as umbrellas, or describe how Tree Elves lie on beds of moss to stay cool on hot summer nights. Look out for miniature tracks and trails that might be Pixie Paths, and hunt for Gnome Holes.
And as a final adventure, tell them that fairies are always on the lookout for new places to live, so they should try to search out a hidden door that might lead to a magical world, or even Roots of Fantastical Matters … or, better still, suggest that they invite the Fairy world to move into the neighbourhood by making an eco-friendly Fairy Door of their own …
Making your own Magical Fairy Door
While you're walking, collect materials by foraging on the ground for fallen leaves, twigs, loose moss, grasses, feathers, stones, pine cones etc. (but remember not to pick the flowers or dig up anything that's growing!).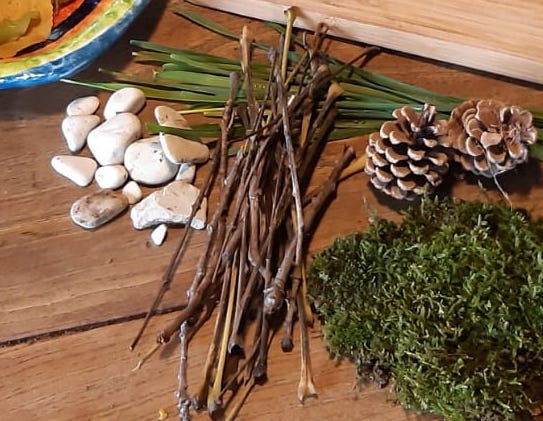 Either build your magi-portal there and then … nestling it in the hollow of a tree is ideal, but tucking it in by the back door or in the corner of a flight of steps, or even hiding it in a flower pot works too! Or you can assemble it all at home, before bringing it on your next outdoor adventure and setting it up in your favourite outdoor spot.
Simply twist the twigs around each other (to make the door shape)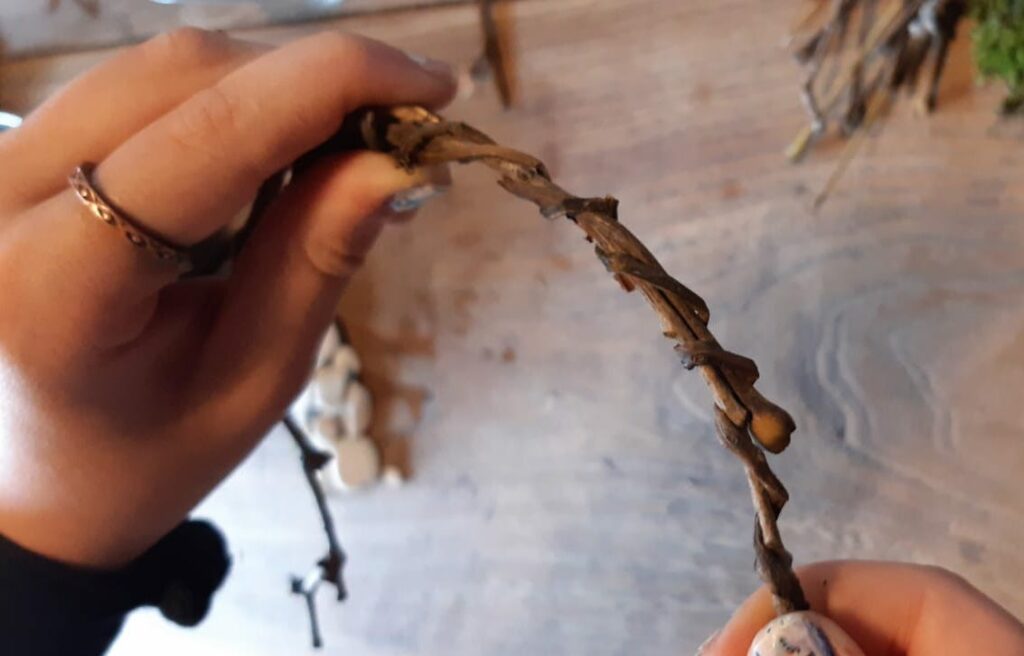 Tie them together with long grasses …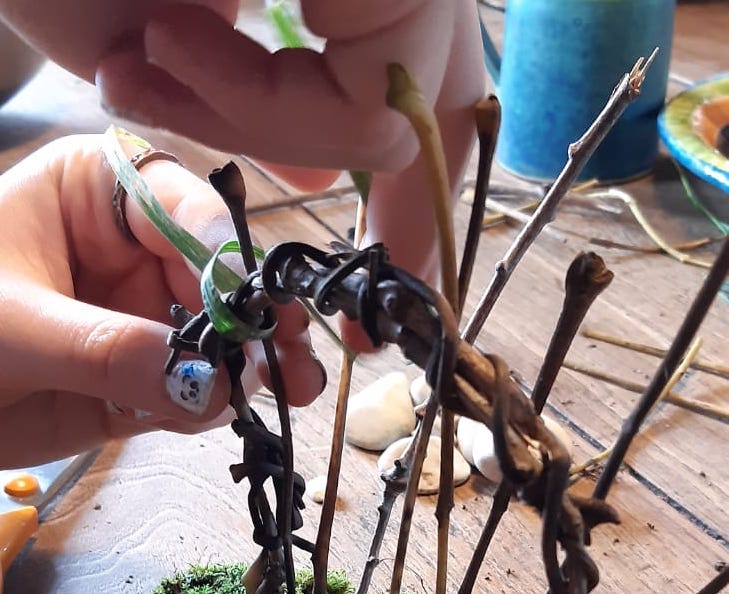 … and weave in the leaves.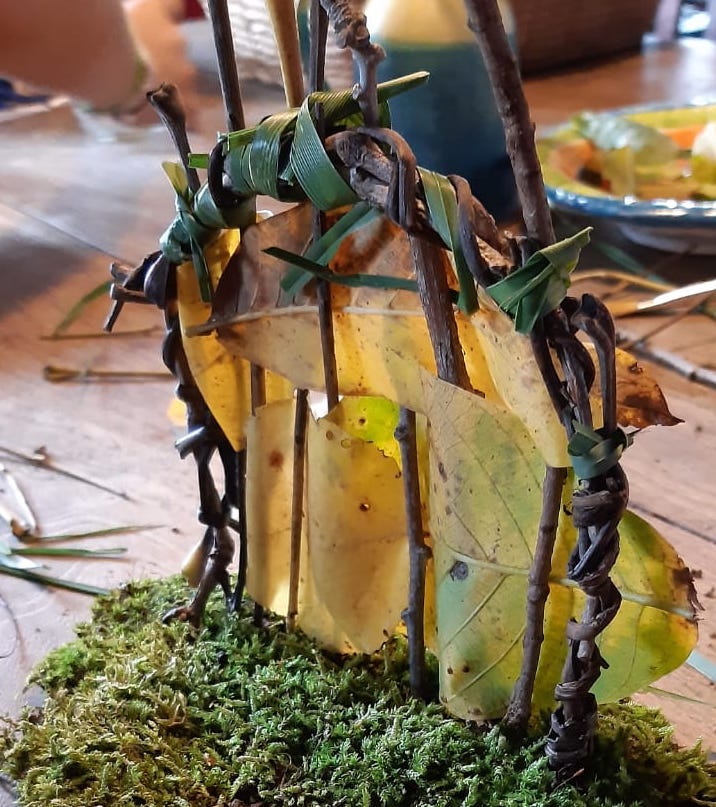 Decorate the entrance according to your child's design or with a stepping stone path, some pine cone pillars or empty snail shell garden ornaments.
Leave some conkers, acorns or other tree seeds as a special treat for the Fairies' housewarming meal.
And remember to explain that the Fairies won't move in straight away, so you'll need to come back to visit in a few days!
Your children may find they've been chosen to receive a Fairy letter or a chronicle from the Roots of Fantastical Matters – either delivered by the Fairy Door, or hidden mysteriously around your home or garden – which you can read together, exploring the stories and activities included inside.
---
---
---
Finally, as you walk or build your Fairy Door, take some time to talk about nature and the environment, asking your children questions and getting them to think about or research the answers when they get home. And if you want to teach your children how to look after our precious planet in a fun and fantastical way, you can use International Elf Service's Nine Simple Steps on how to keep the woodlands extra magical:
1. Take your litter home! – remind them that rubbish doesn't look pretty and isn't good for anything that lives in nature (even an Ugly Troll!)
2. Leave it as you found it! – explain how moving a rock or log from its usual place might disturb the home of a friendly toad or a family of insects (or a Grumpy Goblin!) so they should always put it back
3. Stick to the paths! – tell them that if there are managed paths in the park or woodland, they should stay on them to protect what's growing or living either side (and to avoid the trickster Will-O'-The-Wisp who may fool them into getting lost!).
4. Don't step on the bluebells! – help them watch where they're walking so they don't damage the wildlife (or squish any hidden Leprechauns!)
5. Close the gate! – show them that it's important to follow all instructions they see on countryside signs (remind them that the Tree Elves have spent AGES writing them!)
6. Enjoy the flowers where they are! – teach them how a flower is a beautiful gift for a loved one but it's much happier when it's left to grow (and it may even be home to a Pixie!) Suggest to them that they name it as theirs, take a picture of it, and try to find it again on their next walk.
7. Watch out for mushrooms! – warn them that some mushrooms can be poisonous so they're best left untouched. But keep an eye out for a Magical Fairy Ring – a dark circle of grass caused by the growth of certain fungi (or the dancing of Fairies!)
8. Call in the experts! – explain that if they find a wounded animal, they should call the RSPCA or RSPB and ask what they can do to help.
9. And remember! – if they discover an injured fairy, they must contact Wizard Majeek at Roots of Fantastical Matters and ask for the RSPBB (ROOTS Society for the Protection of Bewitching Beasts!) or the Team for the Protection Of Outgoing Fairies! (POOF!).
There's really nothing better for your children's well-being, energy and health (in both body and mind) than getting to play in the fresh air and sunshine, out in an open space with the freedom to run, roll on the grass, splash in the puddles or mess about in the mud!
Why not share your photos with us on Facebook, Twitter or Instagram?
You might also like:
Official Guidelines for Making Woodland Elf & Fairy Doors