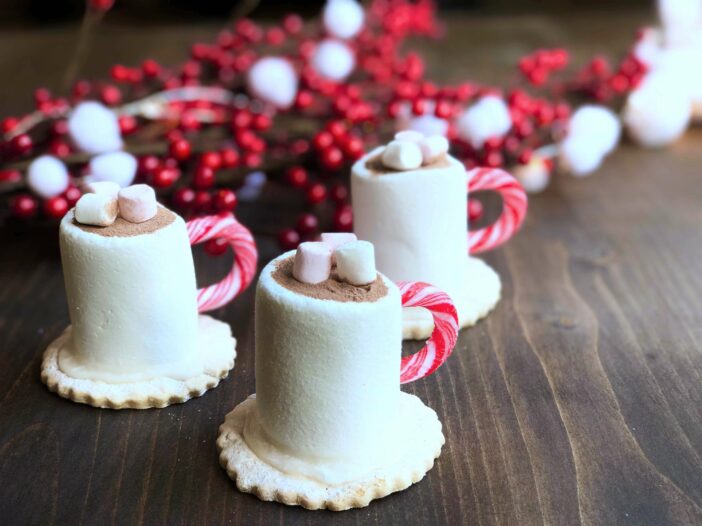 These magical North Pole Christmas Marshmallow Cups are so easy to make. I saw the idea on on Pinterest and thought they'd be PERFECT as part of a North Pole Breakfast, or popped into a Christmas Eve Box to enjoy while watching a Christmas Movie and hanging up their stockings ready for Father Christmas to visit! Or if you have a visiting Elf during December, your elves can make North Pole Marshmallow cups for an Elf on the shelf idea! Perhaps the Elves will leave one out for each child when they deliver one of their Personalised Christmas Letters?
---
---
Make and bake with your children and have some festive fun and family time in the kitchen with these delicious Marshmallow Cups. This recipe makes 16 cups – perfect for a Christmas party! Or you can even just make one!
Ingredients:
For the cups:
16 large marshmallows (we used Giant Extra-large American style marshmallows)
16 candy canes
Chocolate (to melt) OR we used drinking chocolate powder for ease in these ones.
Mini marshmallows (48 = 3 per cup)
For the saucers:
… you can either buy them, or have lots of fun baking them together!
60g unsalted butter
60g caster sugar
1 small egg, beaten
¼ tsp vanilla extract
125g plain flour
Icing sugar
Water
---
---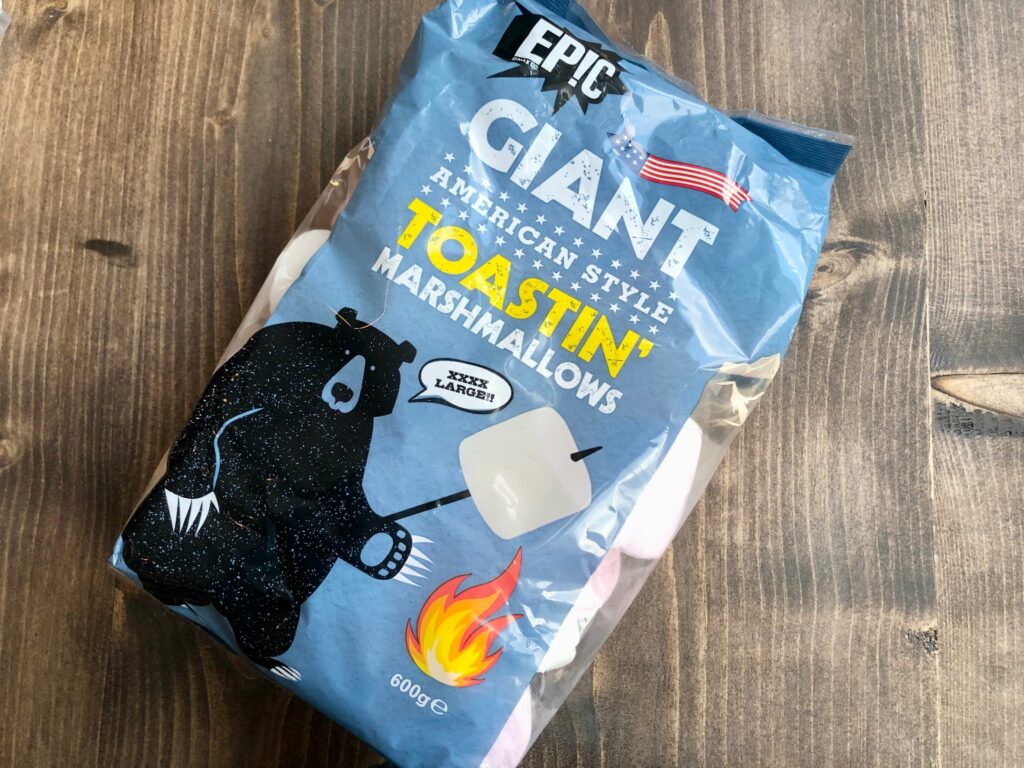 Instructions
First – bake your biscuits to form the saucers of the
North Pole Marshmallow Cups
(or buy them if you're short of time)
Preheat the oven to 180 °C (Fan 160 °C) or Gas mark 4.
Lightly grease a large baking sheet.
Beat the butter and sugar together in a large bowl until the mixture is pale and creamy.
Beat in the egg and vanilla extract.
Sift in the flour and mix to a form a dough.
Shape the dough into a ball, flatten it slightly, wrap it in cling film and chill it in the fridge for about 40 minutes.
On a lightly-floured flat surface, roll out the dough to a thickness of about three millimetres. Using a 6 centimetre, or cm, round cookie cutter, stamp out 16 circles and place on the baking sheet. Chill for 30 minutes.
Bake the biscuits for about 12 minutes, or until they're crisp and pale golden.
Leave on the baking sheet for 5 minutes and then transfer to a wire rack to cool.
Then, if you want to make the 'hot chocolate' part of your North Pole Marshmallow cup out of
melted chocolate … melt the chocolate.
OR simply sprinkle some drinking chocolate
or cocoa powder on instead!
Choose a heatproof bowl that fits snuggly over a saucepan without touching the bottom of the pan.
Fill the saucepan with about 4 cm of water (don't let it touch the bowl).
Roughly chop up your chocolate and place in the bowl.
Bring the water to a very gentle simmer over a medium heat.
Melt the chocolate for 4-5 minutes, stirring regularly.
Remove from the heat and allow to cool down a bit before use.
Lastly – assemble your cups and saucers
Make some simple white icing by mixing icing sugar with a little bit of water.
Put some of the icing in a piping bag and ice the biscuits.
While they're still sticky, put a large marshmallow onto the centre of each one.
To make the cup handle, cut off the long side of each candy cane so both sides are the same length.
Using the icing as a glue, stick a candy cane handle onto the side of each large marshmallow.
Spoon some melted chocolate (or sprinkle cocoa powder) onto the top of the marshmallow.
Place two or three mini marshmallows on top of the dark chocolate.
Why not share your photos with us on Facebook, Twitter or Instagram?
You may also like:
Christmas Elf Gingerbread Cookies & other Christmas Recipes