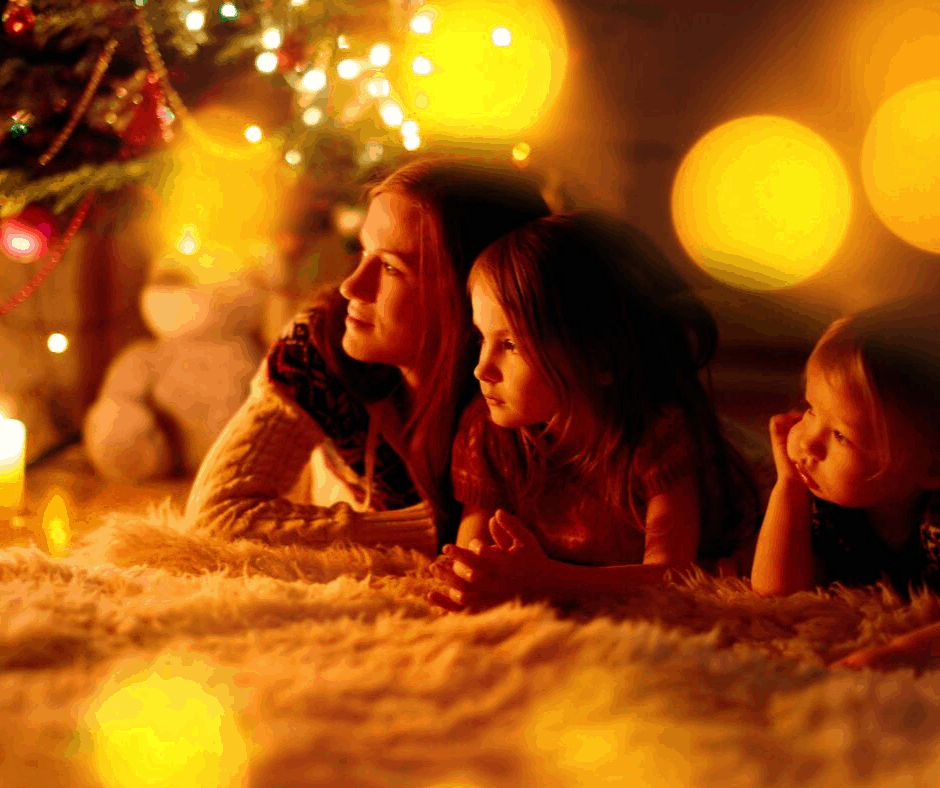 I know Christmas can be a really difficult time for people for all sorts of reasons. You may be really interested (and pleasantly surprised) to hear what children really love about Christmas. I feel so fortunate to have always had a lovely experience and it's always been my favourite time of year. As I'm sure you know, we're Christmas mad in this house BUT for me, rather than it being about the presents, it's more about the spirit of Christmas. I've always loved the anticipation, the build up, the colours, the festivities, being in a nativity play, the togetherness, the excitement, the extra effort everyone makes, the festive moods and that wonderful warm fuzzy cosy feeling that's specific to Christmas Eve (you know the one).
I remember feeling desperately excited as a child, when it was NEARLY the day before Christmas Eve but not quite, because it's not until then that you're truly in the zone of maximum Christmassyness and excitement. I also remember being totally mortified when I learnt that the shortest day of the year is the 21st December and not the 24th, as if that somehow made Christmas Day less in the magic of deepest winter!
I've naturally passed all the things I love on to the kids, but I was very curious to know what they themselves would say was important to them as 8 and 7 year olds. So I asked them and this is what they said …
'Snuggling up together'
'Opening presents!'
'Watching films with dimmed lighting and under a blanket by the fire'
'Getting Christmas Elf letters from Elfie'
'Cooking together, doing Christmas baking'
'Surprises'
'Putting things on top of the Christmas cake to decorate it'
'The lights twinkling on the Christmas tree'
'Choosing a new decoration for the Christmas tree'
'Being all warm'
'Having a bath with candles on Christmas Eve'
'A fresh breeze in the air with presents under the tree'
'All going to get the Christmas tree and then decorating it'
'Having Christmas crackers on the table'
'Decorating the table for our Christmas meal'
'Putting out snacks for the reindeer and Father Christmas'
'Going to bed feeling really excited about our Christmas Stocking.'
'Making Christmassy things and pictures'
'Being together and playing'
And when I asked them what they liked best of all the food we have over the Christmas period they said:
'Roast potatoes'
Peppermint Bark
'Candy Canes'
Now as 12 and 11 year olds, they say exactly the same things!
So now you know what children really love about Christmas. It's that true feeling of Christmas magic they love so much. That cosy 'togetherness'. A time where they feel warm and safe.
I'm so pleased it isn't all about the presents for them.  I asked our middle child if he could choose either a present from us (Mum & Dad) OR have a 'Special Day', which one would he choose. He looked at me in utter disbelief and said 'a special day of course – I can also spend my money and that would be like a present!'  Smart boy.
So there you have it…
Christmas is SO much more than presents. It really is the little 'together' things that matter so much to children. That's what children really love about Christmas.
I'm always on the look our for new ideas, so I'd love to hear what your kids say they love and how you make Christmas special in your house.  We always get our tree on the first weekend of December, which marks the start of us getting as Christmassy as we can.
If you would like to subscribe to our Elf Club, and receive our newsletters, special offers, free Guides and discount codes, I'd love to see you there!