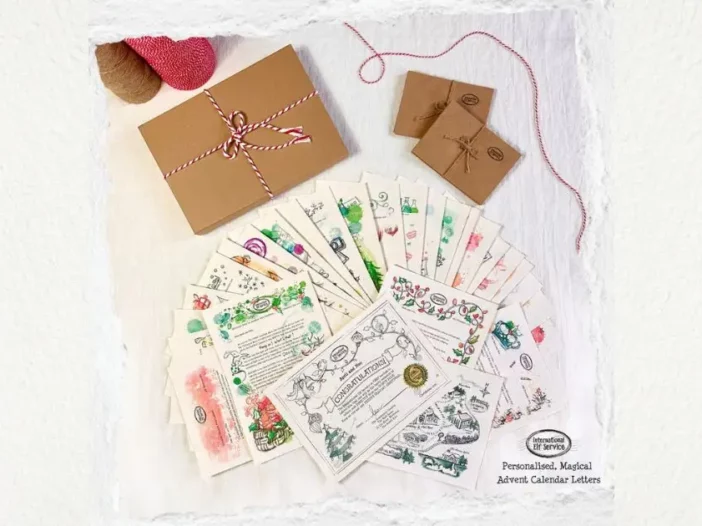 Fun Fact about Christmas Elves #2412 – they're completely obsessed with Christmas Countdowns! That's why, every year, the official North Pole Post Office Elves at International Elf Service all get extremely excited about making their Most Magical Advent Calendar for Kids this Christmas …
Every day from the 1st of December, right through until Christmas Day itself, one of the North Pole Elves takes time off from their busy pressie making in the Elves' Workshop to write a personalised letter to your specially chosen child. They sit down in Father Christmas' study in Christmas Cabin and borrow his cinnamon-covered computer to share the day's magical adventures and their own personal updates about what's been happening in and around the North Pole Village. Written on the most beautiful recycled paper (only available in the North Pole!), every letter is also signed off and decorated with unique illustrations from each of the Elves, and the kraft envelope is stamped with the official International Elf Service postmark.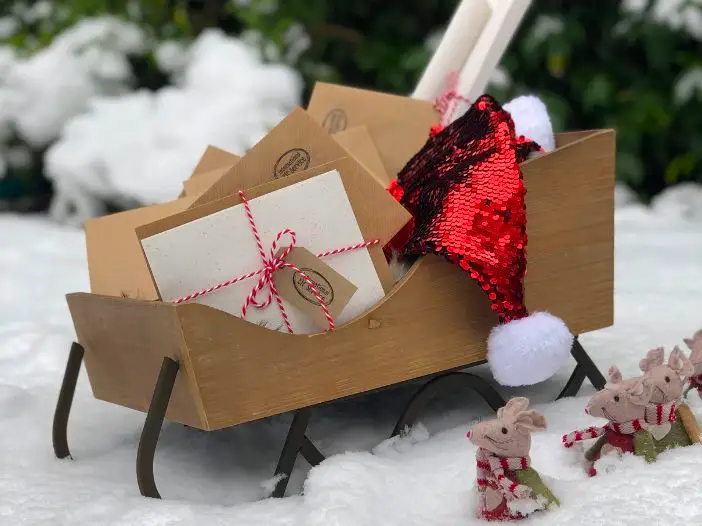 ---
---
Of course, at this point, the letter is still Elf size … far too small for children to read! So it's very carefully placed into the XXXL (extra Extra EXTRA Large) Enlarging Device to be stretched and magnified. But how does it find its way to the lucky readers? Ah, well that's the clever bit of International Elf Service Christmas Magic …
… once the Elves have added the children's names on the envelope (they'll squeeze on as many as they can in one family or household!), the letter is whooshed away by our Magical Wind Machine and delivered to a Top-Secret Spot in your home, one letter every day to be discovered all throughout Advent. Whether it's tucked into the cereal box, hidden behind their toothbrush or sitting next to your Elf on the Shelf, it's the most wonderful and spellbinding moment of Childhood Magic. In fact, children agree that this enchanting keepsake is far more fun than simply opening a door to a chocolate or toy.
So who writes these magical Christmas Elf letters?
Elfie – the North Pole's chattiest Elf – writes most of the letters, and is always bursting with Christmas excitement! Then there's Marty, who's either inventing something disastrous, playing pranks on the other Elves (much to their annoyance), or trying to avoid doing any work (while still grabbing all the sweets!). Luckily, Lily keeps him (and everyone else) organised with her Emergency Pyjama Meetings, Lyra creates whizzy computer programs to help with all the pressie making, Dani can fix anything, and Dave the Stitch makes Father Christmas a new uniform every year with lots of crazy gadgets to help with the Big Delivery on Christmas Eve. Brian, the North Pole Chef, always seems to have his recipes in a muddle, and Jenny, our Head Gardener, is incredibly clumsy and often found in some sort of pickle. It's a good job that J.D. is on hand for emergencies (of which there are many!) with several bottles of her Raspberry Ripple Elf-Reviving Remedy. Oh and when it's the North Pole's Stir-Up Sunday, Stan, the Chief Miner in the Cinnamon Mine below Christmas Cabin, helps everyone to harvest a fresh Cinnamon Stick to help stir the Magic Dust that helps the Reindeer to fly! Another fantastic North Pole Christmas Tradition!
---
---
But that's not even the best bit … along with 25 letters from the North Pole Elves – one for each day of Advent – there's also a personalised Letter from Father Christmas, a map of the North Pole Village (so you'll never get lost), a lovely little note from Mother Christmas, and a personalised Certificate from the Postmaster General of the official North Pole Post Office to confirm that your child has been specially chosen to receive the letters. And then, when Father Christmas comes to visit on Christmas Eve, he may even leave behind a feedback form from The Sleigh's In-Flight Notebook to let you know what he thought of the snack you left behind for him overnight!
The countdown to Christmas is usually full of some of the best Christmas Traditions for your child and your whole family … from hanging up your stockings and writing your letters to Father Christmas (or Santa Claus), to wrapping secret gifts, finding even more wondrous ways to Believe in Father Christmas, and, of course, enjoying the daily excitement of an Advent Calendar.
But the Elves at International Elf Service have truly created the best way to celebrate it with Magic … there's absolutely nothing more fabulous than finding a personalised letter from the North Pole each day of Advent, choosing who gets to open it, and then reading it together as a family, filling your day with laughter, bonding moments, and the most magical feeling of Christmas Spirit.
---
---
Why not follow us on Instagram and Facebook?
You may also like:
What Happens When You Believe in Father Christmas?