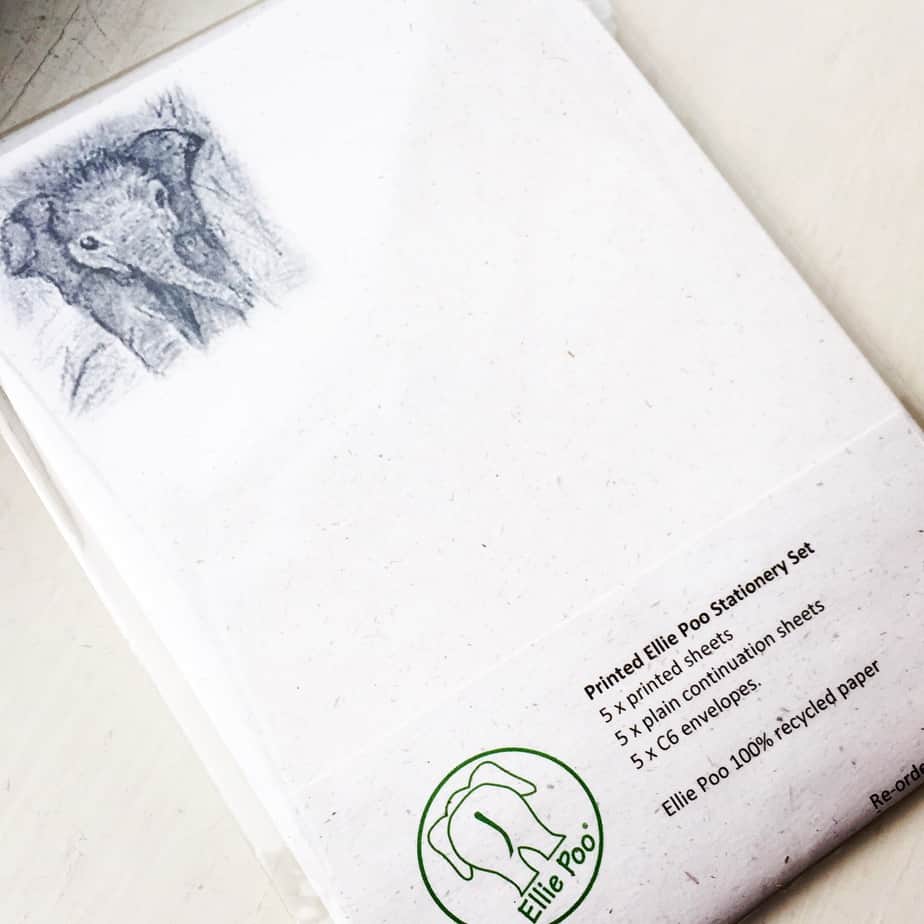 I was being all glamorous on my hands and knees, clearing up food from under the kitchen table, when one of my most favourite sounds in the whole world happened.  The letter box clattered.  Judging by the hat that glided past my window, it was the postman and not one of those endless leaflet drops.  I don't know how it works in your house but my husband won't agree to a 'No Junk Mail Please' on the door, in case he misses something life changing.  Yet he never looks at anything that arrives.  Anyway, the youngest small haired off to the front door and returned with an umbrella, one shoe and an envelope with my name on… Oooh! Inside the envelope was this gorgeous Ellie Poo letter writing set, which was totally unexpected and it came with a little note: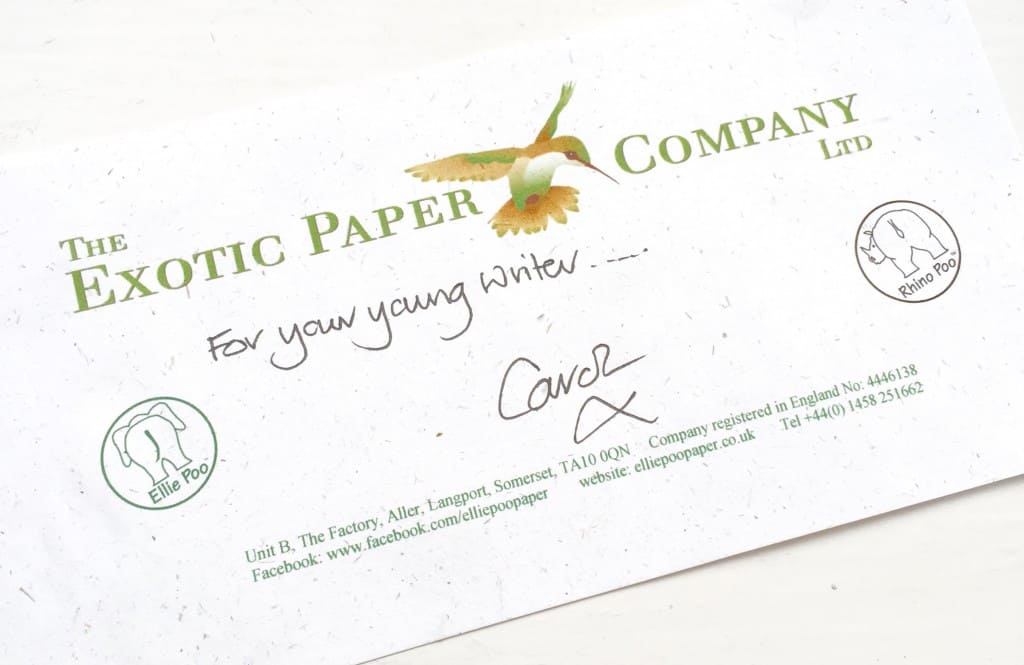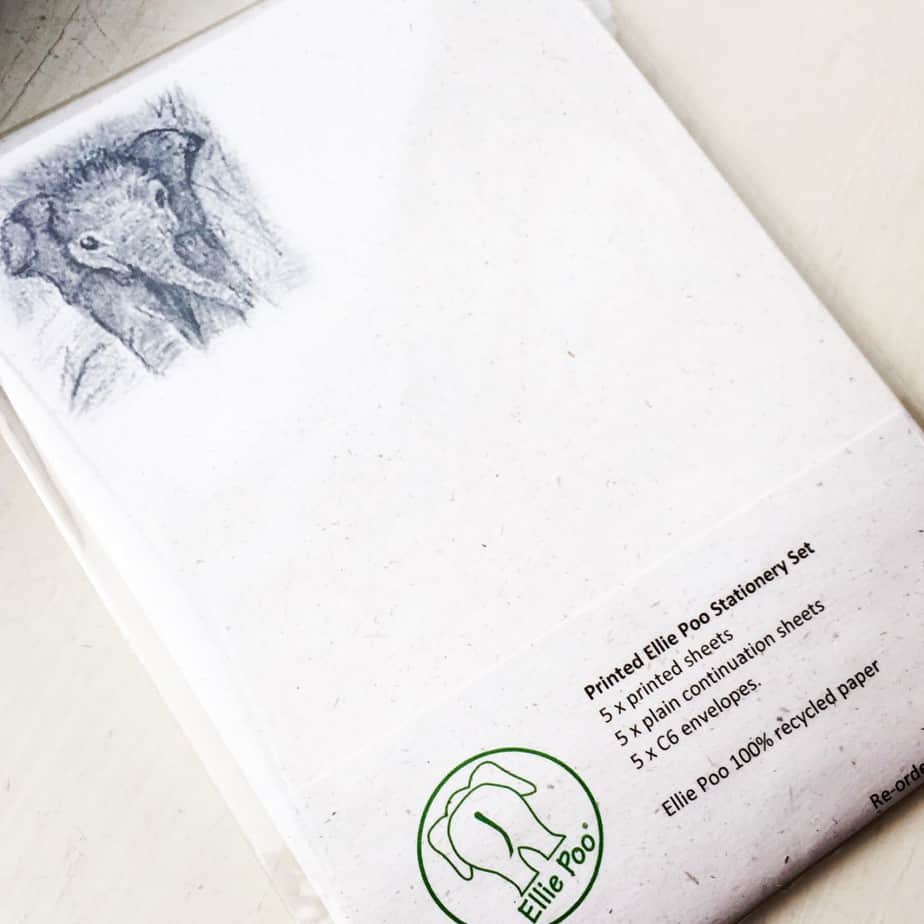 As most of you know, we use Ellie Poo Paper at the International Elf Service and I love it. It's a high quality product, 100% recycled, contains (real) elephant dung and has a wonderful textured feel to it with 'bits in.'  It's also made in the UK.  I asked Carol from the Exotic Paper Company a while ago how it's made, mainly because I wanted to know how much poo is in it. If you're interested in the process, you can read Carol's post on how it's made, but to cut to the bare bones, it takes 25kg of dung to make a batch of Ellie Poo paper!
My daughter (now 9 years old) absolutely loves elephants and always has done.  She's also a prolific writer and is as addicted to stationery as I am, so this has her name written all over it.  This Ellie Poo paper set is also perfect for children who are familiar with the paper from receiving letters from the North Pole.  An Ellie Poo Printed Stationery Set (£3.95) would be absolutely perfect as a Christmas stocking present too don't you think?
A little while ago, Carol blew me away by posting this picture that she'd drawn, on their Facebook page. How amazingly talented!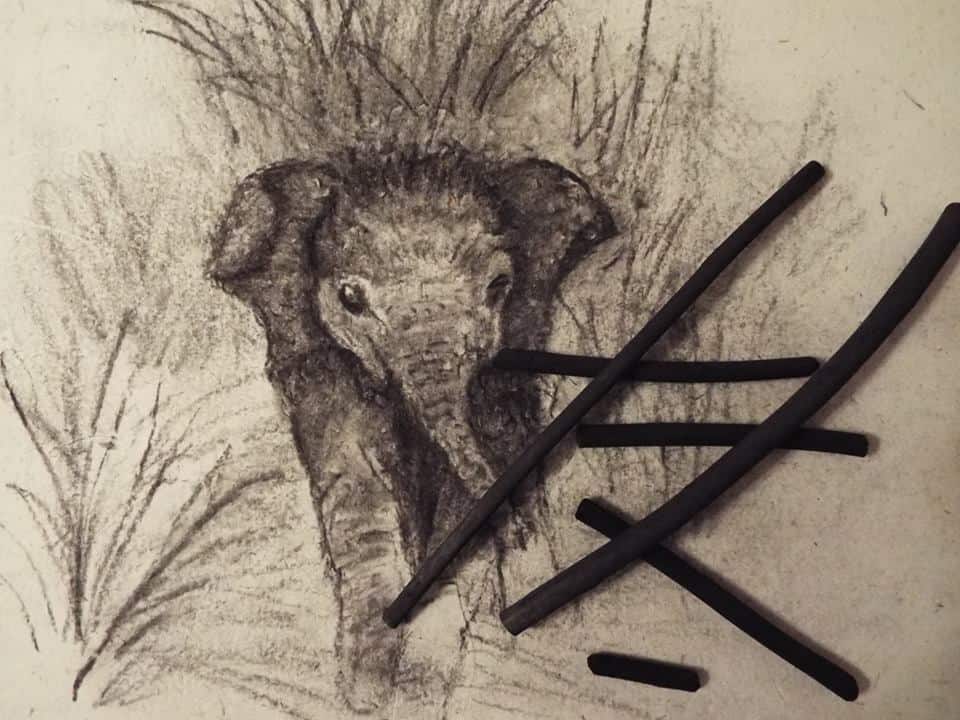 For those of you who fancy a pop at drawing but firmly believe you can't possibly, this is what Carol says…' On a miserable wet Sunday afternoon there's nothing like having a doodle! I still remember from my school days (40 years ago!!) the art teacher's words to those who thought they couldn't draw – "just take a line for walk". So, I do just that and I don't claim to be an artist, I just enjoy getting the charcoal and pastels out and becoming totally absorbed. It's really therapeutic, anyone can do it, and it's an inexpensive hobby!'
So, thank you so much Carol – your envelope made us very happy indeed!
***
If your child believes in Father Christmas and you want to keep the magic for as long as possible, Elfie's Christmas Letters (advent letters) and our North Pole Christmas Letters are absolutely perfect!  You will be able to preorder these for Christmas 2016 very soon, so please join the mailing list if you'd like us to let you know when.  Elfie's Birthday Letters are available in the Shop too!
Come and join us on Facebook for non Christmassy posts until much later in the year, or find us over on Christmas Traditions & Magic For Children for all year round festive chat.
To receive our blog posts, please sign up at the right hand side of this page or for Product or Christmas News and promotions from the International Elf Service, please sign up at the bottom of the page.