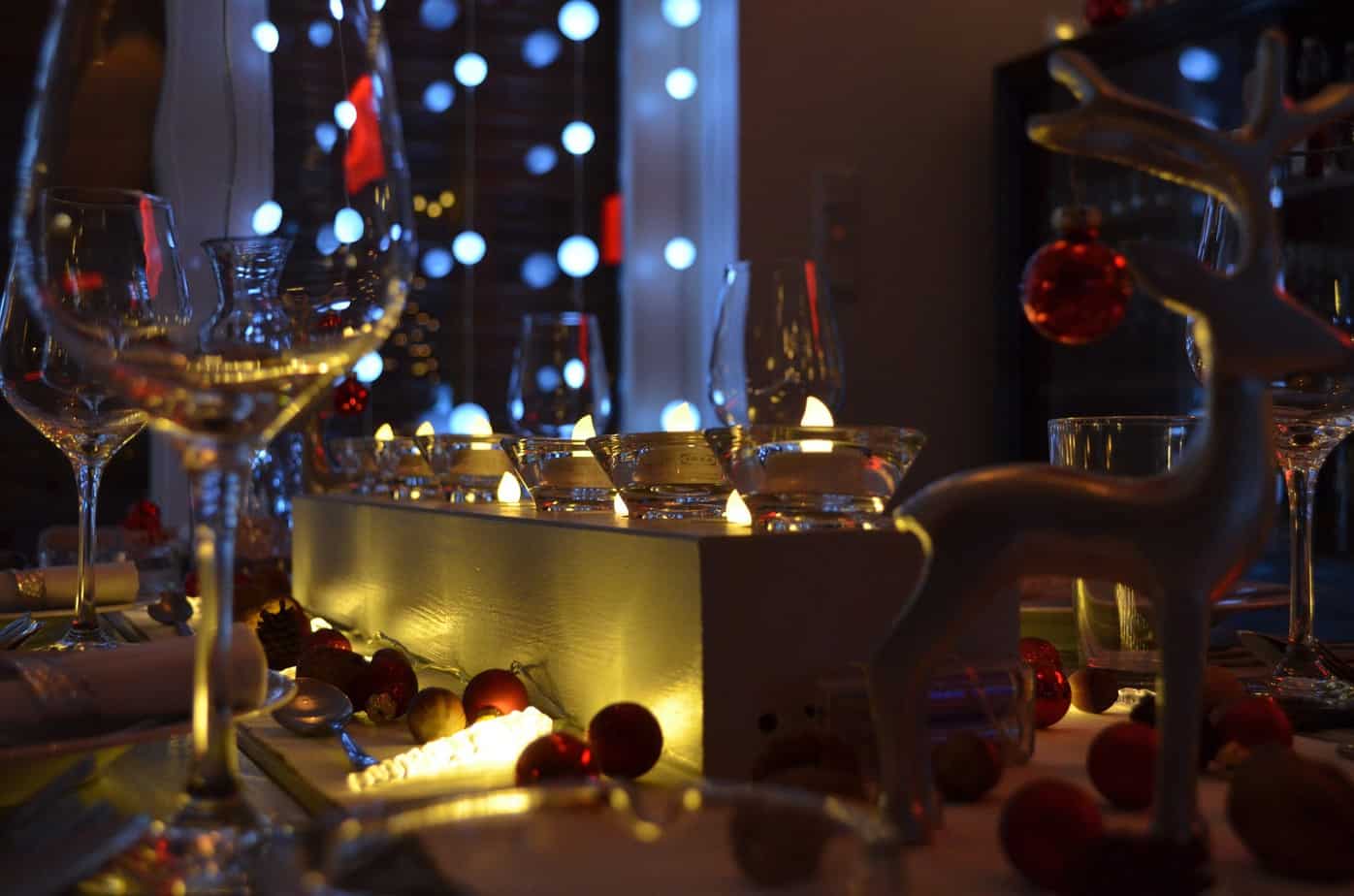 Beginning to dream about Christmas is a luxury that I save till the children are safely back to school in September. Turning mealtime plans over in my mind is like a comfort blanket. The flip side of this is, of course, once you start to ruminate on everything that you need to do and your list gets longer, you can sometimes start to feel a little overwhelmed. I always think putting some time aside for gratuitous planning really works to combat that overwhelm. I love to sit down in a nest of my favourite cookery books, a few back copies of Christmas edition magazines, and my own dog eared notes to organise my thoughts.
Some say I am a little obsessive in the way that I meal plan. I find it really is the only way to make sure I stick to budget and secure precious time with family and friends without being stuck in the kitchen or in a long line at the supermarket checkout. Not that I ever mind being tied to the stove, but creating memories with my family is important and I don't want to be absent from their Christmas stories.
These are my top ways of combating that overwhelm. Despite having the most quirky of logic I split it all into 3 logical components: Saving Christmas Day, Freezer Magic & Instant Parties.
Saving Christmas Day
Christmas dinner is essentially a glamorous Sunday Roast. Simple in itself, but time consuming, and everything comes to pressure point at the same time. There are quite a few aspects of Christmas dinner that can be ticked off the list before the day. Some quite well in advance.
Sprouts can be purchased, the outer leaves peeled and that all important x carved in the bottom before they are blanched and hurled into the bag of the freezer.
Jamie Oliver has the best make ahead gravy recipe (Jamie Oliver Get Ahead Gravy). Spending a Saturday afternoon in December fiddling with the Christmas Day gravy has become a tradition in our house. Then it's tucked up next to the sprouts to be forgotten until Christmas Eve.
Boil up chopped carrot and swede in chicken stock until tender, then mash with butter and seasoning. I would do this about 3 days in advance and chill.
The vegetarian option. My vegetarian doesn't do mushrooms and isn't very cheesy, I know she would actually just eat the Christmas day vegetables but I won't allow it and enjoy making up something a bit unusual. Beetroot and butternut squash wellington's are perfect and irresistible to make during late autumn when you spot all the autumn vegetables, nestled like Christmas baubles in the grocers. See the method at the bottom of the post.
I am quite particular about roast potatoes and have established a method of getting these on the road to lusciousness before 25 December.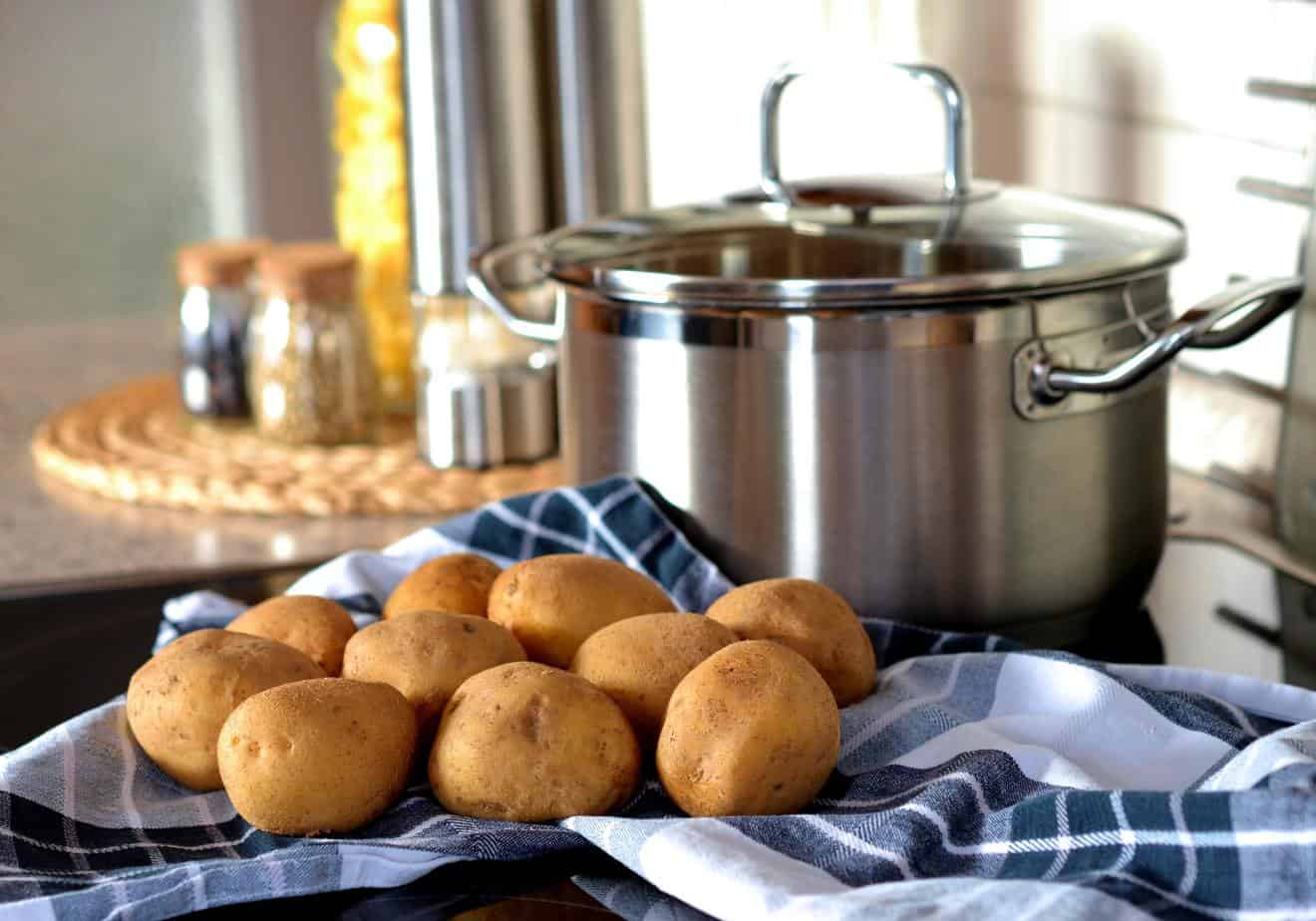 Lazy Roast Potatoes
Serves 4
Ingredients
1KG potatoes (I am not actually fussy about my variety of potato, sometimes they come from our own field, sometimes the drive through potato man down the road and sometimes the supermarket, but they are always local).
4 tbsp goose or duck fat
Maldon salt

Method
I like my roast potatoes quite big, around golf ball size so I peel and usually chop in half if at all
Boil for around 15 minutes in salted water, but keep checking. Ideally you want as soft as you absolutely can but not so they will crumble when you drain them
If they are very soft when you come to drain them use tongs to lift them out gently
Put your oven up to about 200C/gas 6 and put your goose/duck fat in a pan in the oven to heat
After they have drained I like to cover with a tea towel or even spread onto one tea towel and cover with another to lift the moisture out for around 20 minutes while your fat heats
With an oven glove lift the roasting tin out of the oven and transfer the potatoes into it. Coat each potato with fat
I then open freeze for a few hours then transfer into a sandwich bag in the freezer.
***
On Christmas Day I get them out in the morning, so they are partly defrosted and then they go into the oven around 45 mins before I want then, or when the turkey comes out.
Freezer Magic and Leftovers
There are days over the holiday period that I like to enjoy family walks on the beach, go visiting, or stay in pyjamas and play long lingering games of monopoly. On these days I still want to produce a sumptuous dinner at the end of it. So there are a few staples that I like to have lurking in the freezer for days such as this, or something that I can concoct out of the leftovers festering in the back of the fridge. These are my favourites;
For leftovers you cannot beat Nigella Lawson's Turkey and Ham Pie that appears in Feast; Food That Celebrates Life (Random House 2004). All my family loved this the first time I did it a number of years ago and when the 2 year old loves it as much as the 72 year old then it's definitely a keeper.
I have memories of my mum serving up Delia Smith's Venison Braised in Guinness and Port with Pickled Walnuts on an icy December night and I can't get past the comfort that memory gives me. So I always make a batch and get it in the freezer to try and recreate that memory.
There has to be a curry night and Chicken Dhansak curled up in front of the fire with a movie and some nan breads fits the bill perfectly.
Instant Parties
I love to be able to have homemade nibbles to miraculously spread out at a moment's notice for those people who spontaneously pop in with a Christmas card and never leave. I concentrate mainly on savoury nibbles Pesto and Tapenade with Focaccia and maybe breadsticks to spread on or dip into. None of these are hard to do; they just need to be completed nearer the time. The Salmon Mousse doubles up as a marvellously light but luxurious Christmas Day starter.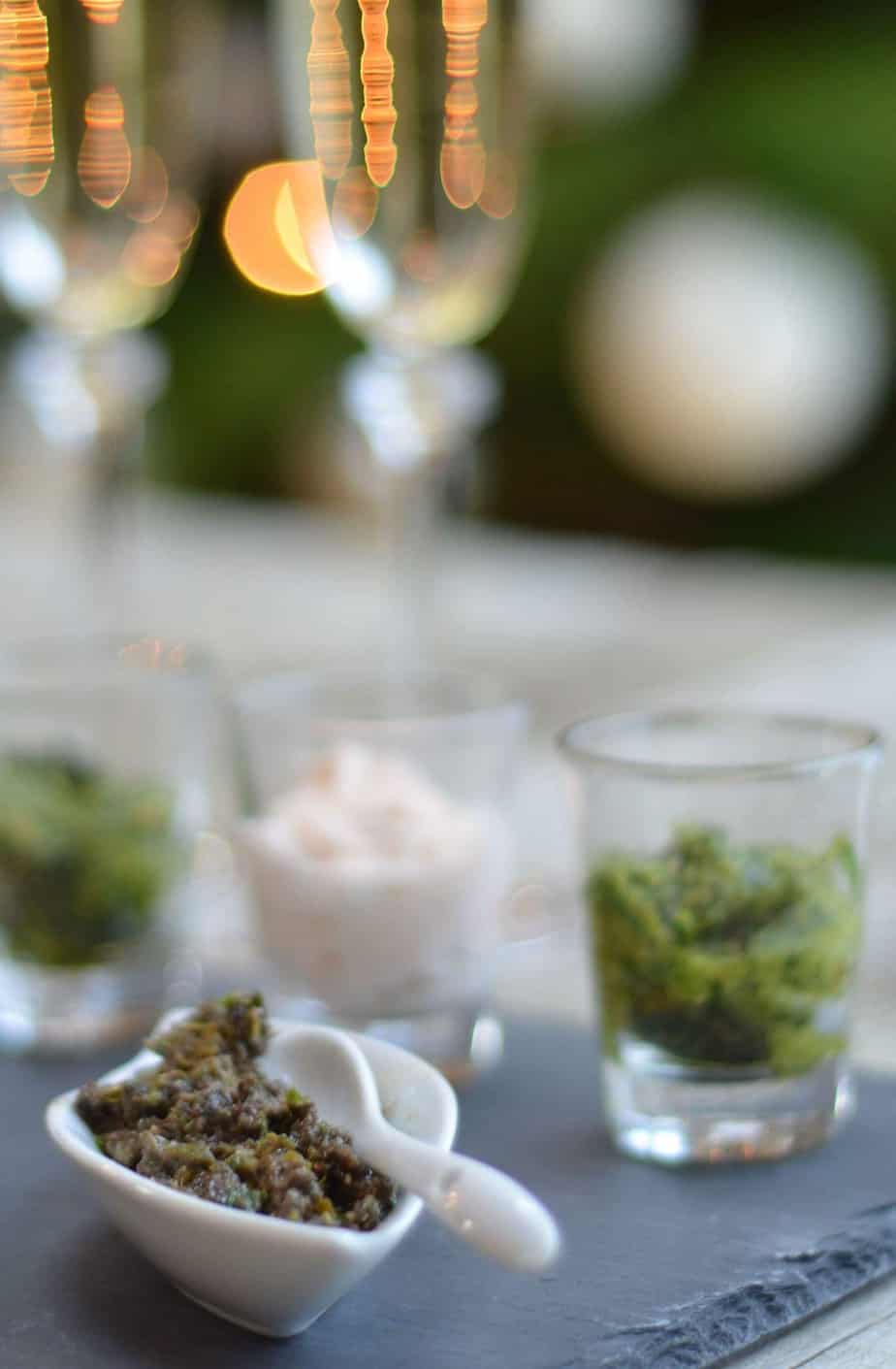 I have young children and I like to maximise time around the table, without expecting too much, during the main course on Christmas Day, I often lay out a sharing starter somewhere communal for anyone to dig into. This spread works equally well for that as well as for those expected unexpected guests.
*Always try to keep a loaf of homemade foccacia in the freezer it comes in handy so often!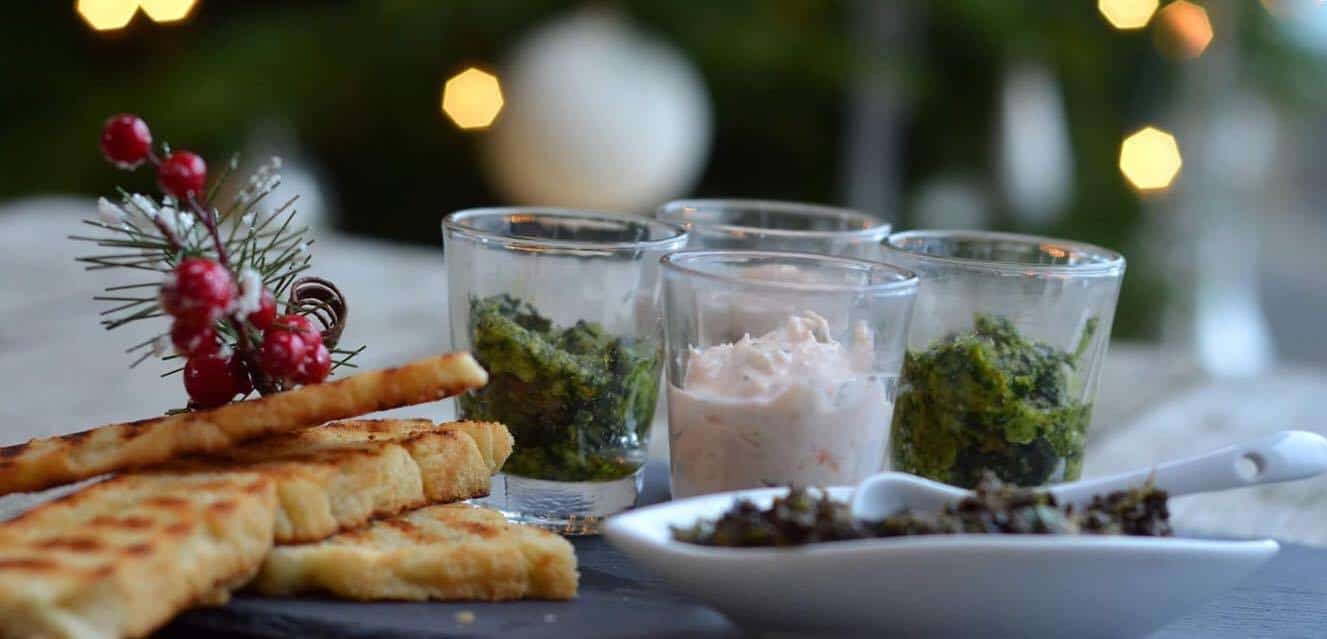 Beetroot and Butternut Squash Wellingtons
I adapted this from a magazine to better suit my vegetarian's taste buds. It's easy to do in advance and get into the freezer. I always make the full recipe and use some up for easy lunches over the holidays.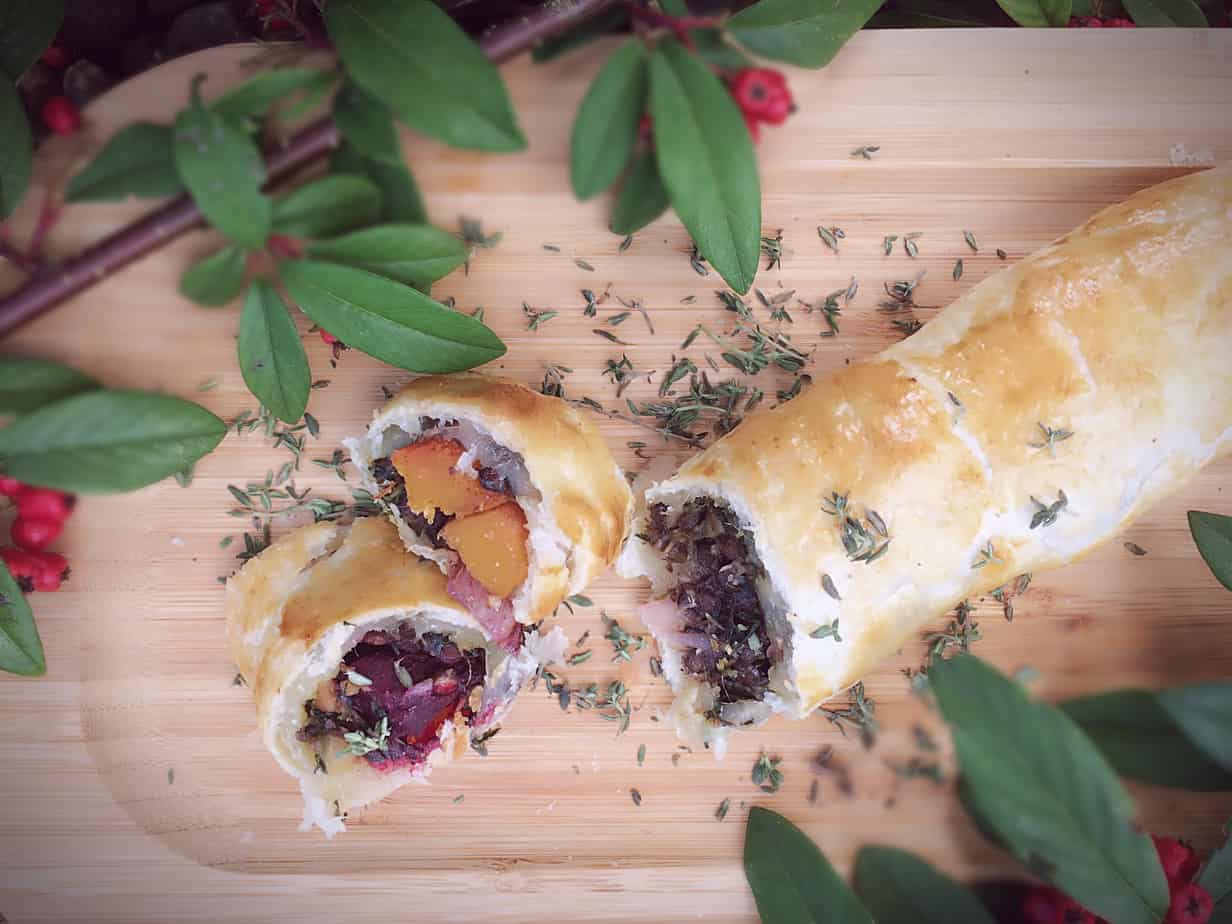 Ingredients
1 large red onion
½ a small butternut squash
1 & ½ raw beetroot
4 cloves of garlic
5 sprigs of fresh thyme
3 tbsp olive oil
180g packet of ready cooked puy lentils
250g vacuum packed chestnuts
100g spinach
2 sheets of ready rolled puff pastry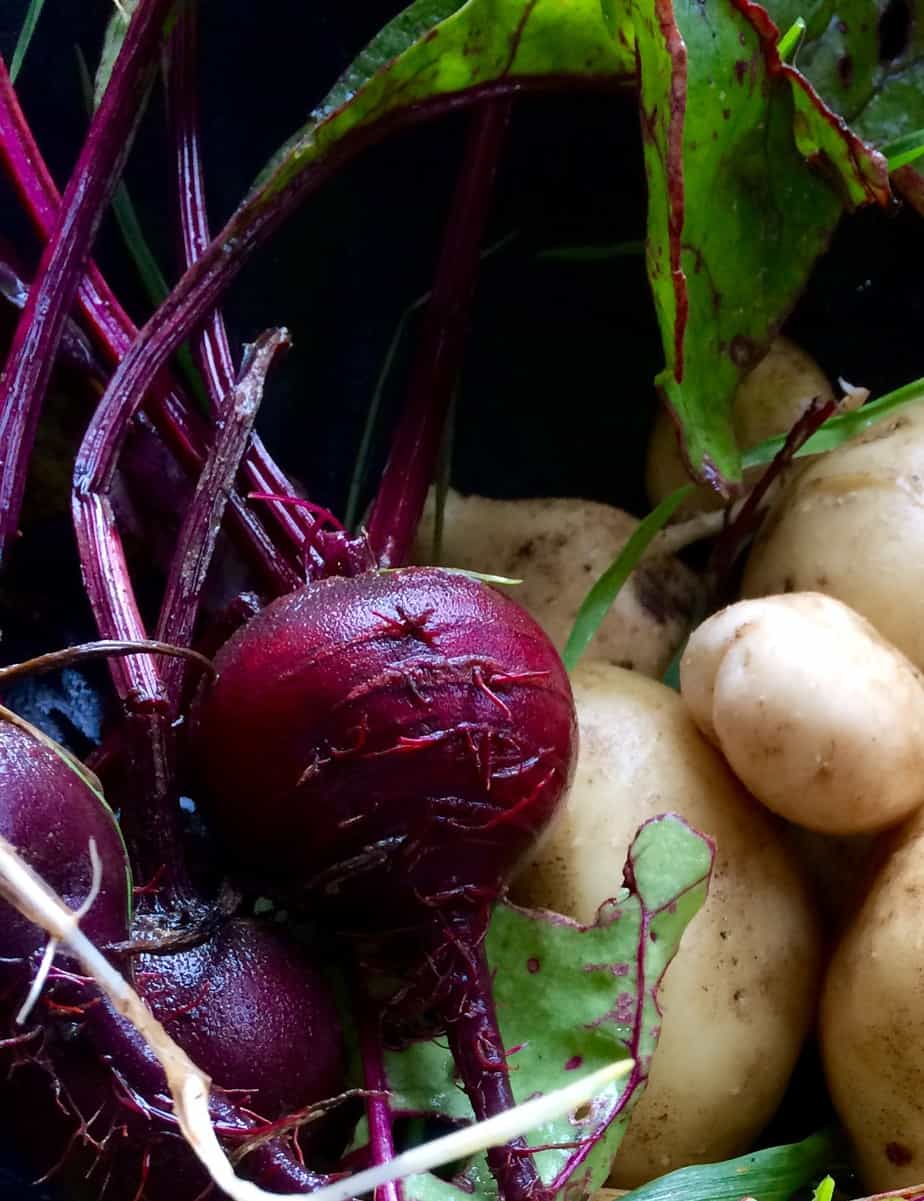 Method
Preheat oven to 180c/gas 5
Chop the onion into wedges, peel and cube the butternut squash and beetroot
Tumble vegetables into a roasting tray with the unpeeled cloves of garlic 2 tbsp olive oil, some stripped thyme leaves and seasoning
Roast until they are soft. This can be anywhere between 30 minutes and 45 minutes depending on your oven. Give them a stir up half way through
While they are in the oven put the spinach into a colander and pour over boiling water to wilt the leaves. Add into a food processer with half of the chestnuts, a splash of olive oil and some seasoning.
When the vegetables are softly roasted remove from the oven. Stir through the lentils and the remaining chestnuts, take out 2 of the garlic cloves and squeeze out the flesh into the food processor with the spinach. Pulse into a pesto consistency.
Roll out the pastry sheets, and with the long side facing you divide each sheet into 3 equal rectangles.
Spread the pesto in the middle of each sheet avoiding each edge
Scatter the vegetable and lentil mixture onto the pesto.
Brush the edges of the pastry with milk or beaten egg. Fold the ends in so that the filling doesn't escape in the oven and then roll the long side of the pastry over to enclose the vegetables.
To bake immediately place on a baking tray lined with baking paper, brush with milk or beaten egg and bake for 30-45 minutes at 180c/gas 5 minutes until golden.
To freeze till Christmas open freeze on a baking tray then after a few hours wrap each wellington in baking paper and then cling film. When it comes to cooking brush with beaten egg or milk and bake for 45 minutes at 180C/gas 5
I'm Hannah, mum of 4 who escaped that daily grind to move to the Kingdom of Mourne (also known as the Narnia of CS Lewis Novels) in Northern Ireland and indulge her love of the kitchen and keyboard. Recipe Trees was created to pass on a food legacy to my children and hopefully inspire others to use fresh, local produce to create healthy and delicious meals for the family.
You can find Hannah on www.recipetrees.co.uk, follow her on Instagram @livefromnarnia, or find her on Facebook
If you would like to subscribe to our Elf Club, and receive our newsletters, special offers, free Guides and discount codes, I'd love to see you there!

To receive our Magical Newsletter
PLUS
Two FREE Guides in the newsletter:
Family Advent Activities & Ways to Make Christmas Eve More Magical!
[one_half]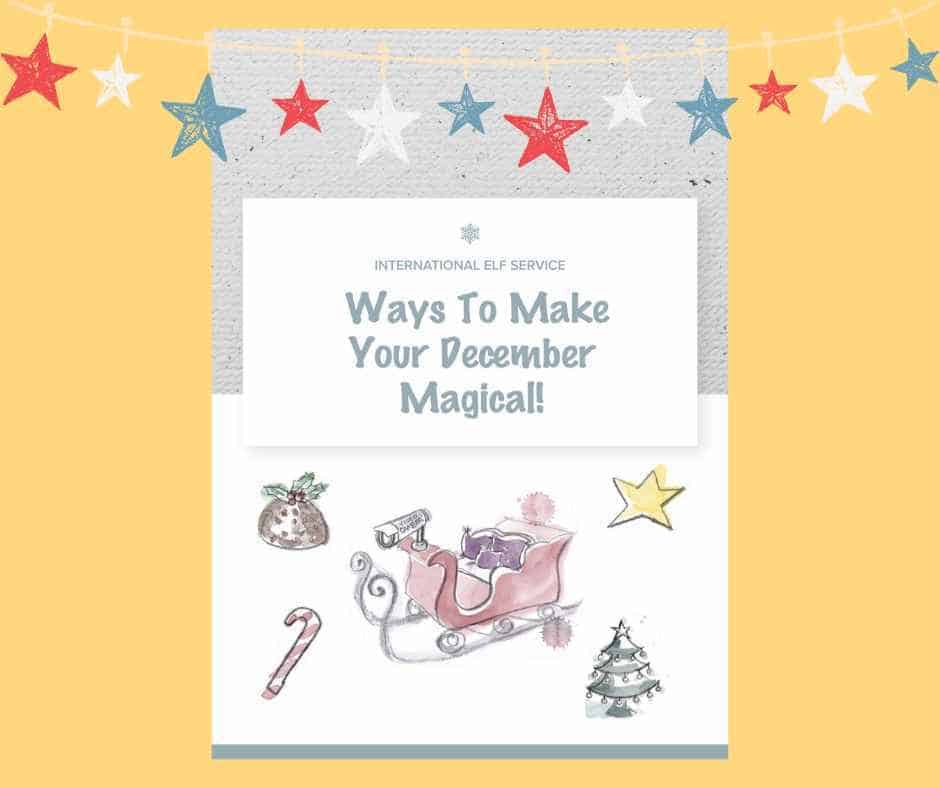 [/one_half][one_half]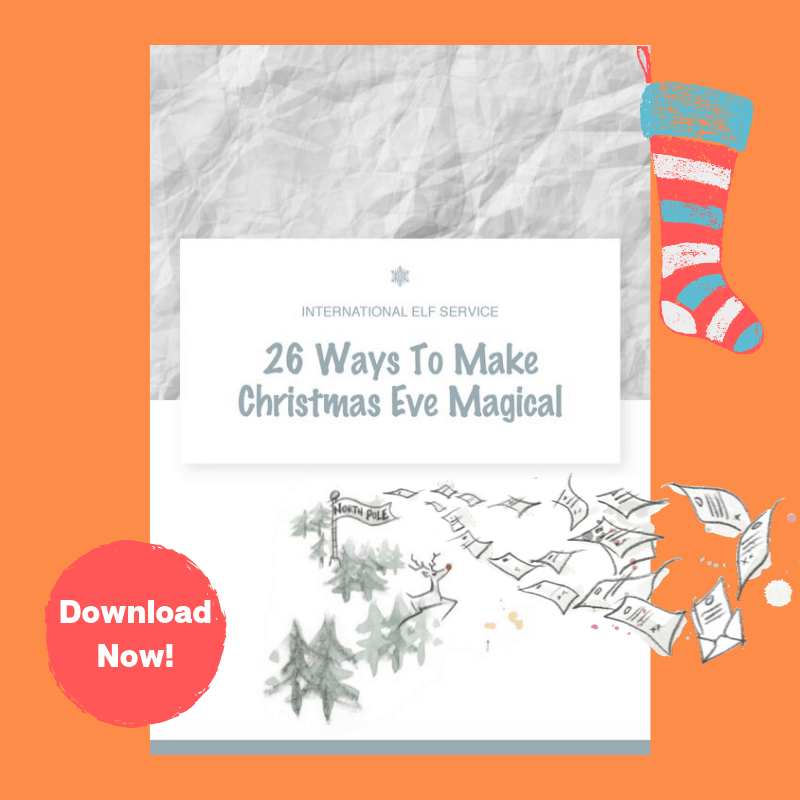 [/one_half]
The International Elf Service specialises in beautiful handcrafted, personalised letters from magical places … the North Pole and Fairyland. Designed to encourage children to read, while developing and preserving their love of all things magical.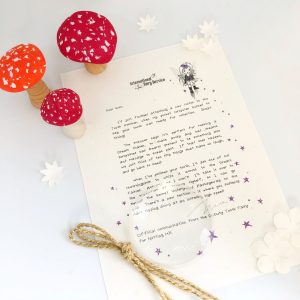 Try our amazingly unique and magical Family Christmas Tradition of Christmas Letter Bundles from the North Pole. Elf letters filled with secrets and snippets from the North Pole, for you to deliver very mysteriously on the Elves behalf … for your children to find.
Elfie's Christmas Letters – Video is the Christmas 2019 Edition
---
***
*You don't need an Elf or a Fairy Door to enjoy these letters. Pop magical letter by their toothbrush, in their shoes, stashed away with the rest of the mail – have fun!
Not sure? You can try these one-off letters that can be delivered any time of the year. Here and here!
A sneaky listen to our Advent Calendar Christmas letter bundle from Christmas 2018 … *The Christmas Letter Bundles Are Brand New Each Year!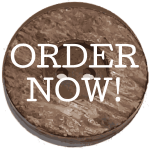 Hide them among the bills and junk mail, lay them on the table first thing in the morning, stashed among the toys, or snuggled up in their bed. You choose where your children find the letters, to create a magical family tradition the kids will love!
"The best Christmas idea ever." – Charlie Condou (Actor)
***
"These were the best things I have ever (and I mean ever) ordered!!
I've never seen the magic or happiness last so long x"
– Jolene (August 2017)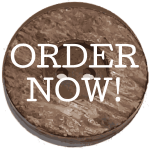 Come and join us on Facebook, or find us over on Christmas Traditions & Magic For Children for all year round festive chat.
Emily x